Long Silver, Short Gold ETFs? Maybe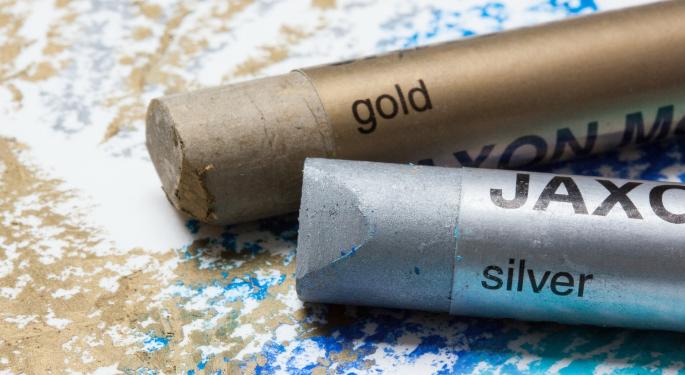 If precious metals exchange-traded funds, such as the SPDR Gold Trust (ETF) (NYSE: GLD) and the iShares Silver Trust (ETF) (NYSE: SLV), were to be compared to high school sports teams, the gold funds would be the varsity team while SLV and friends would be the junior varsity squad.
That is not so much a knock on SLV as it is a testament to GLD's strength. Year to date, the world's largest bullion-backed ETF is up 16.2 percent, while SLV is higher by "just" 10.5 percent. Negative interest rates throughout the developed world coupled with investors' thirst for safe assets, among other factors, have buoyed GLD and left SLV to pick up the scraps.
Related Link: A Reason Not To Trust The Coal ETF's Rally
That situation has reversal potential, and ambitious traders can exploit it to the fullest by shorting gold and being long silver.
"Gold has been the best performing asset this year for two main reasons: a referendum on negative interest rates (i.e. currency devaluation) and credit stress, both of which have caused the trade-weighted US dollar to sell off by more than 4 percent since the beginning of February," said Rareview Macro founder Neil Azous in a note out Friday.
Shorting Gold And Going Long On Silver
In that note, Azous unveiled a long silver/short gold thesis. Traders shooting for the stars with this trade can employ some leverage via the PowerShares DB Gold Double Short ETN (DB Gold Double Short ETN due February 15, 2038) (NYSE: DZZ)) or the ProShares UltraShort Gold (ETF) (NYSE: GLL), which are double-leveraged bearish plays on gold. Of course, those are volatile products because they are leveraged and silver has its own sordid history of being exceptionally volatile at times, so this idea is not for the faint of heart or sensitive of stomach.
Regardless of what ETFs one chooses to put on this trade, a solid case can be made that silver could soon outshine its yellow counterpart.
"On the other leg, because silver has more of an industrial bent on a cyclical recovery globally, there is a reason to expect it to perform better if commodities as an asset class hold its recent bid-tone. Additionally, of late, silver has lagged the recovery in other industrial metals such as nickel, aluminum, and copper," added Azous.
For those worried about long silver being a crowded trade, don't be. It's not. At least not from the ETF side. SLV has brought in just $123 million in new assets this year, a mere fraction of the nearly $5.8 billion hauled in by GLD. GLD is this year's top asset-gathering ETF.
Image Credit: Public Domain
View Comments and Join the Discussion!
Posted-In: Long Ideas Short Ideas Specialty ETFs Commodities Top Stories Markets Trading Ideas ETFs Best of Benzinga