An ETF For Japan's Improving Shareholder Rewards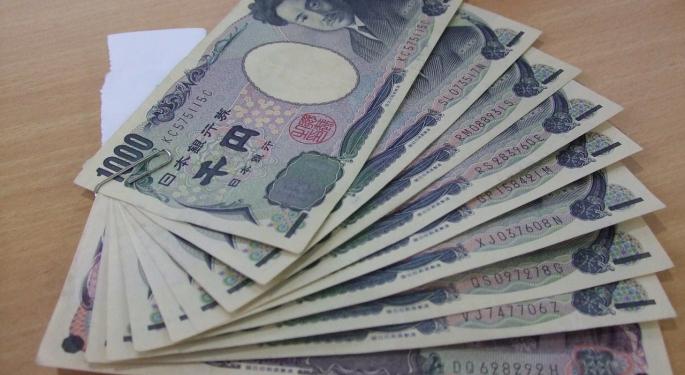 When it comes to developed markets with impressive buyback and dividend resumes, the United States is a leader, but other markets, such as Australia and the UK, have solid track records of initiating and growing shareholder rewards.
Japan is a different case. While the ability of Japanese companies to generate cash has often been cited as a positive for investing in Asia's second-largest economy, Japanese companies are also notoriously tight-fisted. Compared to other developed markets, Japan's history is one of stinginess when it comes to buybacks and dividends.
Related Link: A Europe ETF That Merits Consideration
Additionally, the market is low-yielding, and that is not referring to its negative interest rates. The MSCI Japan Index currently has a trailing 12-month yield of just 1.36 percent.
WisdomTree's Japan Hedged Fund
Perhaps it is the byproduct of seeing no advantage to stashing cash in banks or Japanese government bonds, but companies there have been warming to shareholder rewards in recent years. U.S. investors can play that theme with the WisdomTree Japan Hedged Quality Dividend Growth Fund (NYSE: JHDG).
"But one aspect of Abenomics that is impacting markets right now is the changes in corporate stewardship codes that are encouraging executives to increase return on equity (ROE) and returns for shareholders. In the fourth quarter of 2015, share buybacks in Japan were the highest they've ever been, and aggregate dividends grew by more than 13 percent over the past year," said WisdomTree Chief Investment Officer Luciano Siracusano in a new note.
JHDG, which debuted about 11 months ago, follows the WisdomTree Japan Hedged Quality Dividend Growth Index. That currency-hedged benchmark emphasizes the growth and value factors and weighs constituent firms based on annual cash dividends paid.
JHDG's distribution yield is 4.34 percent, or more than triple the dividend yield on the MSCI Japan Index. A case can be made that JHDG is a "right place, right time" ETF. Since reaching nadirs in 2009, Japanese dividends and buybacks have nearly tripled to nearly 12 trillion yen and 6 trillion, respectively, last year, according to WisdomTree data.
"When companies buy back their stock or pay out dividends to their shareholders, they, in effect, reduce shareholder equity, the denominator in the ROE ratio. This has the effect of increasing the ROE margin for each incremental yen of profit. And with record levels of cash now sitting inside corporate coffers, we believe robust share buybacks and dividend growth are likely to continue in Japan through the remainder of (Prime Minister Shinzo) Abe's term," added Siracusano.
Image Credit: Public Domain
Posted-In: Long Ideas News Dividends Dividends Specialty ETFs Currency ETFs Forex Markets Best of Benzinga
View Comments and Join the Discussion!