CMS Rate Hike: Which Stocks To Watch?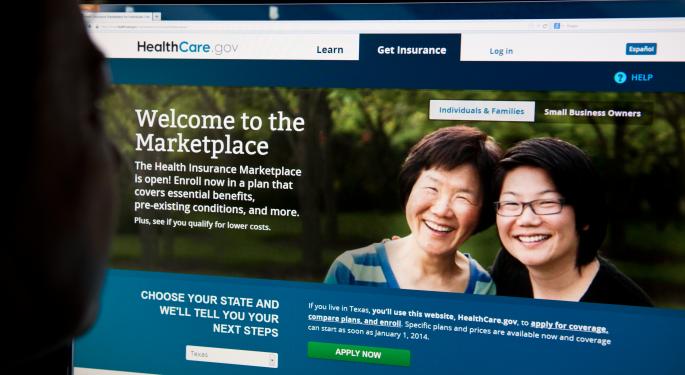 Shares of health insurers climbed Monday after Centers for Medicare and Medicaid Services (CMS) proposed to increase the Baseline Medicare Advantage payment rates for 2017 by 1.35 percent, on average.
Enrollment have grown in Medicare Advantage and Part D since enactment of the Affordable Care Act in 2010, which brought phased in cuts to the program's benchmark rates over six years and 2017 will be the last year of those cuts.
The latest development is a big positive for the healthcare insurance industry as the average Medicare Advantage insurers' sales is expected to rise 3.55 percent next year.
Related Link: Medicare Advantage Could Boost WellCare Investors, Says JPMorgan
UnitedHealth Group Inc (NYSE: UNH) and Humana Inc (NYSE: HUM) are leading insurers offering Medicare Advantage, with both companies having more than 3 million members each in this category. Aetna Inc (NYSE: AET), which is acquiring Humana mainly for its lucrative Medicare business, will also benefit from the rate hike. The move will also benefit WellCare Health Plans, Inc. (NYSE: WCG), who have a lot of low-income Medicare members in their kitty.
Medicare Advantage has reached record high enrollment each year since 2010, a trend continuing in 2016 with a cumulative increase of 50 percent to an all-time high of more than 17.1 million beneficiaries.
Nearly 32 percent of Medicare beneficiaries are enrolled in a Medicare Advantage plan. Average Medicare Advantage premiums have fallen by nearly 10 percent from 2010 to 2016.
CMS has proposed to adjust Star Ratings to reflect the socioeconomic and disability status of a plan's enrollees. In addition, CMS proposes to revise the methodology used to risk adjust payments to plans to more accurately reflect the cost of care for dually eligible beneficiaries. The CMS pays insurers a monthly amount for each Medicare Advantage member, and the amount is partly based on risk scores.
The percentage of Medicare Advantage enrollees in four or five star contracts has almost quadrupled since 2009 to 71 percent. About one-third of prescription drug plan enrollees are in Part D plans with four or more stars, compared to 27 percent of enrollees in such plans in 2009.
View Comments and Join the Discussion!
Posted-In: Centers For Medicare And Medicaid Services CMSLong Ideas News Health Care Trading Ideas General Best of Benzinga