Are Dogs The Answer To Fitbit's Woes?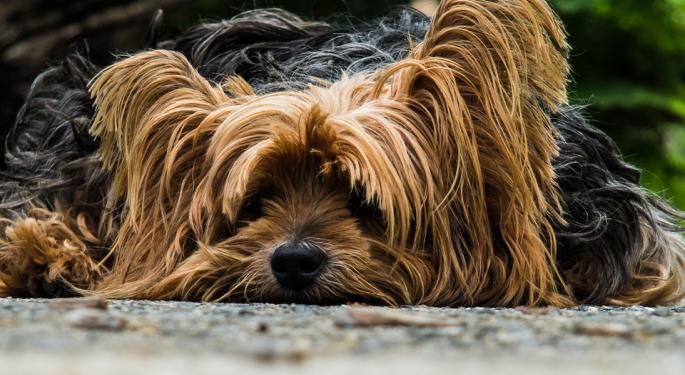 Update 12:47 p.m.: A Fitbit spokesperson commented to Benzinga, writing in an email "While Fitbit fully supports accounts of pets wearing Fitbits around their collars, we don't make trackers specifically for their use."
Investors frustrated with Fitbit Inc (NYSE: FIT)'s inability to gain traction in the wearables market might see some hope in the latest wearables trend: jumping species. FitBark, as can be inferred from its name, is attempting to market a device that's essentially FitBit for dogs.
The company more than doubled its $35,000 Kickstarter goal in 2013 (its second attempt at crowdfunding) and has garnered media attention this week, as a review from Marketplace tech analyst Molly Wood indicates.
CEO David Rossi has been on the road promoting the device at events such as Pipeline Inc's Innovator of the Year event in Kansas City last month.
Essentially, the device is a miniature accelerometer installed in a dog collar that tracks a dog's activity and reports it to the Fitbark app. The instrument tracks the dog's playtime and resting time and gives owners real-time updates on their pet's exercise levels.
It's unclear how Fitbark's blazing trail into the world of pet wearables will affect the larger wearables market. Media reaction to the devices has been mixed.
Wood, mentioned above, found the device "intriguing" as a new dog owner, but criticized the short battery life (the Fitbark must be charged every two weeks, which is more apparently work than the small utility it seems to provide is worth).
TechCrunch has alternately called the device "barking mad" and "reasonable," indicating the tech world might not know what to do with pet wearables either.
Benzinga reached out to Fitbit to see if the company had any plans to expand into pet wearables. Request for comment was not immediately returned.
Fitbit stock was in a hobbled recovery from a Tuesday low of $14.03, sitting at $15.76 Friday morning. The stock was down about 1 percent since open.
Posted-In: FitBarkLong Ideas News Top Stories Tech Trading Ideas Best of Benzinga
View Comments and Join the Discussion!