Everything You Might Have Missed This 13F Season: Part 2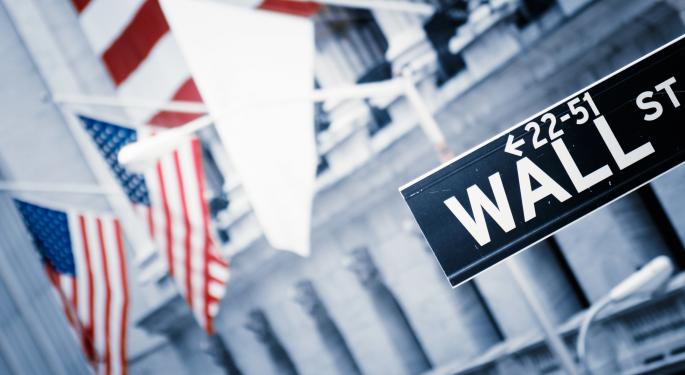 Investment firms with more than $100 million in assets under management and relevant long stakes in U.S. listed equities are obliged to disclose their long positions once per quarter via 13F filings.
Filings for the fourth quarter of 2015 were due February 16, 2016. In case you missed some filings, here are a few highlights from some of the most interesting positions and moves from top money managers that invest in U.S. equities.
See Also: Everything You Might Have Missed This 13F Season: Part 1
Most Popular Stocks
Apple Inc. (NASDAQ: AAPL) was the most popular stock among 13F filers in the fourth quarter of 2015. According to WhaleWisdom data, more than 2,200 firms held long stakes in the company, which saw 169 new positions, 1,042 increased wages and 909 trimmed stakes.
Among the institutional investors with the largest stakes, investors can count Carl Icahn, who disclosed ownership of 45,760,848 shares, worth more than $4.8 billion, and JP Morgan Chase & Co., with 61,629,683 shares. Another stake to highlight is that of Tiger Global Management, which started a new position in the company comprising 10,600,000 shares between October and December.
Second in line was Microsoft Corporation (NASDAQ: MSFT), which counted with more than 2,100 institutional supporters, including Jeffrey Ubben's ValueAct Holdings, which declared holding 56,623,770 shares worth over $3.1 billion. It should be noted that, although the firm trimmed its exposure to the company by 24 percent over the fourth quarter, the stake continued to be the most valuable in its Q4 equity portfolio.
As is the case with innumerable companies, the Vanguard Group disclosed the largest position among institutional investors, holding 485,335,822 shares, or more than 6 percent of the company's outstanding stock.
Completing the podium was Johnson & Johnson (NYSE: JNJ), which had more than 2,000 institutional backers (including 144 newcomers) by December 31. One of the most bullish firms was Investec Asset Management, which had more than 16 percent of its assets (invested in U.S. equities) allocated to Johnson & Johnson; the firm last declared holding 184,102 shares of the company. Also quite bullish on the stock seemed to be Jean-Marie Eveillard's First Eagle Investment Management, which increased its exposure to the company by 91 percent over the October to December period, disclosing ownership of 3,032,177 shares, worth more than $311 million, by the end of the fourth quarter.
Tiger Cubs
Fund managers that used to work at Tiger Management with Julian Robertson and then went solo are called Tiger Cubs. The most popular stock among these funds -– measured as the stock held by most of them, according to WhaleWisdom -- was Amazon.com, Inc. (NASDAQ: AMZN); 12.5 percent of the 24 firms included in this group held Amazon's stock. For instance, Lone Pine Capital declared holding 2,207,252 shares of the company, worth almost $1.5 billion; Tiger Global Management held 3,193,590 shares; and Viking Global Investors, 2,567,446 shares.
Another popular stock among Tiger Cubs was JD.Com Inc(ADR) (NASDAQ: JD), which saw Tiger Global boost its stake by 3 percent to 59,615,495 shares, and Coatue Management increase its exposure by 18 percent to 19,533,781 shares.
Other Popular Stocks
Other popular stocks among major hedge funds and institutional investors were:
Alphabet Inc (NASDAQ: GOOG) (NASDAQ: GOOGL)
Appaloosa Management almost tripled its stake, taking it to 536,150 Class C (GOOG) shares
Corvex Capital Management started a new stake in the company, comprising 750,000 Class A (GOOGL) shares.
Lone Pine Capital initiated a position including 412,616 Class C shares and 404,297 Class A shares.
Soros Fund Management open a stake of 65,570 Class A shares.
Pfizer Inc. (NYSE: PFE)
Appaloosa opened a position comprising 2,412,250 shares, worth more than $77.8 million.
Corvex acquired 12,100,098 shares, disclosing ownership of 12,414,348 shares by December 31.
Jana Partners started a new wage including 9,168,818 shares, worth more than $295 million.
Paulson & Company initiated a new position with 632,700 shares.
Macy's, Inc. (NYSE: M)
Greenlight Capital started a new position comprising 6,739,600 shares, worth more than $235 million as of December 31.
Marcato Capital Management initiated a stake including 2,234,491 shares.
Starboard Value LP added 48,160 shares to its holdings, taking them to 3,309,810, or about 1.05 percent of the company's total outstanding stock.
Disclosure: Javier Hasse holds no positions in any of the securities mentioned above.
Posted-In: Long Ideas News Hedge Funds Legal Top Stories Movers Trading Ideas General Best of Benzinga
View Comments and Join the Discussion!