One Of The Most Promising Autonomous Carmakers You Probably Haven't Heard Of Yet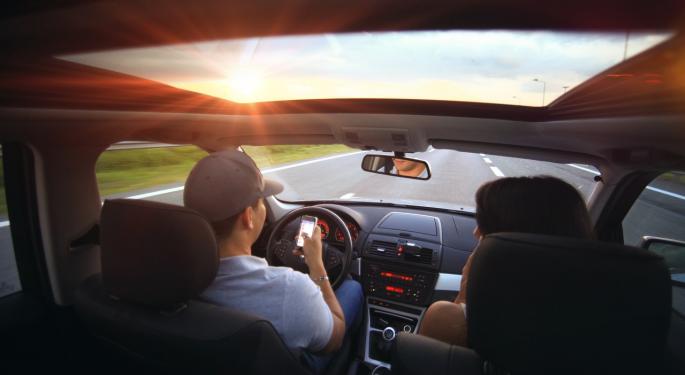 Self-driving cars have become the goal of just about every big-name automaker and tech firm on Wall Street. Promises to improve autonomous features from firms like Google parent Alphabet Inc (NASDAQ: GOOG) (NASDAQ: GOOGL), Ford Motor Company (NYSE: F), General Motors Company (NYSE: GM) and Tesla Motors Inc (NASDAQ: TSLA) have all crowded the news in recent months. However, another player in the autonomous car market has the potential to outpace the rest, but most have never even heard of the firm.
Baidu
A Chinese company that got its start in the web search business, Baidu Inc (ADR) (NASDAQ: BIDU), is also developing a self-driving car, according to Bloomberg, and many believe that the firm may have a competitive advantage over the rest of the pack.
The firm has invested heavily in artificial intelligence over the past few years, and co-founder Robin Li believes these investments are likely to pay off as autonomous car technology is further developed. Teaching computers to learn and adapt to their surroundings is a huge part of developing self-driving cars, and Baidu's efforts to excel in this space are likely to give the company a leg up against the competition.
Related Link: Google Is Seeking Autonomous Car Partnerships
Looser Regulations
Baidu is also likely to get vehicles road-ready earlier than its American counterparts due to the company's location in China. While American regulations regarding autonomous vehicles can be tricky to navigate, especially when you factor in differing state and federal laws, China's one-party system will make it easier for carmakers to conform to regulations.
Chinese Car Market
While it's unlikely that fully autonomous cars will become the norm over the next five years, many believe that over the course of the next decade self-driving cars could become a reality.
The majority of carmakers are focused on the U.S. market for such cars, but Baidu is designing for China. This will be a distinct advantage for a few reasons.
Firstly, China's auto market is forecast to continue growing over the next 10 to 20 years to rival that of the United States. But even more importantly, driving in China is much more chaotic and complicated than driving in the United States. That means cars designed for Chinese roads will be easier to adapt to larger, straighter roads in the United States— but those that need to be tweaked the other way will face more challenges.
Image Credit: Public Domain
Posted-In: Long Ideas Topics Travel Global Top Stories Markets Tech Trading Ideas Best of Benzinga
View Comments and Join the Discussion!