General Growth CEO Warns Apple Stores May Be Bogging Down Growth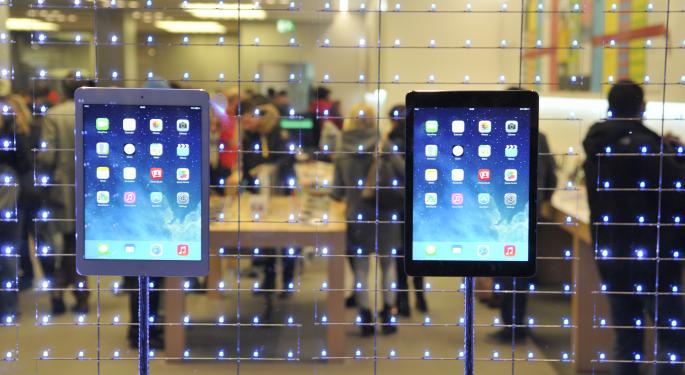 According to General Growth Properties Inc (NYSE: GGP) CEO Sandeep Mathrani, Apple Inc. (NASDAQ: AAPL)'s bricks and mortar sites may be negatively impacting retail store sales growth.
According to Apple Insider, "Apple stores, which consistently rank among the most profitable retail outlets per square foot, are reportedly bogging down growth at a chain of upscale shopping malls across the U.S."
Apple Insider outlined Mathrani's conundrum of a report: "We experienced sales increases throughout the country […] Nearly every major retail category was up, with the exception of electronics, primarily due to Apple." However, he continued, as paraphrased by Campbell, "Sales for under-10,000-square-foot stores grew 3 percent in 2015, bringing the average to $588 per square foot, but that number jumps to 4.5 percent if Apple Stores are excluded."
Related Link: Amazon To Put Roots Down With Bookstores?
In laymen's terms, retail sales are up, but they could be higher.
Because Apple is a giant in the electronic arena, and electronics have not experienced the jump every other major retail category has, according to Mathrani, all of this combined may be indicative of an issue.
The report elaborated upon the size factor of Mathrani's thesis, "The 10,000 square-foot denominator removes anchor tenants like Macy's from the equation. GGP's report only applies to 17 percent of all U.S. Apple Store locations and is not necessarily indicative of an overall decline in sales."
Therefore, while Apple stores have become dominating players in high-end brands physical shopping sphere, and "foot traffic" has increased accordingly, General Growth Properties maintains its long-held view that Apple has a negative impact. "[General Growth Properties] previously mentioned negative Apple impact in August. At the time, Mathrani said growth for the trailing 12 months – excluding anchor stores – was at 3.4 percent, but would have been 3.9 percent if Apple Stores were not counted."
View Comments and Join the Discussion!
Posted-In: Apple Insider Apple Stores Sandeep MathraniNews Rumors Top Stories Movers Tech Best of Benzinga