Bull Market, Bear Market Or Just A Trading Range?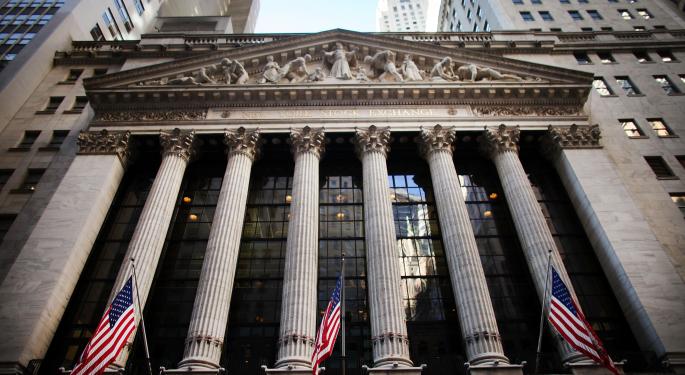 Whether you are watching CNBC, reading the Wall Street Journal or perusing your favorite median to follow the markets, market pundits are always making macroeconomic calls on its long-term direction.
Many will argue that the recent slide in the market is simply a correction in a long-term bull market that was spawned by the 2008 financial crisis. Others will proclaim that great bull market is over and has been transformed into a robust bear market.
However, not many are taking a step back from the recent volatility and recognizing what is actually taking place in the market: The market is simply in a trading range.
The Range
Based on the S&P 500 cash index, the trading range has been in place since April 2014, when the index bottomed at the 1800 area. That range was tested during the meltdown in the market in October 2014, when it was feared the Ebola virus was going to be a worldwide epidemic.
The index approached that level during the August 2015 Flash Crash. However, it found support considerably above that level as the battered shorts could not resist the quick windfall in profits after a prolonged cold streak.
Finally, on January 20, 2016 the index made another attempt to breach this all-important support level, but buyers stepped in at 1812. The ensuing rebound has taken the index back over 1900, where it has struggled to post a string of consecutive closes.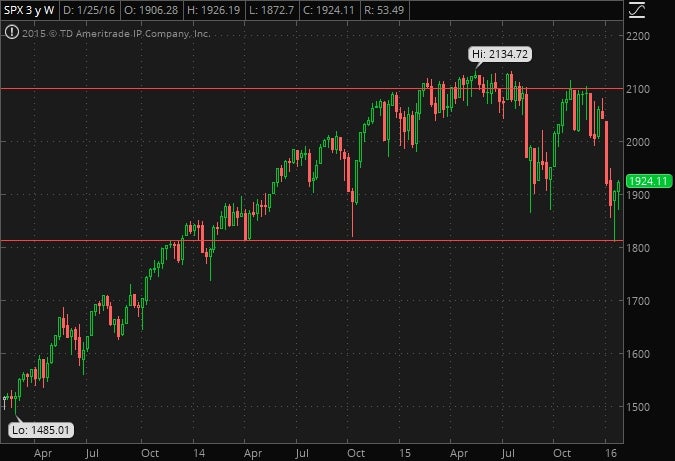 The upper end of the trading is very well defined as well. Although it took until February 2015 to get over the 2100 level and a bit beyond, it has provided formidable resistance on multiple occasions.
In fact, since its first jaunt over 2100, it made six consecutive monthly highs in the 2100 handle before tumbling in August. But where did the index quickly rebound to in October and hover at for the remainder of 2015? Just above and below the 2100 level.
All-Time Highs?
For those that argue that the great bull market is still in tact, there are only a handful of issues making new all-time highs or trading at multi-year highs to bolster their argument. Especially when compared to the number of issues at 52 week or multi-year lows.
However, there is no bear market in Facebook Inc (NASDAQ: FB), which has blasted to new all-time high in Friday's session on the heels of a better-than-expected Q4 report.
Long-time laggard McDonald's Corporation (NYSE: MCD) is finally rewarding patient investors as it has surged to new all-time highs in three of its last five sessions.
In addition, many investors are turning their nose up at the idea that the recent and or future rise in interest rates will derail the great bull market. Take a glance at the chart of the chart of AT&T Inc. (NYSE: T) or Verizon Communications Inc. (NYSE: VZ), which are changing hands at seven-month highs and it is easy to identify the trend up.
Along the lines, yield seekers are flocking to Utilities as evidenced by its recent ascent. Interestingly, that sector has been one of the stellar performers in the market since the Fed announced its first rate interest rate hike since 2006 this past December.
Rebounding Stocks
Finally, some other go-to stocks have been on the rebound. Johnson & Johnson (NYSE: JNJ) and Procter & Gamble Co (NYSE: PG) are back on the upswing after a rough start to the year. General Electric Company (NYSE: GE) has shrugged off its Q4 miss and appears to heading back towards its seven year high of $31.49.
The bears are hanging their hat on the horrible breadth (actual number of companies advancing relative to the number of companies declining) that has persisted over the markets for quite some time. Just how long can the market sustain its run if only the FANG stocks are the leading the charge, one of which -- Amazon.com, Inc. (NASDAQ: AMZN) -- whiffed on its Q4 report?
If the old adage "as financials go, so goes the market" holds true, then the market is indeed heading for a big tumble. The chart of the Select Sector Financial Slct Str SPDR Fd (NYSE: XLF) can hardly be construed as bullish and has not rebounded from last weeks low relative to many other sectors.
Most importantly, the energy sector is still in chaos due to lower Crude Oil prices and another plunge in price could be disastrous. Perhaps investors are tepid on the financial sector feeling the next bear market will be caused by a Sub-Prime Energy crisis, similar to the one that wreaked havoc on the market in 2008.
In its Q4 reports, both Morgan Stanley (NYSE: MS) and Bank Of America Corp (NYSE: BAC) took write-offs for commercial loan defaults instigated by declining oil prices. Whether these write-offs will be sufficient or just the beginning will be determined at a later date.
Now What?
So how should investors react to this unpredictable and volatile market environment? Much depends on where you are in your investment cycle. If you are long into the cycle and approaching retirement and have met your objectives, it may be wise to lighten up and not worry as much about the day to fluctuations. If you have been saving for your child's college education and have amassed the needed funds, it may be time to lock it in.
Be cognizant of the current of the market environment and make changes when necessary.
For now, the market is in embedded in a 21-month trading range and it is impossible to predict what dynamics will instigate a meaningful breakout or breakdown from current levels.
Posted-In: Long Ideas Education Short Ideas Technicals Opinion Top Stories Markets Trading Ideas Best of Benzinga
View Comments and Join the Discussion!