Disney's 'Star Wars' Shift Could Impact Fox And Time Warner's 2017 Tentpoles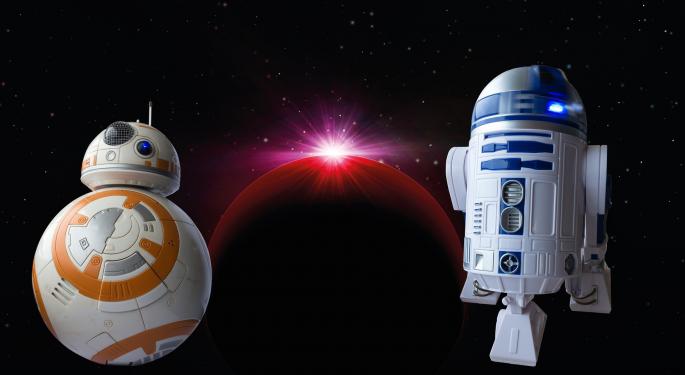 While the success of "Star Wars: The Force Awakens," was expected, the sheer speed in which the movie burned through the record books is still stunning to behold. As a result, it shouldn't be a shock that Walt Disney Co (NYSE: DIS) is priming the pump for an encore.
Disney's Scheduling Shuffles
Disney's original plan for the "Star Wars" galaxy of films was to eventually return the franchise to the summer season in which it first debuted. "Episode 8" was eyed to hit theaters in May 2017, tied to the brand's 40th anniversary, but on Wednesday, those plans changed.
Related Link: Dan Nathan Sees Unusual Options Activity In Disney
Now executives have decided not to fix what wasn't broken and keep "Episode 8" in the December time-frame, which is also when this year's "Rogue One: A Star Wars Story" is slated to hit theaters.
The "Episode 8" shift makes complete sense from a financial standpoint, and Disney being Disney it's not like investors have to worry about the studio not having a proper replacement.
"Pirates Of The Caribbean: Dead Men Tell No Tales," which previously was slated for July 2017, will instead move up to the now open Memorial Day weekend. The shift actually helps Disney as next summer was already crowded for the Mouse House, and this will spread the studio's releases out, which should make them all more profitable.
Your Move, Rival Entertainment Companies
The news is less rosy for Disney's rivals, as "Star Wars" moving to December puts it on a collision course with Warner Bros. and Twenty-First Century Fox Inc (NASDAQ: FOXA). The Time Warner Inc (NYSE: TWX)-owned Warner Bros. was planning to release Steven Spielberg's highly anticipated "Ready Player One" film during that same weekend.
'Avatar' Raises Unique Issues
Making matters even more interesting was that was also the same frame where Fox was expected to release its long-awaited "Avatar" sequel. The James Cameron follow-up is expected to be a presence in theaters for each of the next three years starting in 2017, but now one has to wonder if that plans remains on track.
While Fox and Disney are separate entities, they do share a common interest in "Avatar's" success. Disney is slated to open its massive "Avatar" themed add-on to its Animal Kingdom theme park in 2017. It's safe to assume this change in developments could ruffle a few feathers between the two goliaths. It's also important to note though that Fox has not officially slated "Avatar 2's" release date yet, but it has been widely believed December 15 or December 22 were the odds-on favorite (the original came out on December 18, 2009).
With so many high-profile films investors know traditional logic says something's got to give, but just what remains to be seen.
Image Credit: Public Domain
View Comments and Join the Discussion!
Posted-In: AvatarLong Ideas News Topics Events Tech Trading Ideas General Best of Benzinga