Buybacks Surged In The Third Quarter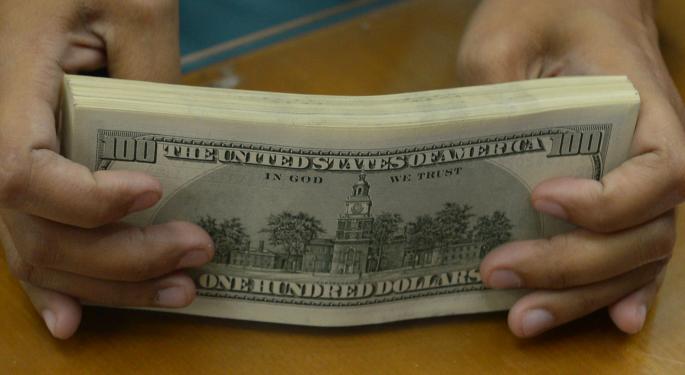 Perhaps it was because companies knew higher the Federal Reserve was going to raise interest rates, but S&P 500 members boosted share repurchases in the third quarter in significant fashion. S&P Dow Jones Indices said Monday S&P 500 companies increased third-quarter buybacks by 14.5 percent to $150.6 billion.
"Year-over-year comparison shows that share repurchases have increased 3.7% over the $145.2 billion reported during the third quarter of 2014," said S&P Dow Jones Indices in a statement.
Even with the third-quarter buyback bonanza, the PowerShares Buyback Achievers Portfolio (NYSE: PKW) is down 6.4 percent this year. That puts the popular PKW in jeopardy of lagging the S&P 500 for just the third time in the past seven years. What is arguably more notable than the fact that PKW beat the S&P 500 four times from 2009 to 2014? The margins. As in, when PKW beats the S&P 500, the former does so soundly.
Related Link: A Pleasant ETF Surprise That Could Continue In 2016
"For the 1-year period ending September 2015, S&P 500 issues increased their buyback expenditures by 1.6% to $558.9 billion from $550.1 billion posted in the prior 12-month period," according to S&P Dow Jones Indices. "For the seventh consecutive quarter, over 20% of the S&P 500 issues reduced their year-over-year diluted share count by at least 4%, therefore boosting their earnings-per-share (EPS) by at least 4%."
A Rival
PKW has a rival in the form of the S&P 500 Buyback ET (NYSE: SPYB), which debuted in February and now has nearly $10 million in assets under management. SPYB follows the S&P 500 Buyback, which is an equal-weight benchmark, ensuring the new ETF is not excessively exposed to just a small number of stocks. Both ETFs are heavily allocated to the consumer discretionary and technology sectors, which have been the leading share repurchase groups in recent years.
PKW's top holdings include Dow components Home Depot Inc. (NYSE: HD), Boeing Co. (NYSE: BA) and Apple Inc. (NASDAQ: AAPL). Those stocks combine for over 15 percent of the buyback ETF's weight. Apple was the leading repurchaser of its own shares during the third quarter followed by rival Microsoft Corporation (NASDAQ: MSFT), according to S&P Dow Jones Indices.
"On a sector basis, Information Technology continued to dominate buybacks as their percentage of the Q3 buybacks increased to 28.7% from 27.9% in Q2. Energy maintained its low level, slightly increasing 0.9% for the quarter, as the sector continued to cut back on expenditures. Consumer Staples and Consumer Discretionary posted increases of 27.7% and 20.9%, respectively. Financials, accounting for 17.1% of all buybacks, increased 21.0% in Q3," said the index provider.
November brings the briskest buyback activity, while December is tied with May as the third-busiest month for share repurchases.
Posted-In: Long Ideas Broad U.S. Equity ETFs Buybacks Markets Trading Ideas ETFs Best of Benzinga
View Comments and Join the Discussion!