What To Expect From Oil In 2016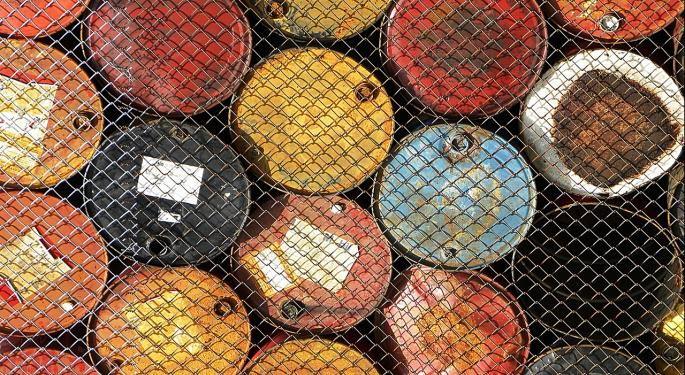 2015 has been a difficult year for oil investors and companies, as crude prices plummeted and supplies far outweighed demand. Several different factors have weighed on oil over the past year, all of which have kept the market from rebounding.
The global economy has been a major contributor to persistently low oil prices over the past 12 months, as demand in some of the world's largest nations has dwindled. Turmoil in China significantly impacted the oil market and worries about persistent economic weakness have kept predictions for the market hazy.
Another major contributor to this year's slump in oil prices was an agreement with Iran to lift sanctions that have been keeping the nation's oil from the markets in exchange for Tehran's promise to curb nuclear activity. The agreement between Iran and Western leaders has been under scrutiny recently, as many worry about whether Iran will follow the guidelines set forth and oil investors say the influx of new oil is likely to continue pressuring the market.
Related Link: Two-Day Rally In Crude Oil Ends With A Thud
With the rollercoaster year coming to an end, there is one question remaining in investors' minds: Where are oil prices headed in the coming year? Investors have been wondering whether prices have bottomed in hopes of re-entering the market before prices stabilize. Like anything else, predictions about oil markets are far from being certain, but analysts are already beginning to lay out their expectations for the direction of oil prices in 2016.
Here's a look at what to expect from oil markets in 2016.
1. Average Price To Remain Constant
The oil market isn't expected to make any major moves in the coming year, meaning that prices will likely remain near their current levels. Moody's cut its price forecast for both Brent crude oil and West Texas Intermediate (WTI) crude earlier this year, citing concerns about oversupply.
The global supply glut is expected to continue growing in the coming year, and economic improvement isn't likely to offset growing stockpiles. For that reason, Moody's sees Brent trading at $43 and WTI trading at $48 per barrel next year. In the following years, Moody's was similarly pessimistic, saying that both Brent and WTI are only expected to rise by $5 per barrel.
Related Link: Crude Oil Still Volatile: How To Take Advantage With Options
2. Bottom Could Be On Its Way
While some optimistic traders believe that oil prices have already seen their bottom and have nowhere to go but up, others say that benchmark is coming up in the New Year. Data trader Daryl Guppy has predicted that oil will bottom just below $30 per barrel. Many say prices will need to sink lower before the global supply glut can clear.
Oil execs like Shell's Ben van Beurden have warned that lower oil prices could eventually cause a marked spike, as it will cause oil firms to cut back even further, thus reducing output and trimming the oversupply.
3. Changes To U.S. Oil
The U.S. oil industry could receive a significant boost in the coming year, as new legislation allowing the nation to export oil is expected to make its way through Congress. For the past four decades, U.S. producers have been banned from exporting unrefined crude, but new laws could change all of that and give the sagging industry a much needed boost.
U.S. lawmakers announced their intentions to revise the ban earlier this week, though the bill will need to pass through both the Senate and the House before it will go into effect. While U.S. producers are cheering the amendment to exporting policies, refiners say changing the law will probably hurt their operations, as U.S. crude will be sent to overseas refiners rather than being refined in the States before being sold.
4. Producers Jockeying For Position
One of the major causes of the global supply glut has been producers' unwillingness to cut down on output. Normally, the Organization of Oil Exporting Countries (OPEC) adjusts their collective supply in order to keep prices at sustainable levels. However, over the past year, the group's members have been divided as to how to move forward.
Some, like Saudi Arabia say maintaining current levels are important to ensure their position as a global supplier. They worry that cutting down on output will boost prices and give exporting nations outside of the group like America and Russia the upper hand. With all of the world's producers stubbornly refusing to cut production, oversupply has become a major anchor on oil prices.
Related Link: Leveraged Oil Lottery Ticket Keeps Pulling In Assets
5. Iran Under The Microscope
Iran's entrance into the oil market is expected in 2016, as the nation has been preparing to ramp up production once the sanctions are lifted. The nation has been barred from the global oil market for years, as its relations with World Powers remained strained.
However, this year's talks resulted in an agreement that will reintroduce Iranian oil into the market, thus further increasing oversupply. The return of Iranian oil is likely to weigh on the relationship between Gulf producers and Western leaders, as Iran has long been a political archrival of gulf producers like Saudi Arabia.
Not only will Iran be in the spotlight for its return to the oil market, but the nation will also be under the microscope in the coming year as Americans evaluate whether the Obama administration's decision to make a deal with Tehran was a wise one. Just months after the deal was made, Iran was cited by the United Nations Security Council for violating a resolution by launching and testing ballistic missiles capable of delivering nuclear weapons. Many are worried that Iran is inching closer to developing nuclear weapons— something that critics say could become a serious threat to America's Middle Eastern allies.
In the New Year, the debate over whether Iran is abiding by the terms of its agreement is likely to continue, especially with a new administration about to take over in Washington.
6. The Fed
The U.S. Federal Reserve is likely to play a role in oil prices in the coming year, as the U.S. central bank is working to return America's monetary policies back to pre-recession norms. The bank announced its first interest rate hike in almost a decade on Wednesday, which has caused oil prices to decline. Uncertainty has been weighing on traders' minds and pushing sentiment lower, which has in turn brought oil prices lower.
Some believe that an interest rate hike this December will set the stage for the Fed's policies in the coming year, something that will remove much of the uncertainty from the market and improve sentiment.
However, depending on how the Fed's rate increase is received, it could be negative for markets as well. While most agree that a slight rise in interest rates will have no negative effects on the U.S. economy, many believe that the bank will struggle to continue raising rates without damaging the nation's economic recovery. If the U.S. economy takes a turn for the worse in the New Year, oil prices will probably sink even lower.
Related Link: Here's How The Rate Hike Will Affect Oil And Inflation
7. Geopolitical Trouble
The events of 2015 have left the political climate across the globe strained as issues between Ukraine and Russia, Greece and the EU, China and its South Pacific neighbors and several Middle Eastern nations have weighed on sentiment.
While some issues have had very little impact on the oil market, many of those nations play an important role in the supply or demand of crude. Geopolitical uncertainty, especially in the Middle East, is expected to continue and possibly worsen in the coming year, something that could boost prices slightly, as the possibility of supply interruptions becomes more imminent.
That being said, barring an extenuating circumstance, most don't expect to see geopolitical trouble contributing significantly to a price increase as the market is likely to remain severely oversupplied.
Image Credit: Public Domain
View Comments and Join the Discussion!
Posted-In: Long Ideas Emerging Markets Eurozone Commodities Politics Top Stories Economics Federal Reserve Best of Benzinga