8 Value Stocks For Investors Worried About Risk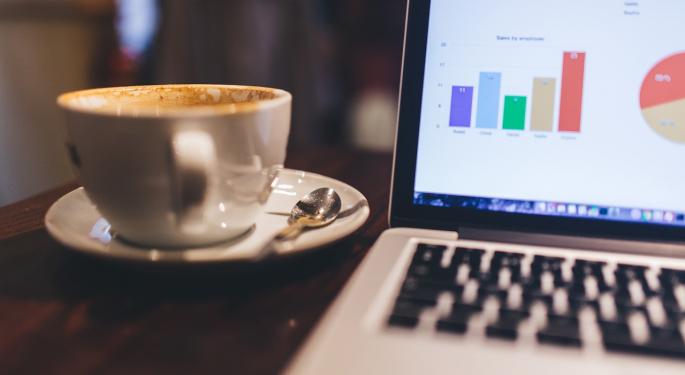 U.S. markets have become increasingly volatile in recent days as the Federal Reserve's December meeting approaches.
Many believe that the bank is planning to raise interest rates at its final meeting of 2016, something that will likely have a negative impact on share markets. While some believe the bank will hold off and others say a rate increase won't derail markets as much as investors anticipate, the concern remains that a rate hike will do significant damage and create a great deal of market volatility in the months to come.
For those who foresee market turmoil following the Fed's December meeting, low-risk stocks are paramount. Big name companies with solid balance sheets, relatively low debt levels and a good outlook have become hot commodities on Wall Street as investors batten down the hatches ahead of a possible market slide.
Here's a look at eight relatively low-risk stocks traders are looking to ahead of the Fed's December meeting.
Related Link: 2 Federal Reserve Reports Present Trade Opportunity
1. PepsiCo, Inc. (NYSE: PEP)
Beverage maker PepsiCo has long been a solid stock for investors looking for a well-established company that has stood the test of time.
The firm encompasses a variety of well-known brands, including its flagship Pepsi carbonated beverage and popular snack-food brand Doritos. The company pays a 2.9 percent dividend, which it has increased by 15 percent so far this year.
The reason PepsiCo is such an attractive pick for many investors is the firm's focus on cost savings tactics – which have helped improve the company's margins. Pepsi has been under pressure in recent years, as consumers became more health-conscious and turned away from soda; however, the firm has been able to revamp its strategy to offer healthier alternatives and keep customers coming back.
2. Johnson & Johnson (NYSE: JNJ)
Johnson & Johnson is another firm that has been an investor's favorite due to the company's widely recognized and trusted brand name.
Not only has the firm secured its position in the consumer products and healthcare space, but Johnson & Johnson has a widely diversified portfolio that allows the firm to make money in every industry from medical devices to consumer products. Shares of Johnson & Johnson have a dividend yield of 3 percent, and the firm has been increasing its dividend for decades, making it a reliable, solid income stock.
3. Kimberly Clark Corp (NYSE: KMB)
Kimberly Clark is the consumer products company behind well-known brands like Kleenex, Huggies and Kotex.
The firm has been a staple in American homes for decades, making it a relatively safe bet for future longevity. Not only does Kimberly Clark offer a well-established brand name, but the company has been delivering returns to investors for years.
The firm has increased its dividend payments for more than 40 consecutive years and had a dividend yield of 3.2 percent in 2015. Over the past five years, Kimberly Clark shares have gained 89.15 percent, making the firm a good bet despite worries about foreign currency pressures and uncertain market conditions.
Related Link: Fed Preparation With Currency Hedge ETFs
4. Pfizer Inc. (NYSE: PFE)
The healthcare industry is a popular place for investors when times get tough, as the space often continues to remain profitable even in difficult economic conditions.
Pfizer is one such firm that has made its name among longer-term income investors because the company's shares have a 3.45 percent dividend yield.
Recently, the firm has been under a great deal of pressure as many of its key drugs' exclusivity periods expired, but many analysts say the company's pipeline of new treatments looks promising. Not only that, but the firm has a great deal of liquidity, meaning that there is a lot of potential for growth through acquisitions. Over the past year, Pfizer shares have gained 9.66 percent.
5. General Electric Company (NYSE: GE)
General Electric is an often-overlooked stock, because the firm's share price has been relatively flat over the past two years.
However, when the firm's 3.5 percent dividend yield is factored in, the company's returns have been well ahead of the market. Analysts have praised General Electric's decision to turn away from its finance business and shift its focus back to its industrial arm, saying that such a change has made the stock a safer bet for investors.
While the firm isn't expected to up its dividend payments any further in the coming year, many believe that its backlog of orders will help bump up revenue, which in turn will lead to better returns in 2016.
6. Verizon Communications Inc. (NYSE: VZ)
Verizon has also emerged as a play-it-safe option for traders, as the wireless giant has become the largest carrier in the United States.
Not only does the company have the most expansive network in the country, but the firm's service is consistently rated as high quality among its customers as well. While Verizon's historical growth has been impressive, most analysts believe that it isn't a good indicator of what's to come, since the smartphone market in the United States has become saturated.
However, the company's efforts to increase advertising revenue could help boost growth in the future. Another bonus for income investors is the firm's nearly 5 percent dividend yield.
7. General Motors Company (NYSE: GM)
General Motors has seen its fair share of trouble over the past few years, since the company's declaration of bankruptcy during the financial crisis and ignition switch troubles all wreaked havoc on the firm's stock prices.
However, the firm has shifted its strategic goals to counter slowdowns in some of its international markets and regained public trust with promises to overhaul the company's corporate culture.
Many analysts expect GM will continue to profit despite weaknesses in Asia and Europe, as the majority of the automaker's exposure is in North America. In addition to the firm's bright outlook for the future, General Motors' 4 percent dividend yield has given investors reason to consider buying shares.
8. Exxon Mobil Corporation (NYSE: XOM)
Investing in an energy company at a time when commodities are on the fritz may not sound like a particularly secure investment, but some analysts say Exxon Mobil's ability to weather the storm has proven the firm's sustainability.
Oil prices have dropped from above $100 per barrel to as low $40 per barrel, creating chaos on energy companies with large debt levels.
However, Exxon has been able to stay afloat during difficult times. The company's solid balance sheet and excess cash have kept the company from having to sell off assets like many of its peers. For investors who want to keep the energy sector in their portfolio, but are concerned about risk, Exxon is just about the safest bet.
Related Link: Don't Abandon Preferred ETFs
When To Buy?
While it's important to maintain a well-diversified portfolio, especially in times of turmoil, many investors are wondering whether now is the time to buy some of these safer bets in preparation for the rate hike.
Barclays has suggested investors should keep their eyes on the market in the coming months, citing that the bank is expecting to see sharp swings due to uncertainty regarding the Fed, as well as weakness in China and the commodity space.
However, the bank said drops in the market are unlikely to be sustained for long periods of time, making them great buying opportunities for traders waiting for an entry point. The bank advised traders to take positions in value stocks during market swings, as it believes that a correction will be an "opportunity to position for recovery."
Aside from snapping up U.S. companies with long-term value potential, Barclays recommended that investors look to Europe for worthwhile deals – the region's firms are better positioned for growth and will be likely to deliver better returns in the months to come.
Image Credit: Public Domain
View Comments and Join the Discussion!
Posted-In: BarclaysLong Ideas Short Ideas Commodities Top Stories Federal Reserve Markets Trading Ideas Best of Benzinga