What A Macau Makeover Means For Casino Stocks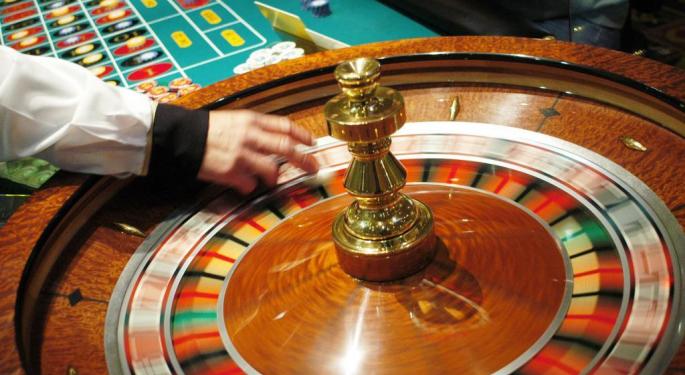 Long-term investors in the casino sector are all too aware that Macau – not Las Vegas – is the global market with the most chips on the table.
American player Wynn Resorts, Limited (NASDAQ: WYNN), for example, generates 70% of its revenue from the Chinese island – and the fact that Wynn's stock has plunged by nearly two-thirds in the last 12 months has a lot to do with how poorly casinos have performed in Macau for nearly two years.
The island's casino-dependent economy has been suffering from an economic slowdown in China and a campaign against corruption, with gambling revenue in the betting enclave dropping for 16 straight months.1
Gross gaming revenue in Macau had fallen year-over-year by one-third in September.
Yet hope may have just rolled an "eleven" – stocks across the sector jumped last month following a report that that the Chinese government plans steps to revive the flagging gambling industry on the island.
Li Gang, director of the China's local liaison office, said the government will introduce support policies by the end of this year, according to a Bloomberg report.
"Any potential measures to help Macau's visitation could be a great boon for the industry, as casual gamblers are now becoming the key pillar of the industry profits in the midst of VIP weakness," DS Kim, an analyst at JPMorgan Chase, wrote in a research note cited by Bloomberg.
Ironically, news of possible state support happened to piggy-back on a report that same week that Macau results in October showed signs of life on their own – Barrons.com cited local media reports saying that the number of visitors to Macau during China's Golden Week holiday jumped more than 16% from a year earlier.2
Casino stocks and alternative investments have surged in recent weeks. The Casino Gambling motif, for example, has climbed 19% in the past month. Over that same period, the S&P 500 has risen 8.1%.
Over the last 12 months, the motif has lost 10.5%; the S&P 500 is up 3%.
For some analysts, the collection of positive developments has been enough to suggest the bottom may have been reached in casino stocks with a heavy tie-in to Macau gamblers. Bloomberg reported that several Hong Kong-listed casino stocks attracted at least eight rating upgrades last month as analysts pointed to a recovery in receipts from small-time gamblers.3
While the Chinese anti-graft campaign has scared away high-rollers, receipts from mass-market gamblers recovered about 2% in the third quarter versus the previous three-month period, according to a Credit Suisse research note cited by Bloomberg.
JPMorgan's Kim acknowledges that headwinds facing Macau haven't disappeared, but he says valuations are cheap enough to make the stocks attractive. The BI Macau China Gaming Market Competitive Peer Group Index has a projected enterprise value of 11 times EBITDA, down from an average multiple of 12 since 2011.
"We are turning bullish on Macau gaming, finally," Kim wrote. "We do believe these stocks have reached an inflection point and that it is time to start building positions for the quarters ahead."
Yet a possible upside in Macau hasn't dissuaded some casino operators from restructuring in an attempt to diminish the impact of the island's ebb and flow (which, recently, has been mostly ebb). MGM Resorts International (NYSE: MGM) said last week that it intends to form a real-estate investment trust to reduce debt and drive its stock price. The company's plan follows other REIT plans by rivals including fellow motif components Penn National Gaming, Inc. (NASDAQ: PENN), Caesars Entertainment Corp (NASDAQ: CZR) and Pinnacle Entertainment Inc (NYSE: PNK) 4
REITs enjoy tax-advantaged status and distribute most of their taxable income to shareholders.
Still, a legitimate rebound in Macau gambling takes among operators could be more than enough to sustain a rally in casino stocks.
Posted-In: Long Ideas Travel Trading Ideas General Best of Benzinga
View Comments and Join the Discussion!