The Tech Stock Strategist Talks Twitter, Alibaba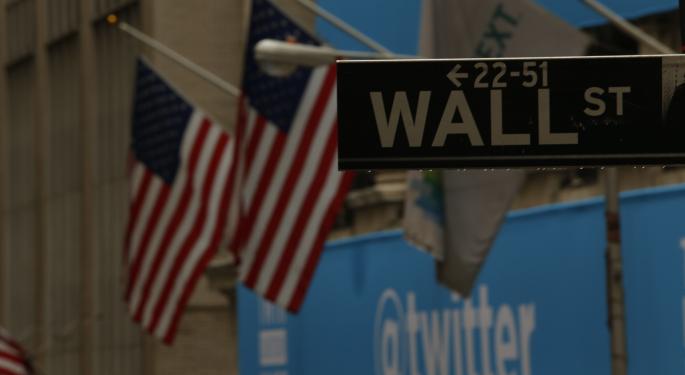 Talking about the current state of the market, Udall assured, "the single worst thing you can do right now is buy super strong charts, because after sort of a mini-crash, or bear market, or whatever (…) the stuff that does the best is the stuff that's been bombed down. You need to find stocks that have been decimated, that still have a lot of value in them (…) or they have just missed a quarter."
The expert continued, "I feel a lot better now, after the retest, in fact, than I did in that one- or two-week period around the August low; that fake low [that], by the way, wasn't a fake low for every stock. The have been plenty of stocks that kind of have put in the fake low and then they turned it into a real low," he said. In this line, Alibaba is a good example.
The stock hit a fake low, which was then basically retested. "I hated the stock at $120," he assured, but at $60 it looks much better. "I wouldn't be surprised if BABA traded between $75 and $85 (…) in the not to distant future."
Twitter
Udall then went into Twitter and Jack Dorsey. "I think we are seeing sort of what I call the Beta test of Project Lightning (…) the Phase 1."
Related Link: Pros React To Twitter-Jack 2.0
The interesting thing about the Moments release is, "the power users are gonna look at it, and they are gonna go 'well, who cares? What does this do for me?'"
"Well, the power users don't need any improvements on Twitter (…) If you are kind of a power user on Twitter, it's hard to think like somebody that doesn't use Twitter," somebody who thinks Twitter is too complex and hasn't been using it.
Udall also mentioned a possible retest seen in the stock recently. "The was kind of a fake low at $21ish, but $23.50 to $24.50 was definitely a real low on Twitter."
He believes Twitter can get back to the low-to-mid 30s, as long as it doesn't have a terrible quarter. However, Twitter does need user growth to return to the 40s and 50s, he assured. "It's up to them to prove the user growth case," he continued, "but the stock is very very cheap by growth metrics, relative to anything in their peer group."
Relative to growth, Udall sees Twitter trading at a 70 percent discount to LinkedIn Corp (NYSE: LNKD) and a 50 percent discount to Facebook Inc (NASDAQ: FB).
"So, if Twitter stays here, then those two stocks have much more downside than Twitter does, but I think that Twitter is gonna play catch up," he concluded.
Disclosure: Javier Hasse holds no positions in any of the securities mentioned above.
Posted-In: Quantum Trading Strategies Sean UdallLong Ideas Top Stories Exclusives Tech Trading Ideas Interview Best of Benzinga
View Comments and Join the Discussion!