How To Play InBev's Potential Mega-Deal And Global Beer Buzz With 'High Spirits' Motif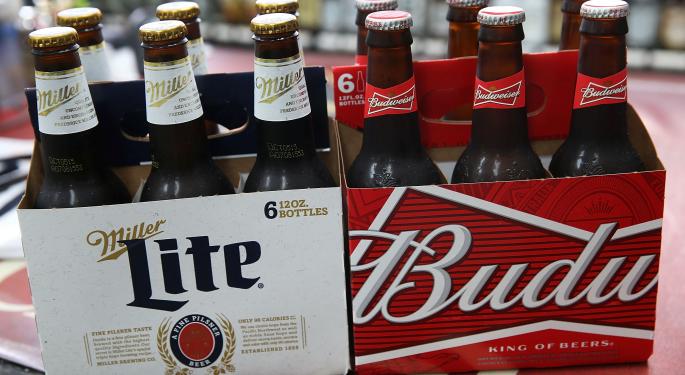 A possible plan to combine two of the world's biggest brewers has the beer industry on notice for a seismic shift.
Earlier this month, SABMiller, the world's second-biggest brewer, confirmed that it is being courted by Anheuser Busch Inbev SA (ADR) (NYSE: BUD).
InBev could bid as much as $106 billion for its rival in a deal that would create a firm that would earn half the industry's profits and sell one third of all beer consumed in the world.
The news has breathed some life into the industry when it seemed to most need it, while simultaneously sparking the stocks of brewers amid a tempestuous time for financial markets.
The High Spirits motif, for example, has gained 0.8 percent in the last month. In that same time, the Standard & Poor's 500 went down 3.3 percent.
In the past 12 months, the motif went up 1.8 percent; the Standard & Poor's 500 has lost 0.6 percent.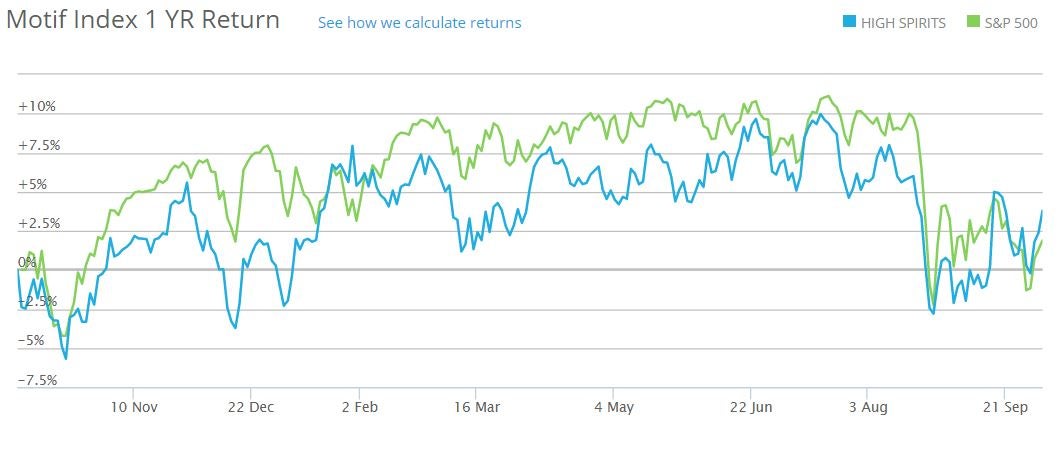 In the U.S., the momentum is with craft brewers which saw their volumes rise 18 percent last year even as total beer sales stayed flat. In beer-proud Germany, consumption per person has plunged by one third since the 1970s.
For InBev, the deal has the potential to offset worries in its two main markets. In Brazil, a weak economy is hurting sales, and in the U.S., the company's still-impressive 45 percent market share is down five percentage points from 2009.
A merger would help Inbev extend its global reach. SABMiller earns almost a third of its profits in Africa, where AB InBev's sales are negligible. A combination would also help InBev serve more consumers in Colombia and Peru.
In addition, a tie-up would help the combined company save money when negotiating future sports sponsorships. The company's new concentrated pricing power might drive down overall beer advertising spending, which ranks among the sports market's most lucrative categories.
Tony Ponturo, a former vice president of sports marketing at Anheuser-Busch, told Bloomberg the merger could cut U.S. beer sponsorship spending by as much as 20 percent.
Last year, InBev spent more than $15 million for three-and-a-half minutes of advertising time during the Super Bowl, according to a Kantar Media report. The company is currently in the fifth year of a six-year, $1.2 billion contract with the National Football League. Ponturo said the company would likely want to see those terms reduced in a renewal.
Repercussions from an InBev/SABMiller deal could also be felt in the growing Chinese market. A Goldman Sachs report earlier this month said the merger could result in more rational competition and drive China's beer industry profit pool to expand three to seven times in the next five years.
It just so happens that SABMiller owns 49 percent of China's largest beer maker, China Resources Snow Breweries, a joint venture with China Resources Enterprise. Goldman estimates that if the newly formed company is allowed to keep the stake, the two top players in China would control a 42 percent market share.
On the other hand, a forced divestiture by the Chinese government would be more problematic.
Ironically perhaps, other forced divestitures to ensure antitrust clearance for a combined InBev-SABMiller could mean significant opportunities for the mega-company's rivals.
Molson Coors, for instance, runs a joint venture with SABMiller that sells brands including Miller Lite, Coors Light and Blue Moon Belgian White. Getting to take over SABMiller's 58 percent stake in the venture would be a "game-changer" for Molson Coors, according to Evercore ISI.
If the deal goes through, Evercore expects Molson's earnings per share to rise to about $5.77 by 2017. At a multiple of 16 times 2017 earnings, a slight discount to other slow-growing domestic-focused beverage brands like Dr. Pepper Snapple, Molson could possibly trade for about $92 (it's currently $83.02).
As investors saw with the airline sector, consolidation could mean good things for investors in the fewer players that remain.
Posted-In: High Spirits Motif MotifLong Ideas Trading Ideas Best of Benzinga
View Comments and Join the Discussion!