4 Stocks For Socially Responsible Investors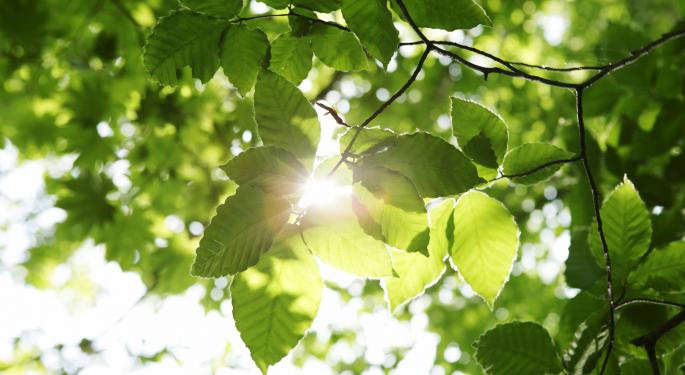 It almost goes without saying that the primary purpose of investing in the stock market is so that you can have more money at some point in the future than you do today.
But while capital gains are obviously important, many of us have additional, ethical concerns when choosing the companies we invest in. After all, what good are a few extra dollars if they've come from a company whose actions you don't believe in?
Fortunately for socially responsible investors, there are a number of companies that will do just as much good for the world as they will for your portfolio. And by using the LikeFolio app, you can find out which of those companies are likely to continue to generate shareholder value in the months and years to come.
We use data from social media to determine what people are saying about a given brand, and thus, how well that brand is doing when it comes to satisfying its customers. By tracking social volume (the number of tweets about a given company) and social sentiment (whether those tweets are positive or negative), we're able to develop a pretty good idea of where a stock is going to go next.
With that in mind, here are four socially conscious companies that also figure to be making gains on the market in the near future.
Netflix, Inc. (NASDAQ: NFLX)
When you buy stock in Netflix, you're not just investing in the streaming video company. You're also investing in the company's employees and their families.
For years, Netflix has been known as a place that rewards great employees due to its policy of unlimited vacation time. More recently, the firm made headlines when it announced that it would offer its workers up to one year of paid maternity and paternity leave, allowing mothers and fathers to spend valuable time with their young children without having to worry about missing out on salary.
It doesn't hurt that the stock recently hit an all-time high of nearly $125 dollars per share, with some analysts suggesting it will go up to $160.
Though the company's social volume took a dip from a record high a month ago, people are still talking about it on social media around 50% more frequently than they were last year.
Starbucks Corporation (NASDAQ: SBUX)
Starbucks CEO Howard Schultz is one of the most socially active executives in the Fortune 500, someone who is willing to speak out for what he believes in even if it means a public disagreement with Starbucks customers.
In addition to taking public stances in favor of gun control, marriage equality, and bipartisanship, Schultz has worked hard to enrich the lives of his employees by offering full college tuition to workers who do not have a bachelor's degree and providing part-time employees with access to health care. So far, Schultz's gambit seems to be working, as the company's stock price has been growing steadily for more than six years now.
While Starbucks' social sentiment took a bit of a dive in March following its ham-fisted #RaceTogether campaign for racial equality, the brand has rebounded nicely in recent months. As of today, the company boasts an 88% positive social sentiment, the highest it has been all year.
Etsy Inc (NASDAQ: ETSY)
When the crafts marketplace Etsy launched its Initial Public Offering (IPO) in April, it achieved something of a milestone for social responsibility by becoming America's best-known publicly traded B Corp. If you're unfamiliar with the term, B Corps are companies certified by the non-profit organization B Lab to meet certain standards for social and environmental responsibility.
As part of its commitment to the social good, Etsy pays part-time and temporary workers 40% above local living wages, teaches women and minorities to code, and composts more than 600 pounds of food waste each month at a local community farm.
As we've mentioned in the past, people on social media absolutely love Etsy. Despite generating so much conversation that it is the 13th most talked-about company on Twitter, the brand's social sentiment currently sits at an extremely impressive 97%. Though the stock price has not performed as well as some might hope since the IPO, our numbers suggest that things will be turning around sooner rather than later.
Apple Inc. (NASDAQ: AAPL)
Under Tim Cook, the smartphone giant has taken on a new interest in corporate responsibility, with the CEO even going as far as to tell an investor, "If you want me to do things only for ROI [return on investment] reasons, you should get out of this stock."
The company has been most active in its campaign to counteract climate change, a campaign that has seen it hire former Environmental Protection Agency chief Lisa Jackson and create new data centers that run entirely on renewable energy.
It's true that the company's stock — and its social media metrics — are going through a bit of a rough patch at the moment, but it would be unwise to count Apple out just yet. Even in its recent slump, the company has the fourth-highest social volume of any of the companies we track, and its social sentiment sits at a comfortable 90%.
The preceding article is from one of our external contributors. It does not represent the opinion of Benzinga and has not been edited.
Posted-In: Long Ideas Trading Ideas Best of Benzinga
View Comments and Join the Discussion!