Greece Remains The Only Game In Town...And The Game Is Ugly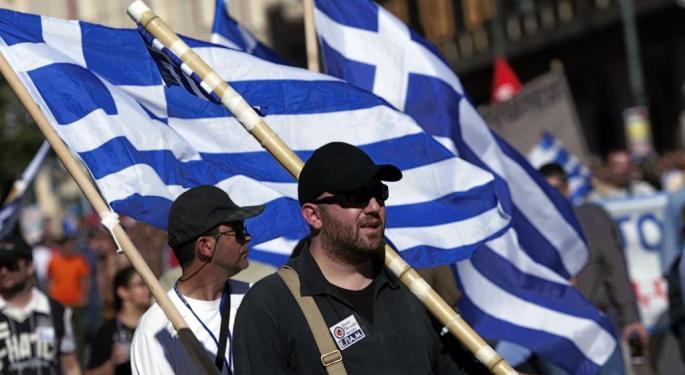 For over a month, the Global X FTSE Greece 20 ETF (NYSE: GREK) has been the most readily available pricing mechanism for Greek stocks. A burden at best, a dubious honor at worst.
The Athens Stock Exchange has been closed since June 29. There was some chatter that the market there would re-open this week, but earlier in the week Reuters reported, "Greece's stock market will probably stay closed for the rest of this week due to technical glitches at local banks, prolonging a five-week shutdown caused by capital controls, an exchange spokeswoman said on Wednesday."
Related Link: What's Going To Happen To Greek Shippers?
The burden of being the primary pricing mechanism for Greek stocks is catching up with GREK. After plunging 19 percent on June 29, GREK proceeded to recoup some of those gains in the subsequent trading days. From June 29 through July 30, the ETF's loss is just over 5 percent, which is misleading because GREK's July loss is 10.6 percent.
Various media reports have said stocks Athens remain closed because of the aforementioned technical issues and technology glitches at Greek banks. If the latter is true, it is relevant to the extent that GREK allocated nearly a quarter of its weight to financial services stocks at the end of the first quarter, according to Global X data.
The bulk of GREK's weight to the financial services sector is concentrated in the ETF's top 10 holdings, underscoring the point that the health of Greek banks plays a pivotal role in GREK's health. However, the more prominent threat to GREK is the inability of Greek Prime Minister Alexis Tsipras to get fringe members of the Syriza party to drop their objections to another bailout.
Ongoing domestic objections to another Greece bailout, are, predictably, taking a toll on GREK as the ETF is off 7.6 percent since July 10. To its credit, GREK has avoided, albeit narrowly, the all-time lows set on June 29. GREK is about 3.3 percent above its all-time low as of Thursday's close. For an ETF with a standard deviation of 48.2 percent, a 3.3 percent move in either direction is not much work.
What is surprising is that all the controversy has not led to massive outflows from GREK, at least not this month. According to ETF.com, GREK has not lost or gained assets since the start of July.
Posted-In: Long Ideas Short Ideas Eurozone Emerging Market ETFs Intraday Update Markets Trading Ideas ETFs Best of Benzinga
View Comments and Join the Discussion!