What's Yahoo Stock Worth?
Internet powerhouse Yahoo! Inc. (NASDAQ: YHOO) is in the midst of a turnaround while engineering a spin-off of its 15 percent stake in Alibaba (NYSE: BABA). The vast majority of Yahoo's valuation can be attributed to the Alibaba assets, around which there is uncertainty regarding taxation. The current price falls between the fair value associated with each potential tax-related outcome of a spin-off, with the market indicating that a tax-free transaction is more likely.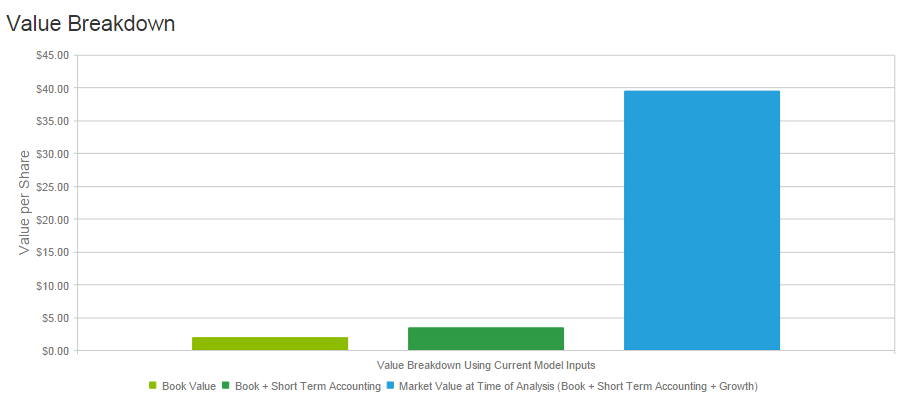 Because Yahoo's remaining stake in Alibaba is such an important element of its valuation, a simple residual earnings model is an insufficient tool. Instead, Prudena will attempt to separate the value of the potential spinoff as a wholly separate entity from that of the resulting business. The assets which are proposed to be spun off, free of tax to shareholders, are on Yahoo's books at $31.9 billion. Yahoo's book value less these assets is approximately $1.87 per share. Prudena runs a residual earnings model on this business only.
Assuming 8 percent required rate of return, the current market price implies 7.68 percent long term residual earnings growth, though the current market price assumes a benefit within the year of the Alibaba spinoff. A simple residual earnings model of the remaining business calculates value per share of $2.75, while a Monte Carlo simulation incorporating a range of inputs for the model estimates a most likely value for the remaining business of $2.31.
The Alibaba spin-off is likely worth $26.15 per share to $42.20 per share, depending on how the spinoff is taxed. This indicates overall value per share of $28.46 to $44.95, which are 27.8 percent below and 14.1 percent above the current market price, respectively. Based on Prudena's models, the current market price implies a 66 percent chance that the spin off will not be taxed.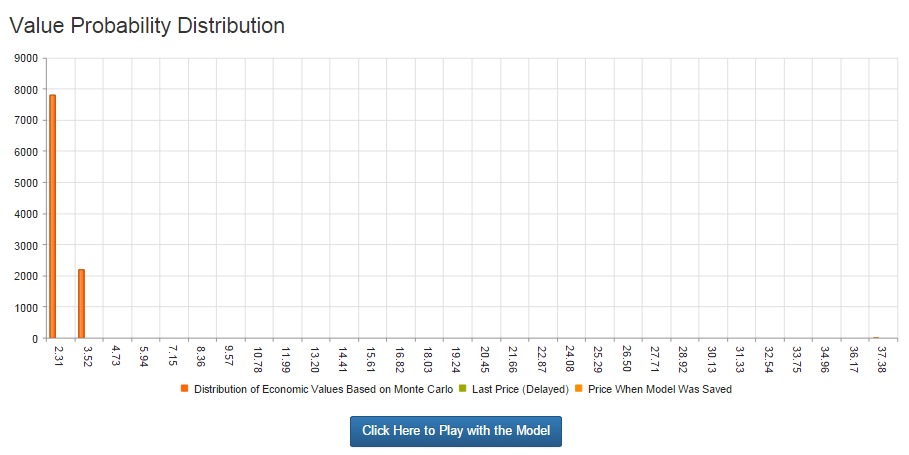 The Bull Case
Yahoo has one of the largest internet presences, being ranked #4 globally by Alexa. Yahoo's mobile revenue increased 61 percent year-over-year during the first quarter of 2015. Monthly mobile users surpassed the 600 million mark during the quarter, catalyzed by Yahoo Aviate and mobile Tumblr. Comscore placed three of Yahoo's apps in its 25 top list, indicating Yahoo's decent performance in mobile.
The native and video segments have witnessed promising growth. Yahoo's video segment improved due to content like Community and Live Nation. Native advertising revenue increased 32 percent year-over-year during Q1 2015. Yahoo's search traffic has improved due to its partnership with Firefox. The partnership drove traffic to a five year high for Yahoo. Consequently, paid clicks increased from 10 percent in Q1 2014 to 18 percent in Q1 2015. The company also entered in an agreement with Oracle for Yahoo Search to be bundled with PC Java installs. A focus on product quality and a recently renewed partnership with Microsoft have improved search functionality, especially in mobile. On the social side, Tumblr is gaining traction, now attracting 460 million monthly active users.
Yahoo has a cash and cash equivalent balance of $5.28 billion, roughly $6 per share. To review, Yahoo has the ability to turn around the revenue decline through its mobile, native and social offerings; search will also help, thanks to Yahoo's frequent partnerships with relevant companies.
A major factor which has propped up Yahoo shares is the highly anticipated spinoff of the company's remaining 15 percent stake in Alibaba (NYSE: BABA). In January 2015, it was announced that the remaining stake would be spun off into a separate holding company, at the time valued around roughly $40 billion. Yahoo intends to complete the transaction in a manner which will be tax free.
The Bear Case
Internet users are gravitating increasingly to social sites and applications such as Facebook (NASDAQ: FB) and Twitter (NYSE: TWTR). Yahoo lacks a strong social presence, making it less attractive for advertisers. User engagement time for news and content aggregation sites is much less as compared to social sites. Regarding mobile traffic, Facebook is already an established entity, while Yahoo is still transitioning its business towards the space. Yahoo's search traffic is a distant third after Google and Microsoft (NASDAQ: MSFT). Yahoo faces competition from formidable competitors in all of its major business lines.
Yahoo has struggled with execution in recent years. Yahoo's adjusted margins fall below those of Google, while ongoing restructuring expenses have consistently impacted Yahoo's GAAP income. The company is struggling with traffic acquisition costs – despite a year-over-year increase in Q1 2015 GAAP revenue, Yahoo posted a 4 percent year-over year decline in ex-TAC revenue during the quarter. This indicates that the company is spending too much to acquire users and keep up with major competitors like Google and Microsoft. The analyst consensus -13.60 percent per annum growth projected for the next five years is another cause for concern.
Yahoo's Alibaba spinoff plans were dealt a blow in May 2015 when an IRS employee was quoted by Bloomberg, alluding to a change in tax code regarding the type of deal Yahoo was seeking. There has not been resolution on the matter, and the Alibaba spinoff was not cited specifically by the IRS employee. Nonetheless, Yahoo shares tumbled on the news. Citi analysts estimate that the market now assume only a 10-15 percent chance that the deal would be tax free. If taxes are indeed unavoidable, it would reduce the valuation of the deal by more than $10 billion.
Conclusions
Yahoo is in the midst of restructuring and trying to turn around a brand that has been overtaken by Google, Microsoft and Facebook in its various business lines. If Yahoo can reduce overhead and traffic acquisition while improve product quality, the company will have a chance to return to growth. As one of the most popular sites on the internet, Yahoo still has the traffic and brand recognition to leverage improved execution.
However, as Prudena's models demonstrate, the vast majority of YHOO share value is attributable to the company's remaining stake in Alibaba. When Yahoo eventually spins off it's Alibaba holdings, the resulting company which will function almost like a mutual fund with only one equity in its portfolio. If the transaction goes through tax-free as Yahoo intends, it appears that shares are 14 percent undervalued and offer a good long opportunity for investors. However, taxation of the spun-off assets could send shares as much as 27 percent below the current market price, constituting an attractive short opportunity. This is a unique situation with a binary set of potential outcomes.
Investors must assess the likelihood of each outcome and weigh those against the probability of each being implied by the market price. It would seem quite pessimistic to assume that the IRS can change the tax code substantially enough to alter this transaction by the end of the year, and Yahoo was never specifically implicated in the statements made by IRS personnel. The market assigning a 66 percent likelihood that this deal will go untaxed creates an opportunity for any investors who recognize the recent market reaction as overblown.
NOTE: The Morning Monte is high-level, and any investment requires a deeper analysis than is presented here. The comments in the Morning Monte are intended to help guide your research and ground you in the fundamentals of the company. In no way should the comments in The Morning Monte be taken as advice to buy or sell a particular equity. Some of the statements are forward looking. As such, these statements are speculation--so beware! The comments represent the views of the author and are not necessarily the views of PRUDENA™.
Have a comment? Please Contact Us.
The preceding article is from one of our external contributors. It does not represent the opinion of Benzinga and has not been edited.
Posted-In: Long Ideas Trading Ideas
View Comments and Join the Discussion!