Obamacare Stocks Get A Supreme Court Surge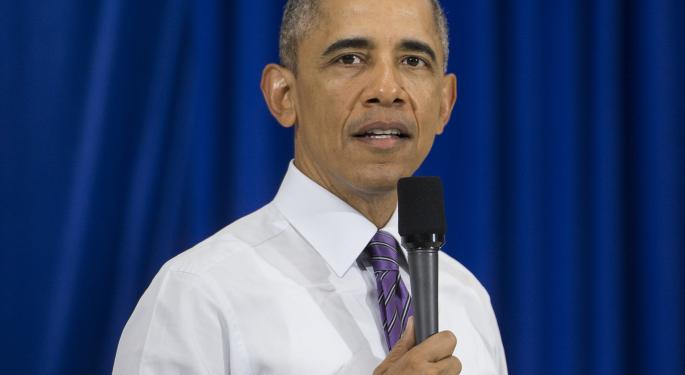 Investors learned last week that there can be some serious upside to having the nation's highest court on your side.
Stocks of hospital operators and other healthcare-related companies rallied after the U.S. Supreme Court upheld a key piece of President Obama's Affordable Care Act (a.k.a. Obamacare), which, according to Bloomberg, lifted "the main threat hanging over the industry's prospects."
Hospital stocks like HCA Holdings Inc (NYSE: HCA), Tenet Healthcare Corp (NYSE: THC) and Community Health Systems (NYSE: CYH) all gained more than 8 percent immediately after the ruling, while stocks of many health insurers also advanced.
The Obamacare motif is now up 2.8 percent over the past month, during a time when the S&P 500 has declined 2.2 percent.
Over the past 12 months, the motif has risen 31.6 percent; the Standard & Poor's 500 has increased 7.1 percent.
The court ruled 6-to-3 last week that tax subsidies can be provided nationwide to help people pay for health insurance on exchanges set up by the new health care regulations. Obamacare has provided millions of paying customers for hospitals and health insurers, Bloomberg explained, in part through the subsidies upheld by the court.
These new clients have helped fuel a multiyear rally for the sector, according to Bloomberg, and more consumers are expected to emerge in the coming years.
"This was an ideal outcome for the hospitals and removed the biggest investors' concerns," Oppenheimer Analyst Michael Wiederhorn told Bloomberg. "This decision allows the hospital stocks to again trade on their strong fundamentals."
Bloomberg noted that the decision also could help spur deal-making among health insurers. Already, Aetna Inc (NYSE: AET) is reportedly close to reaching a deal to acquire Humana Inc (NYSE: HUM), while CIGNA Corporation (NYSE: CI) recently rejected an initial takeover bid by Anthem Inc (NYSE: ANTM).
The court's decision keeps financial help flowing for about 6.4 million people who are getting subsidies in the 34 states that rely on the federal insurance exchange, Bloomberg reported. It doesn't affect those buying policies in states like California and New York that run their own marketplaces.
More than 10 million people have purchased insurance on the federal and state marketplaces set up by the health-care overhaul, and about 85 percent have received government funds to help them afford the coverage, according to the Centers for Medicare and Medicaid Services. The U.S. Congressional Budget Office estimates that more than 20 million people will sign up for coverage on the insurance exchanges in 2016, Bloomberg reported.
For-profit hospital chains had about 2 percent to 5 percent of their earnings riding on the case, according to Bloomberg.
The content contained herein is for informational purposes only and is not a solicitation or a recommendation that any particular investor should purchase or sell any particular security. Motif does not assess the suitability or the potential value of any particular investment. You are responsible for understanding the risks involved with investing in securities and for all investment decisions you make. Investments in small cap companies and companies within a particular sector involve additional risks unique to those companies which you should be aware of before making any investment decision. The information contained herein is obtained from sources believed to be reliable, but its accuracy or completeness is not guaranteed. Performance of motifs is for informational purposes only and is not not based on results you could expect to achieve. See how returns are calculated.
Posted-In: Barack Obama healthcare stocks Obama Obamacare motifLong Ideas Trading Ideas Best of Benzinga
View Comments and Join the Discussion!