Consumer Staples ETFs Remain Steady In 2015
The consumer staples sector is typically known as a stalwart area of the market and so far it has lived up to that reputation in 2015.
The Consumer Staples Select Sector SPDR (XLP) tracks 39 large-cap companies primarily engaged in the food, beverage, and consumer products industries. This fund is home to companies such as Costco Wholesale Corp (COST) and Coca-Cola Company (KO), which typically have stable business models with little fear of consumers giving up on their wares.
This ETF has accumulated over $7.2 billion in total assets and carries a modest expense ratio of 0.15 percent. In addition, it sports a 30-day SEC yield of 2.47 percent.
As you can see on the chart below, XLP has traded sideways for the majority of 2015 and is essentially flat on the year in total return. That low volatility and overall defensive positioning places XLP right in the middle of the pack in terms of major S&P sector returns.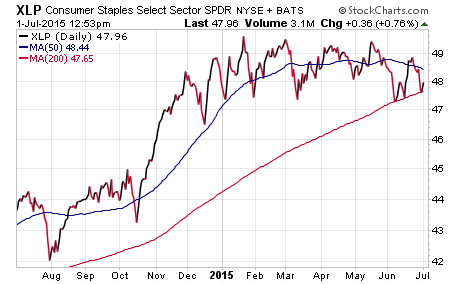 Another top ETF in this space is the First Trust Consumer Staples AlphaDEX Fund (FXG). This ETF takes a varied approach by constructing a portfolio of consumer companies based on fundamental factors that include recent performance, sales growth, cash flow, and return on assets.
FXG has just 38 holdings, yet the enhanced screening criterion has shaped this fund into a markedly different basket of stocks than XLP. Top holdings include companies such as The WhiteWave Foods Co (WWAV) and CVS Health Corp (CVS).
The slant towards smaller company stocks has allowed FXG to distance itself from its competition this year as well. So far in 2015, this ETF has gained 5.56 percent and has continued to indicate a steady uptrend is in place.
Lastly, the iShares Global Consumer Staples ETF (KXI) takes a broader approach to incorporating both U.S. and international stocks in its portfolio. This ETF has 95 positions distributed in a market-cap weighted allocation and total assets approaching $625 million.
KXI has benefitted from its overseas exposure so far this year and is currently up more than 2 percent heading into the second half of 2015.
Each of these ETFs offers a distinctive and diversified approach within a sector of the market that has largely managed to avoid excess volatility over the last six months.
© 2021 Benzinga.com. Benzinga does not provide investment advice. All rights reserved.
---