George Soros' Latest Moves: Energy, Tech, ETFs, Pharma & More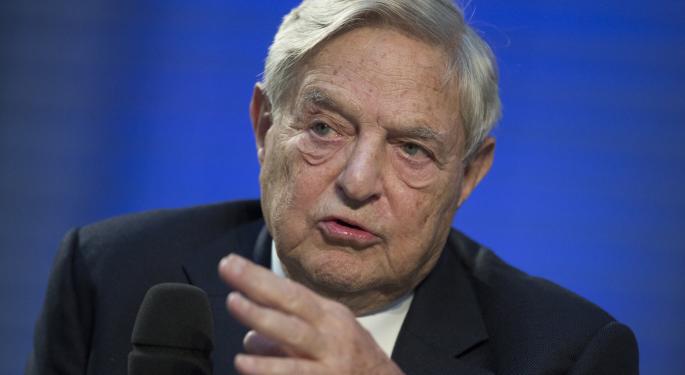 Famed Hungarian billionaire investor George Soros is 84 years old, but still continues to manage his well-known hedge fund Soros Fund Management. According to his latest 13F filing, his fund's portfolio's value rose more than 10 percent over the first quarter, to $10.16 billion.
Although his holdings are highly diversified, the fund has a slight penchant for tech stocks (which account for 26 percent of the total portfolio) and financial stocks (20 percent).
Over the quarter, Soros Fund Management purchased 90 new stocks, increased its holdings in 42 companies, and sold out of 51. Below, we will take a look at some of the most interesting moves and stakes.
Energy
The most notable new bet was placed on Noble Energy, Inc. (NYSE: NBL). Over the first quarter of 2015, the fund acquired 2,412,422 shares of the company's Common Stock, valued at almost $118 million by the time of the 13F filing. This position accounts, however, for only 1.16 percent of Soros' total equity portfolio.
Related Link: 13F Season: Tiger Cub Manish Chopra Seems Fond Of Consumer Discretionary Stocks
It should be noted too that Soros has even larger stakes in the energy sector. For instance, his wage on Argentina-based integrated oil and gas company YPF SA (ADR) (NYSE: YPF) is worth almost $320 million and accounts for 3.15 percent of his total portfolio.
Largest Stakes
Only two positions are more valuable than the one in YPF: the one in Alibaba Group Holding Ltd (NYSE: BABA) and the one in the SPDR S&P 500 ETF Trust (NYSE: SPY).
Related Link: 13F Season: A Look At Warren Buffett's Q1 Moves
The SPDR S&P 500 ETF Trust hold the front-runner spot in Soros' list. The fund owns 5.341 million put options, worth more than $1.1 billion. The stake was more than sextupled over the quarter.
Alibaba is the runner up. After a 1 percent increase in the fund's investment, the position comprises 4,444,604 shares, worth almost $370 million, which account for 3.64 percent of the total portfolio.
Sold Out
Among the positions that were liquidated between January and March, inclusive, two deserve to be highlighted.
The stake in Teva Pharmaceutical Industries Ltd (ADR) (NYSE: TEVA), which comprised 4,859,966 shares and accounted for more than 3 percent of the fourth quarter portfolio, was sold out.
Also closed, was the investment in Rovi Corporation (NASDAQ: ROVI), which consisted of 217,877,000 bonds, which represented 2.39 percent of the fourth quarter portfolio.
View Comments and Join the Discussion!
Posted-In: 13FLong Ideas Health Care Hedge Funds Top Stories Tech Trading Ideas General Best of Benzinga