Valuing Apple With Monte Carlo Simulations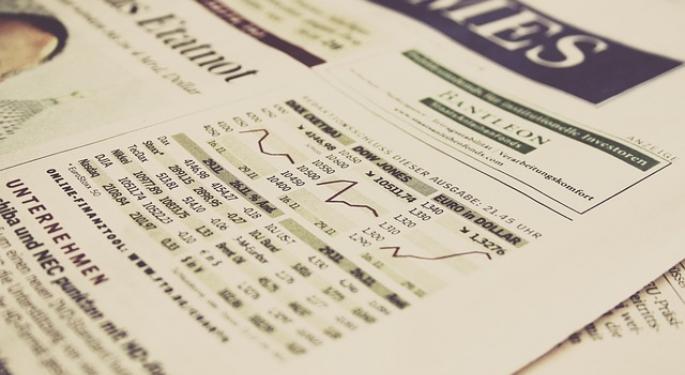 Technology company Apple Inc. (NASDAQ: AAPL) looks to build on strong Q1 FY15 results by riding strong iPhone and App Store sales and rolling out new products including Apple Watch. Apple's outlook is bright, but valuation models indicate that the current price already reflects these upsides.
See full graphic by clicking on chart.

Company Background
Apple is a technology company that designs and manufactures mobile communication devices, personal computers, portable digital music players and related software and services. The company's flagship product, the iPhone, led the global smartphone market with 20.4 percent share during the fourth quarter of 2014.
iPad tablet computers and and Mac desktop and notebook computers are also significant product groups. Apple's wearable product, Apple Watch, launched in April 2015. The company also offers support services to customers.
Apple's net sales were $74.6 billion during Q1 2015. iPhone generated 69 percent of the company's total sales during the first quarter of fiscal year 2015; sales increased 57 percent on a year-over-year basis. iPad and Mac contributed 12 percent and 9 percent of the company's revenue respectively during the same period.
Geographically, the company generates most of its revenue from the Americas, which contributed around 41 percent of total sales during the first-quarter of FY2015. Apple's assets totaled $261.89 billion at the end of Q1 2015.
Bull Case
The iPhone sales performance was extremely positive in Q1 FY15. Growth was especially robust in emerging markets as strong demand for iPhone 6 and 6 Plus generated sales volume of 74 million units, well in excess of management's expectations. The newest model also experienced the highest rate of Android user conversions among the prior three years.
Under twenty percent of the iPhone installed base has upgraded to the newest model, providing a future growth catalyst. Strong iPhone performance marks a bullish trend for Apple because the iPhone generates 70 percent of total sales and 85 percent of operating margin.
Mac sales grew 14 percent in Q1 FY15 despite a 3 percent decline in the global PC market.
App store revenues grew 41 percent owing to growth in the installed base of iPhone and iPad. Apple Pay is gaining market share and accounts for two thirds of payments on contact-less purchases across the three major US credit card networks. The April 2015 launch of the Apple Watch will also create a new revenue stream and introduce a new product that compliments existing devices and services.
Q1 FY 15 revenue grew 30 percent year-over-year and earnings increased 38 percent. Apple has guided 20 percent top-line growth for Q2 FY15 and a number of continued growth drivers are evident. 50 percent of iPad buyers in the most recent quarter were first-time purchasers, indicating an unsaturated market.
Even though global smartphone penetration approaches maximum levels, mobile devices still have a short replacement cycle, especially among high-end products. Customer feedback has been tremendous for all of Apples latest products, evidenced by very strong sales performance.
Bear Case
Smartphone market growth may be stunted going forward, with the IDC forecasting 12.2 percent growth in 2015 as compared to 26.3 percent in 2014. A slow down in feature innovation could also lead to longer replacement cycles. These threats are especially concerning for Apple because iPhone generates 70 percent of revenue.
Moreover, the App Store has benefited substantially from an expanding installed base. Following successful launches in emerging economies, the iPhone is now available in 130 countries. Geographic expansion has been very beneficial for Apple, but these catalysts are now largely behind the company. They will no longer have these step-wise gains to support future growth.
Apple operates in extremely competitive markets in which pricing power is always under attack. Challengers like Samsung continue to launch popular products across the price spectrum. Despite its popularity, iPad sales were weak year-over-year in Q1 FY15 amid an environment full of substitute products. Gross and operating margins, though stable compared to a year ago, are materially lower than they were three years ago due to competition and sales mix.
Going forward, Apple will also have to match very difficult comps from recent stellar quarters and will be negatively impacted by a strong dollar.
Discussion
Apple has a strong product portfolio and has performed exceptionally well in recent periods. They will continue to benefit from having highly-regarded products and the roll-out of new offerings like the Apple Watch and Apple Pay. Nonetheless, they are approaching some natural boundaries to growth as the global smartphone market reaches full saturation and the number of untapped geographies dwindles. Competition from the likes of Samsung poses a constant threat as well.
Image credit: Public Domain
Published: 4/27/2015 10:10:06 AM UTC
NOTE: The Morning Monte is high-level, and any investment requires a deeper analysis than is presented here.
Have a comment? Please Contact Us.
The preceding article is from one of our external contributors. It does not represent the opinion of Benzinga and has not been edited.
Posted-In: Apple Monte Carlo Apple valuationLong Ideas Previews Tech Trading Ideas Best of Benzinga
View Comments and Join the Discussion!