Exclusive: STORE Capital CEO Chris Volk On Why Restaurants Still Rule And The Business Of REITs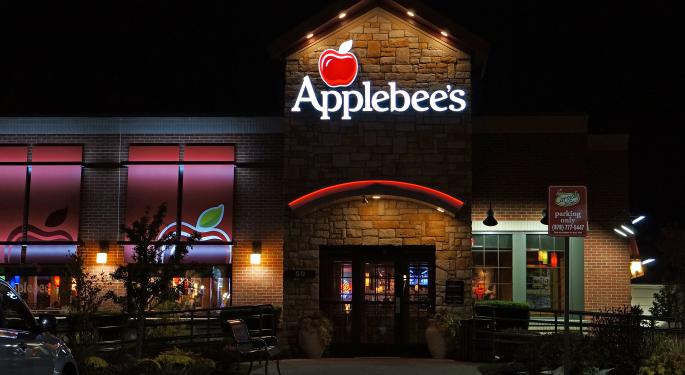 "The activity we did (in 2014) represented 140 different transactions and about a hundred different contracts. That's a lot of business," Store Capital Corp (NYSE: STOR) CEO Chris Volk told Benzinga.
"You've got 240 business days in a year and you are closing on 140 of them," he noted, adding, "That works out to more than one closing every other day."
By The Numbers
In an earnings report filed Thursday, STORE Capital Corp. reported Q4 - 2014 revenues of $55.2 million, a 65.3 percent increase over the fourth quarter of 2013.
Adjusted funds from operations (AFFO) were $33.7 million, up 84.7 percent from the same quarter a year earlier. On the year, STORE Capital posted total revenues of $190.4 million with net income per share of $0.61 (basic and diluted). AFFO was $109.9 million with an AFFO of $1.39 per share.
Related Link: Will The Blackstone Group's Next Partnership Invest Like Warren Buffett?
The company, which counts Applebee's, O'Charley's and Hooters among its success stories, invested $1.1 billion in 341 properties and sold 16 properties for an aggregate gain of $5.5 million.
Dividends
As previously announced, STORE Capital declared a pro-rated dividend per common share of $1.00 per share on an annualized basis. The period covered was from the closing of the initial public offering (IPO) through the end of December 2014. According to Volk, the 73 percent dividend payout ratio (to AFFO), "which was on the low end of where people would be in our space public company-wise," was "a very attractive and well protected dividend."
"Hopefully," Volk added, "with the growth we are generating we'll be able to increase that dividend."
Momentum Continues
"The fact we did $1.1 billion worth of business over 140 transactions at less than $10 million each," Volk said, "is as granular and as widespread business activity as you will find."
Moreover, according to Volk, the momentum the company created at the end of last year carried over to the first couple of months in 2015. "We've done $160 million worth of business in the first two months of this year," he said.
This is despite the fact Q1 is often slower as potential customers reassess their options after working hard up to the end of the previous year, according to Volk.
Solutions And Service
For Volk and for STORE Capital it's all about two things: solutions and service.
"We are filling a big need," he said. "A lot of that is filled when we write the check but a lot of it is done after we buy the asset. Holding the asset is a byproduct of giving people a solution and service."
Restaurants Still Rule
Although Gander Mountain Company was STORE's top customer at the end of 2014, with 3.52 percent of rent over 12 properties, restaurants are still a core part of the business according to Volk.
"For me as a financier, I like investing in companies like that (restaurants) where there is a level of predictability, maybe almost boredom," he said.
The reason is simple according to Volk.
"When you finance industries that really are growing fast," he said, "there are two questions that you face. One is whether there is risk attendant to that growth. The second is whether the industry, over time, will be viable."
"The restaurant space has no functional obsolescence," Volk said. "Restaurants will be around for as long as any of us are around."
On Interest Rates And REITs
"We tend to focus on something like the 10-year treasury," Volk said. "What we do with short term rates is not that meaningful to us." As far as concern over interest rates going up, Volk said, "I think rates are going to stay in a fairly attractive bandwidth for the foreseeable future."
He added, "Even if Janet Yellen raises rates, it won't necessarily push up the 10 year treasury rate. Alan Greenspan raised rates a dozen times and the 10 year treasury stayed the same."
At the time of this writing, Jim Probasco had no position in any mentioned securities.
Image credit: Anthony92931, Wikimedia
Posted-In: BenzingaLong Ideas REIT Exclusives Trading Ideas Interview General Real Estate Best of Benzinga
View Comments and Join the Discussion!