Report: Steve Jobs Wanted To 'Secure A License ASAP' After He Saw This Technology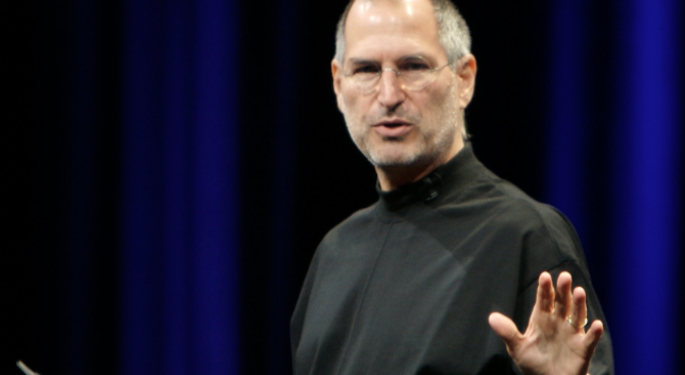 Tom Shaughnessy is the author of SecretCaps.
Network-1 Technologies Inc (NYSE: NTIP) is an under-the-radar microcap company whose strong merits have gone unnoticed in the eyes of institutions and mainstream investors. At $2.30 per share, NTIP is a $56 million company with no debt, $21.2 million in cash and cash equivalents and an ongoing revenue stream from Cisco Systems, Inc. (NASDAQ: CSCO) and twelve other companies.
NTIP has the potential to substantially reward shareholders as it asserts its already proven intellectual property rights.
Central to Network-1 Technologies is the fact that the company has been asserting its intellectual property rights against Apple, Microsoft and Google aggressively. These IP holdings are valuable and are even standards in the networking industry.
This has been validated by the fact that industry giants such as Cisco have already licensed with NTIP. (10-Q Legal Proceedings Source).
Quick Thesis
With $21 million+ in cash, no debt, consistent share repurchases cresting $7.5 million, a $23 million NOL carryforwards and a proven multi-million dollar revenue stream with 16 licensees, NTIP is a financially rock solid microcap company.
The backbone of the company is its intellectual property holdings. The company's IP is extremely stable with its key Remote Power Patent overcoming two USTPO re-exams, an IPR, and being licensed (validated) by industry giants such as Cisco. NTIP is targeting additional companies for infringement of the same technologies Cisco infringed and licensed to use.
The company has two additional avenues of growth, which have the potential to provide hundreds of millions in revenue -- its Mirror Worlds and Cox patent portfolios. Mirror Worlds has already overcome major obstacles (validity, infringement and damages) and was thrown out on a technicality -- yet is being asserted against Apple again -- for a different time period.
25 percent+ insider ownership by the company's impressive CEO Corey Horowitz aligns his interests perfectly with shareholders. Along with this insider ownership, a recent up-list to the NYST MKT from the OCTBB will increase visibility and exposure for shares.
Industry Giants Are In Play
NTIP is targeting Apple Inc. (NASDAQ: AAPL) for infringement of one of its key patent holdings. Apple was already found guilty of infringement of this patent to the tune of $625 million+, but the judgment was vacated.
Now, NTIP is targeting Apple for a different time period, and with validity and infringement being found the first time around, Apple could be on the line for potentially hundreds of millions.
This is the reason why Steve Jobs originally stated, "It may be something for our future, and we may want to secure a license ASAP," with regard to NTIP's technology after it was introduced to him.
Outside of Apple, NTIP is also targeting Microsoft Corporation (NASDAQ: MSFT) in one of its lawsuits. Microsoft has not even filed any IPRs or opposition to the company's advances.
Further, NTIP is also asserting its intellectual property against Google Inc (NASDAQ: GOOG) and YouTube for YouTube's Content ID system - owned by Google. It is worth noting that industry giants have already licensed with the company, validating its intellectual property, such as Cisco.
Closing Thoughts
Sending this investment home is the fact that investors can purchase shares relatively for free when discounting royalties owed and the company's cash balance.
Buying shares at current levels could be attractive, along with the company's aggressive share repurchase program and high insider ownership. Further, investors misunderstanding of last quarter -- since earnings must be viewed on an annualized basis -- might provide an attractive entry point for long-term investors.
Image Credit: Acaben, Wikimedia
By reading this post you agree to SecretCaps full disclosure. This post is not investment advice and is strictly informational.
Posted in: Small Cap Analysis Small Cap Opinion Tech Trading Ideas Best of Benzinga