The Truth Behind Banking's 'Big Four' In 3 Charts (And Why Bank Of America May Not Belong)
These graphs were produced by Capital Market Labs. Learn how the company is bringing the power of living data to the world of finance.
Bank of America just doesn't belong? (Apologies to Sesame Street.)
Since the Great Recession, banking in the U.S. has been dominated by the "Big Four" banks: Citigroup Inc (NYSE: C), Wells Fargo & Co (NYSE: WFC), JPMorgan Chase & Co. (NYSE: JPM) and Bank of America Corp (NYSE: BAC).
But, it is debatable whether Bank of America truly belongs with the other three banking behemoths.
First, let's take Diversified Financials and plot Total Assets on the x-axis, and Total Liabilities on the y-axis. The Big Four stand out clearly.
In fact, the smallest of the Big Four is nearly twice as large as the next largest firm, Toronto-Dominion Bank (NYSE: TD).
Now let's switch the chart from using Total Assets and Total Liabilities (which are measured at historical cost) to the fair value of assets and liabilities. In other words, what they're actually worth today.
Suddenly, the Big Four is reduced to the Big Three.
Bank of America slips from being the second largest bank to the sixth largest.
The reason for this drop: Bank of America's Fair Value of Assets is 70 percent, or roughly $1.5 trillion less than its Total Assets, and Bank of America's Fair Value of Liabilities is roughly 90 percent, or $1.7 trillion lower than its Total Liabilities.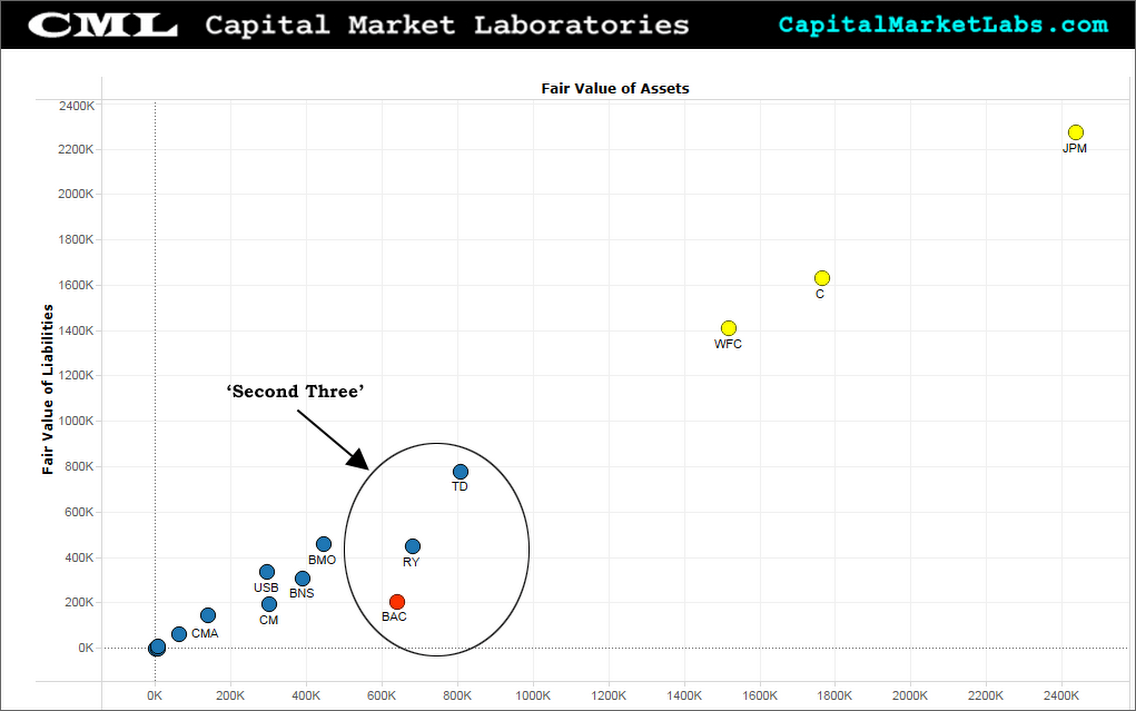 Is Bank of America better classified as part of a 'Second Three,' along with Royal Bank of Canada (NYSE: RY) and Toronto-Dominion?
Probably not. In fact, if one looks at Revenue and Revenue growth, Bank of America not only belongs among the Big Four, it's the fastest growing of the Big Four.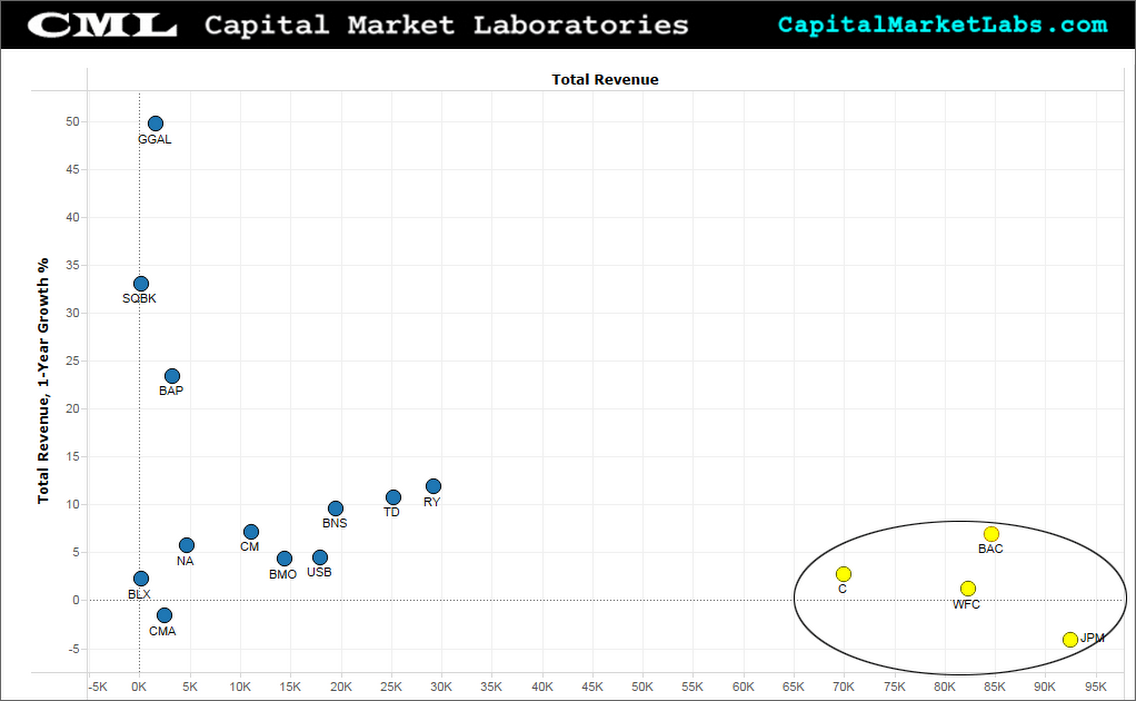 It's clear: A case can be made for Bank of America to be part of the Big Four, or as a peer for the next tier of banks.
The dilemma for investors is deciding which grouping is more appropriate.
However, whichever answer one prefers, it is important to recognize different perspectives, as they may shed light on potential risks.
Tom White can be found on Twitter @tbwhite67
Image credit: Billy Hathorn, Wikimedia
Posted-In: Big Four banksLong Ideas Technicals Trading Ideas General Best of Benzinga
View Comments and Join the Discussion!