3 Sectors That Benefit From Lower Oil Prices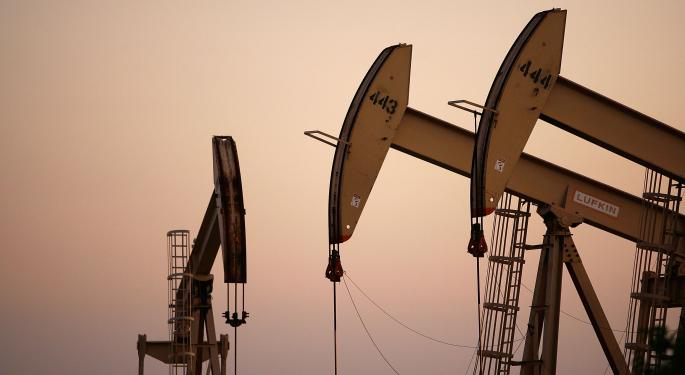 Crude oil prices continued to decline on Monday, taking energy stocks with them. The U.S. shale boom coupled with Gulf producers' reluctance to cut production has created a growing supply glut that has far outpaced global demand.
Still, there are some sectors that could benefit if prices continue to deteriorate in 2015.
The Auto Industry
With the price of gas at record lows and the labor market picking up, Americans are in a better position to buy new cars. The American Automobile Association released a report last week noting that drivers in the U.S. are expected to save $75 billion in fuel costs through 2015. Automakers could benefit from lower fuel prices, especially in markets where disposable income is rising.
Related Link: The Oil Slump Continues: WTI Crude Falls Below $50 For First Time In 5 Years
Both General Motors Company (NYSE: GM) and Ford Motor Company (NYSE: F) saw sales of SUVs rise in 2014 as concern for fuel economy diminished in the face of lower gas prices.
Electric car manufacturers like Tesla Motors Inc (NASDAQ: TSLA) were expected to lose ground as concern for efficiency diminished, but the company thrived in 2014 with its shares rising more than 40 percent. Many attribute this to the fact that the company's target market is luxury car buyers, whose decisions are less influenced by economic factors.
Weekly Oil Prices - Regional | FindTheBest
Delivery Services
Lower fuel prices mean fewer operating costs for companies like FedEx Corporation (NYSE: FDX) and United Parcel Service, Inc. (NYSE: UPS). The shift toward online purchases has also helped put delivery services in a prime position for growth in the coming year, though they could face some pressure as companies like Amazon.com, Inc. (NASDAQ: AMZN) explore the possibility of developing its own delivery services.
Airlines
The airline industry may benefit from lower oil prices as it diminishes the cost to refill planes, thus making fares more lucrative. In the past, airline executives used dropping energy costs to lower ticket prices and fill seats, which hurt the industry once prices increased. This time, however, major carriers like Delta Air Lines, Inc. (NYSE: DAL), American Airlines Group Inc (NASDAQ: AAL) and Southwest Airlines Co (NYSE: LUV) stand to benefit as past experience has kept fares relatively constant.
Posted-In: airlines auto delivery services OilLong Ideas Commodities Markets Trading Ideas Best of Benzinga
View Comments and Join the Discussion!