These Airlines Could Benefit The Most From Low Oil Prices
Oil prices are down, which means the cost of flying a plane is down.
The question then becomes: How do investors know which airlines will be affected the most?
Well, first, all airlines are paying about the same for fuel. This can be seen in the chart below, which compares average fuel cost on the y-axis with market cap on the x-axis.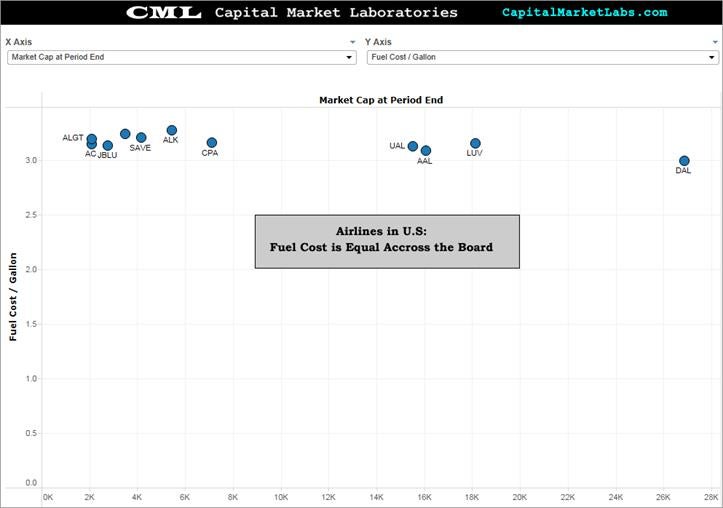 There's no inherent advantage one airline has over the other with respect to oil prices.
But, there are competitive differences to routes; namely shorter routes are more expensive than longer routes.
Related Link: 2 Charts That Show There's Tesla, And Then There's Everybody Else
So, let's look to a measure of size: How much is each airline paying in total for fuel on the y-axis, again comapred with market cap on the x-axis?
Again, this is just a look at size; the larger airlines obviously use more fuel. Note where United Continental Holdings Inc (NYSE: UAL), American Airlines Group Inc (NASDAQ: AAL) and Southwest Airlines Co (NYSE: LUV) sit on the chart.
Still, there's one final measure that yields the greatest information. In the chart below, one can see the proportion of operating costs for each airline that consists of fuel costs on the y-axis with market cap on the x-axis.
This final chart illustrates, rather explicitly, which airlines will be most affected by a change in oil prices. Note the smaller airlines show higher costs of fuel per dollar of operating expense than the largest airlines.
Again, this may depend on the routes they fly; an airline that has regional routes will spend more on fuel.
So, what's that mean?
The airlines, put simply, that will benefit the most from a drop in oil prices will likely be the smaller airlines because they spend more of every dollar in operating expense on fuel than mega-caps.
For example, Allegiant Travel Company (NASDAQ: ALGT) pays $0.46 in fuel costs for every dollar of operating expense. Delta Air Lines, Inc. (NYSE: DAL) spends about $0.33.
Image credit: LC Nottaasen, Flickr
© 2020 Benzinga.com. Benzinga does not provide investment advice. All rights reserved.
---