ARCP's Epic Management Shake-Up: What Does It Signal?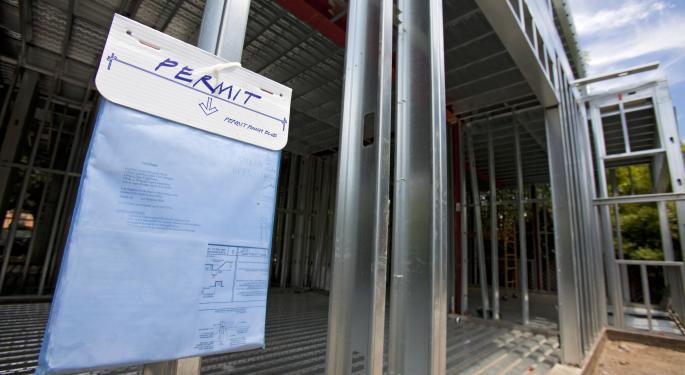 The departure of the architect of American Realty Capital Properties, Inc. (NASDAQ: ARCP)'s "growth at any price" strategy Executive Chairman Nick Schorsch should have been a surprise to absolutely nobody who even remotely follows the REIT sector.
However, David S. Kay stepping down as CEO, after stating just a few weeks back that he was in it for the long haul, was unexpected.
The garish headlines began almost the first day after serial deal-maker and non-traded REIT magnate Schorsch handed over the ARCP reins to hand-picked successor Kay.
The October 1 transition also served as a platform for Kay to suddenly announce the ill-fated "negotiated" sale of Cole Capital to Schorsch's broker-dealer and non-traded REIT sponsor RCS Capital Corp (NYSE: RCAP).
Basically, that is when the wheels began to fall off, leading to a financial train wreck that destroyed several billion dollars of shareholder equity at both companies.
Related Link: The Saga Shaking The REIT World
Shares Crushed: RCAP/ARCP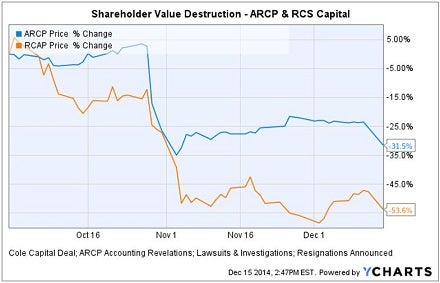 Too Little, Too Late?
Ironically, the crisis of confidence triggered by the Cole Capital transaction continues to hurt the Schorsch-led RCS Capital even more than ARCP, with shares of the former down over 11 percent on Monday December 15, and ARCP down 8.5 percent on the day.
Additionally, Schorsch continues to head up his closely held non-traded REIT sponsor AR Capital. Schorsch has also formed more than 20 so-called nontraded REITs, whose shares aren't listed on public exchanges, many of which are sold through his brokerage firm RCS Capital Corp.
The companies have been criticized for lacking transparency and having a complicated structure.
Related Link: RCS Capital: 5 Key Takeaways From BofA Merrill Lynch Conference Presentation
Complete C-Suite Sweep At ARCP
In addition to the departure of Schorsch and Kay, ARCP also revealed that Lisa Beeson, who joined the company in October 2013, has also "stepped down" as president and chief operating officer.
"It's unprecedented to have three top executives at one of the largest REITs in the world step down on the same day," said Kevin Gannon, a managing director at Robert A. Stanger & Co., an investment bank that tracks Schorsch's companies. "I've never seen anything like it."
Related Link: American Realty Capital Properties: Does Management Have More Explaining To Do?
Former CFO Brian Block and Chief Accounting Officer Lisa McAlister had resigned previously on October 29, in conjunction with the ARCP accounting irregularity and cover-up disclosures.
It is also notable that Schorsch stepped down on December 15 (from the Boards of the non-traded REITs managed by ARCP's Cole Capital business unit).
Interim Management
Board member William Stanley is taking on multiple roles at ARCP, including Lead Independent Director and Chairman of the Nominating and Corporate Governance Committee. Effective immediately, Stanley will also serve as Interim CEO and Interim Chairman.
In conjunction with this announcement, Stanley is resigning from his positions with all other entities related with Schorsch including: Business Development Corp. of America, Business Development Corporation of America II, American Realty Capital, Retail Centers of America, Inc. and New York REIT Inc.
Strategic Advisor
The investment bank Morgan Stanley & Co. LLC had previously been retained by the independent directors of ARCP to advise the company on business strategy as well as capital structure and allocation. This relationship is currently unchanged by the recent announcement of change in ARCP corporate governance and management.
The underlying value of ARCP's core business (approximately 4,400 single-tenant net-lease commercial real estate assets) would seem to be relatively straight-forward for ARCP to either operate, or sell off in chunks and realize full value for shareholders.
Cole Capital: Now What?
That is a multi-billion dollar question that remains unanswered in the wake of this monumental management shake-up.
Under previous management, ARCP had gone to great lengths to both acquire and most recently to divest itself of Cole Capital -- currently the non-traded REIT and advisory business unit of ARCP.
On one hand, it would seem to make sense to sell or spin-out Cole Capital as a separate publicly traded company. However, the current valuation of Cole Capital is at best murky and difficult to value as an ongoing concern given the tumultuous series of events surrounding this business unit.
So who might be a logical buyer?
Buy It, Fix It, Sell It?
On December 1, a Financial Times piece reported that Jonathon Gray, Head of Global Real Estate for The Blackstone Group L.P. (NYSE: BX) "is looking for publicly listed real estate investment trusts to take private when it starts investing its latest property fund."
Blackstone has $80 billion of real estate assets under management, and is actively raising billions more of private equity to invest in real estate.
Blackstone is known for buying distressed properties and companies at a discount, and supplying needed capital and expertise to turn around poorly performing assets and companies.
Blackstone making a deal to acquire Cole Capital might be seen as a win/win for both the firm and ARCP shareholders as this drama continues to unfold.
Posted-In: Brian Block Cole Capital David S. Kay Kevin GannonLong Ideas REIT Trading Ideas Real Estate Best of Benzinga
View Comments and Join the Discussion!