1 Major Takeaway From American Tower's UBS Presentation
On December 10, Leah Stearns, SVP and treasurer of global communications tower American Tower Corp (NYSE: AMT), presented at the UBS Media and Communications Conference.
American Tower, along with peers Crown Castle International Corp. (NYSE: CCI) and SBA Communications Corporation (NASDAQ: SBAC), have been beneficiaries of the incredibly high growth rate of wireless data consumption.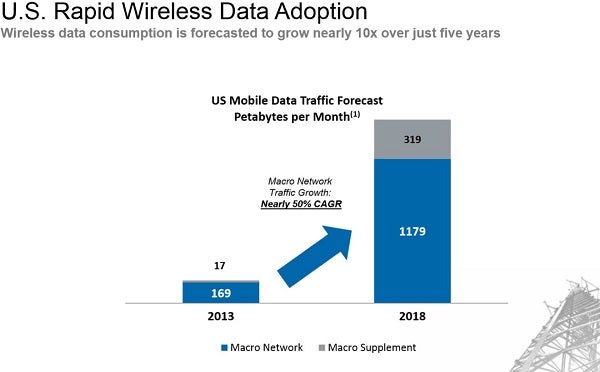 The growth of wireless data and the evolution of carrier networks continues to require large capital commitments by the wireless carriers. The ongoing wireless spectrum auction in the U.S. is a prime example of the type of multi-billion dollar expenditures required by these carriers to remain competitive.
Another Reason Carriers Monetize Towers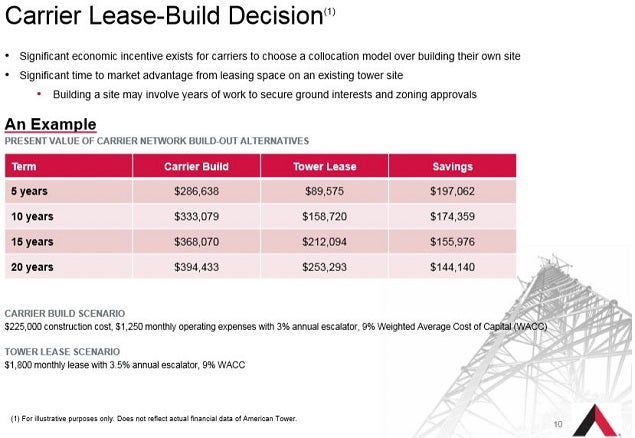 One way domestic wireless carriers such as AT&T Inc. (NYSE: T) and Verizon Communications Inc. (NYSE: VZ) can raise sorely needed capital is to sell and lease-back tower assets to companies that understand the complex governmental and operational issues these assets entail.
Related Link: If Verizon Sells US Wireless Towers, Who Is The Likely Buyer?
During November 2014, American Tower announced the purchase of 6,480 cell towers in Brazil and more than 4,800 towers in Nigeria from TIM Celular and Bharti Airtel, respectively.
No. 1 Business Driver: AMT's Market Diversity
American Tower has operations in 12 countries and is poised to add Nigeria in 2015.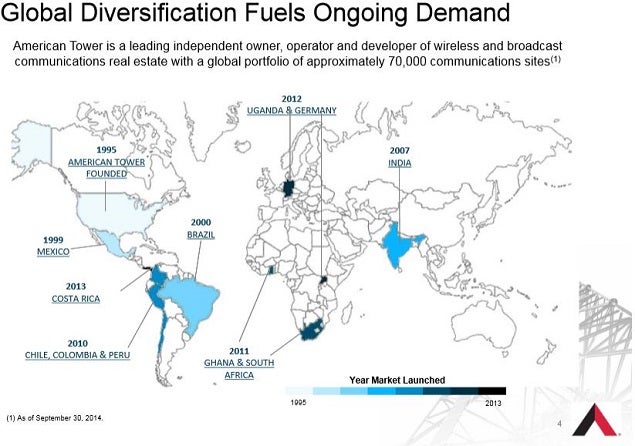 Stearns made it clear several times through the UBS presentation that American Tower will continue to focus on existing markets where the company "already has imbedded SG&A to scale."
Why Nigeria?
The Nigeria opportunity was somewhat unique because it is the largest economy in Africa, and along with South Africa, will serve to anchor operations on the continent, similar to Mexico and Brazil in Latin America.
Nigeria has a young population demographic "with pent-up demand." The country has 27,000 cell towers today, and the company expects that 40,000 will be needed in the next few years.
Once Nigeria passed an exhaustive country review and wireless industry analysis, the initial Bharti transaction embodied acceptable "counter-party risk." This is driven in part by a high level of comfort with the parent company derived from prior multi-national deals.
TIM Celular, another existing customer, also has a presence in Nigeria. Another positive factor in decision was that greater than 50 percent of revenue will be USD dominated.
Why International?
The playing field is tilted in favor of strong future growth in many existing American Tower markets:
There is an average of 1.5 customers per tower internationally, compared to 2.5 per tower in the more mature U.S. market.
In India, 90 percent of Internet traffic is over mobile devices. American Tower is adding about 100 towers per month from cash flow denominated in local currency.
In Brazil, there are approximately 4,000 subscribers per site, compared to a U.S. average of 1,000. There is only a 20 percent smartphone penetration in Brazil -- similar to the U.S. in 2009.
International portfolios of towers are typically five to 10 years behind the U.S. market.
3 Slides Illustrate - Compelling International Story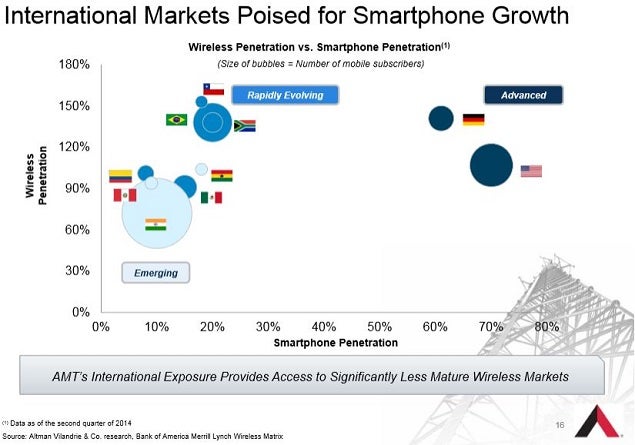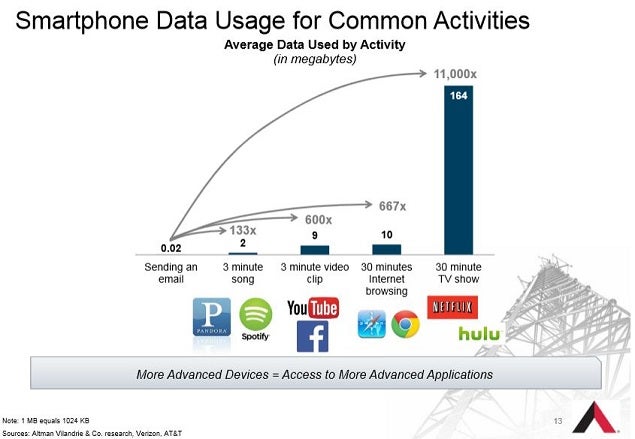 Bottom Line - 2014
The ability to execute accretive international acquisitions has driven outstanding results in 2014 for investors in American Tower, as well as SBA Communications.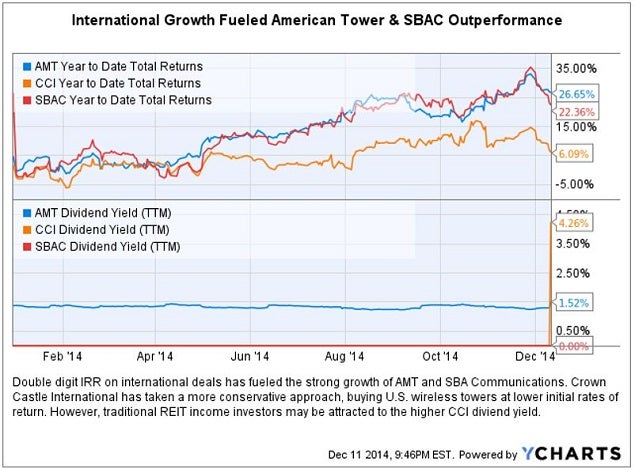 The largely domestic focus of Crown Castle International has resulted in lower returns on invested capital. This is particularly clear when looking at the 5 percent cap rate in the company's most recent lease-back deal with AT&T.
Posted-In: Bharti Airtel Limited TIM Celular S.A.Long Ideas REIT Emerging Markets Markets Trading Ideas Real Estate
View Comments and Join the Discussion!