How Technology Will Fill The Gaps In Healthcare Delivery In The U.S.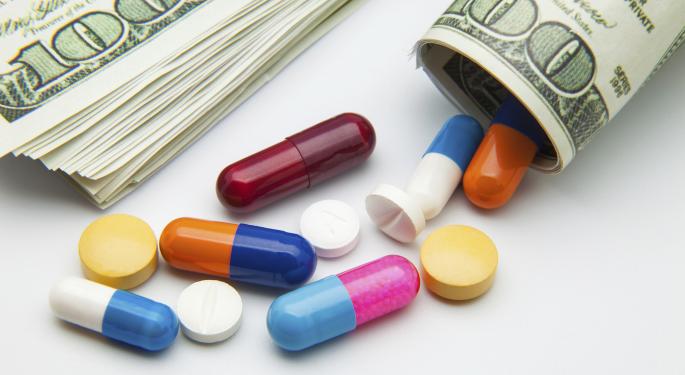 This article was written by HourlyNerd's Mike Napier.
Traditional Healthcare Model
For many years, the traditional model of healthcare delivery in the U.S. has been that one becomes sick, they see a doctor, they are evaluated, and they receive therapy. The therapeutic treatment may have been a drug or a procedure in a hospital. However, economic, demographic, and policy trends have forced changes along the so-called "continuum of care."
Simply put, there is going to be more demand for health services than the current number of professionals can provide.
As time goes on, trends such as these will continue to proliferate:
Simpler procedures, both diagnostic and therapeutic, are moving out of the hospital to the surgical center, the physician office, and the ambulatory care center. Companies such as Walgreen Company (NYSE: WAG) and Target Corporation (NYSE: TGT) are opening clinics to take advantage of this trend because they have the real estate and they hope to capture pharmacy business and related retail sales. At the same time, hospital systems will consolidate in order to find synergies and reduce costs.
It will become increasingly harder to find a new physician. A 2013 Massachusetts Medical Society study showed that half or fewer primary care physicians and internists in that state are accepting new patients. The percentage of family physicians accepting new patients in that state has dropped 19 percent over the last seven years. The percentage of internists accepting new patients has decreased 21 percent over the last nine years and the percentage of pediatricians accepting new patients has fallen 10 percent over the last four years.
How Healthcare Is Changing
One major technological solution is telehealth, a broad category of exchanging both therapeutic and preventative information. Among the first applications is helping patients manage chronic diseases while minimizing travel, cost, and improving their outcomes. Telehealth may be as simple as telemonitoring- periodic phone calls to patients while they do simple diagnostic tests at home.
More advanced systems that amount to high-quality video conferencing allow a patient to sit in a room at a remote location and consult with a physician in real time. Such systems have been put to use in remote areas by the Canadian Health System in many northern, remote rural areas that have no healthcare facilities and are long distances from traditional care delivery.
Healthcare costs and spending will continue to grow above the inflation rate. Again, in Massachusetts, healthcare expenses grew by 6.5 percent annually from 2001 to 2009. At that rate, costs would double in a frightening 11 years. They grew by 2.3 percent in 2013. By comparison, the U.S. overall rate of growth in healthcare spending in 2013 is projected to be 3.6 percent nationally and will probably accelerate to over 5 percent in 2014 and over 6 percent per year from 2016 to 2023. Inflation in 2013 in the U.S. was 1.5 percent.
So, in the future, people are more likely to go to a clinic rather than a doctor's office, see a nurse or physician's assistant (PA) instead of a doctor, and pay more for it.
How Technology Will Help
Because of these trends, the healthcare industry will increasingly turn to technology for solutions. The solutions will focus more on reducing stress on workflow and less on creating new therapies. The primary objective of many of these new technologies will be twofold: increasing the reach of the shrinking number of physicians and helping patients take more responsibility for their own care.
Internet-Connected Device
Companies such as Koninklijke Philips NV (ADR) (NYSE: PHG), Honeywell International Inc. (NYSE: HON), General Electric Company (NYSE: GE), and Intel Corporation (NASDAQ: INTC) offer systems based on an Internet-connected device that sits in the patient's home. The patient may interact with the device to measure their blood pressure, weight, or some other parameter. It may also continuously monitor the patient's movement to establish patterns of behavior and detect abnormal situations. Medtronic, Inc. (NYSE: MDT) and Boston Scientific Corporation (NYSE: BSX) have created systems that both gather patient information and periodically download data from the patient's implanted device, such as a pacemaker. They increase efficiency by allowing a single physician or nurse to interface with and manage many more patients.
Robotic Kiosks
Other companies, like InTouch Health and VGo, have developed robotic kiosks that can roll from room to room in a hospital or assisted living facility. These kiosks contain a camera, display, and touch screen mounted on a movable tower which can interface to other devices such as a blood pressure cuff. These robots are designed to allow healthcare providers to perform remote consults. They can also act as care coordinators in a hospital, identifying patients ready for a procedure and sending out messages to assemble a care team.
What All This Means
While these technologies are helpful, they bring with them new risks and unanswered questions. Patient privacy is crucial. Who will have access to the data? Who owns it and where will it be stored? Can any part of it be sold to third parties? For example, will a pharmaceutical company be able to buy data on patients who are identified as taking one of their drugs, or even a competitor's drug? How will providers bill for services performed remotely and how will payers verify those services were performed, in order to combat fraud?
And what is the liability for healthcare providers? If there is information sitting in a database somewhere indicating that a patient is suddenly at high risk, what are the rules for notifying a physician or the patient? What are the physician's legal and ethical responsibilities at that point? If the patient dies after the data is collected but before anyone is notified, is the physician liable? Does any liability rest with the company that runs the system or the one that designed it?
The benefits these technologies can bring to the healthcare system are enormous. However, such advances have the potential to outpace the capacity of providers to manage them. The new challenges they present will need to be resolved with equal amounts of legal, regulatory, and design innovation.
This article was originally published on HourlyNerd.
The following article is from one of our external contributors. It does not represent the opinion of Benzinga and has not been edited.
Posted-In: healthcare delivery Healthcare technologyLong Ideas Health Care Trading Ideas General Best of Benzinga
View Comments and Join the Discussion!