BlackBerry Spike Could Be Tied To Imminent Buyout, Expert Says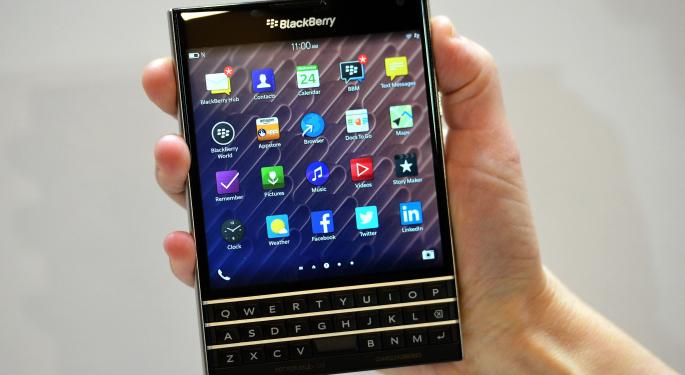 Many investors have the same question this afternoon: why is BlackBerry Ltd (NASDAQ: BBRY) up more than 4 percent?
The stock mysteriously rose on Friday after President Obama told reporters that he forgot his BlackBerry when he exited Marine One to retrieve something from the White House. Is it possible that investors suddenly realized that they had forgotten about BlackBerry as well and decided to invest in the company?
Sean Udall, CIO of Quantum Trading Strategies and author of The TechStrat Report, has another theory.
"It's gotta be one thing," Udall told Benzinga. "There has been a consistent rash -- and so far incorrect, by the way -- of rumors that BlackBerry's going to get bought."
Udall said he liked BlackBerry a couple years ago when it was "really cheap." He said it was selling between $6.50 and $8.50 and jumped to almost $20 a share.
"There was a time when I thought a BlackBerry addition to Android or the iOS ecosystem would have been potentially beneficial from a security standpoint," Udall added. "Frankly, Apple has done so much work in the field of security that I just don't know how much BlackBerry would add. Certainly I don't think it would add much to iOS. You could make a case that it could probably add a bit of security to the Android ecosystem. Even there I think it's hard to say. I don't think it's a short, but I don't really think it's a long."
Related Link: Rumored BlackBerry-Lenovo Union Could Be A 'Great' M&A Deal
'Lone Hope'
Udall is among those who believe BlackBerry's future depends on a merger.
"The lone hope for the company is that they get acquired," said Udall. "But they were up for sale before and nobody really came around."
Even so, Udall is a tad surprised by the hype surrounding Friday's move.
"The stock has spiked quite a bit more on buyout rumors in the past," said Udall. "It was $12.50 just a few days ago. There was a day, probably a couple months ago, where it was up a dollar or more on a similar M&A-type spike."
On the other hand, Udall said he understands why investors might be eager to buy BlackBerry on a Friday: because most M&A deals are announced early in the week. If investors buy into the stock today, they could win big on Monday or Tuesday.
Udall remains neutral, however.
"I've lost track of how many buyout rumors there have been on BlackBerry," he concluded.
Disclosure: At the time of this writing, Louis Bedigian had no position in the equities mentioned in this report.
Posted-In: Blackberry Sean UdallLong Ideas News Rumors Tech Trading Ideas Best of Benzinga
View Comments and Join the Discussion!