5 Stocks Investors Should Watch This Week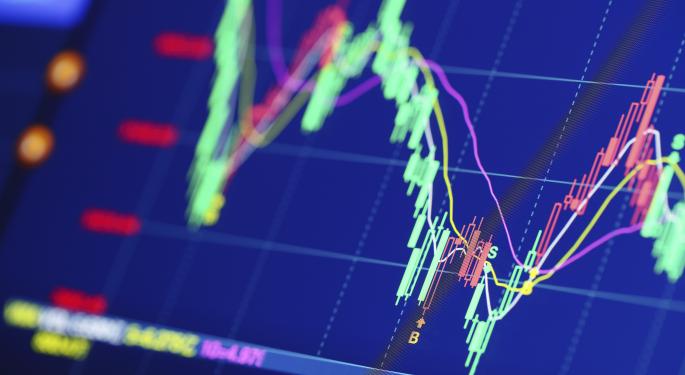 Monday
Urban Outfitters
Fashion retailer Urban Outfitters, Inc. (NASDAQ: URBN) is set report after the close on Monday. So far this quarter we've seen a strong performance from consumer discretionary earnings. Profits within the sector are up 14.4 percent year over year, however, the charge has been lead by internet retailers, not clothing sellers.
Contributing analysts on Estimize are expecting Urban Outfitters to report profits of 46 cents per share, down 1 cent from the same quarter of last year but still 4 cents better than Wall Street is looking for.
Even though profits are predicted to drop marginally, the Estimize community is looking for 6.8 percent revenue growth which is in-line with the past 3 quarters. In August Urban cited strength in its Anthropologie and Free People brands but cautioned on weakness in its flagship Urban Outfitters brand. Gross profits were down in its primary brand due to store occupancy costs and negative same store sales. Urban Outfitters also mentioned that poorly performing product contributed to falling margins, these are concerns to keep an eye on Monday.
Tuesday
Home Depot
Tuesday morning The Home Depot, Inc. (NYSE: HD) earnings take center stage. Home Depot is expected to report earnings of $1.15 per share, topping the Street's view by 2 cents. The home improvement retailer has seen some really solid growth on the bottom line over the past 2 years and is expected to continue growing its profits Tuesday as housing numbers have picked up in recent months.
Contributing analysts on Estimize are looking for 21 percent earnings growth which is a tick down from the 23 percent gain reported last quarter. However, a 21 percent boost to the bottom line would still be the second best quarter recorded over the past 12 months.
Recent gains on the revenue side have been more modest. In the first two quarters of the year Home Depot reported sales growth of 3 percent and 6 percent. This period the Estimize community is looking for a 5 percent gain.
Wednesday
Salesforce.com
Wednesday afternoon we get 2 big reports from salesforce.com, inc. (NYSE: CRM) and Keurig Green Mountain Inc (NASDAQ: GMCR). Salesforce's profits have been on a bumpy ride in recent years, but revenue growth has been robust and consistent.
Over the past 2 years total revenue at Salesforce has improved between 28 percent and 38 percent each quarter. In both of the previous 2 quarters Salesforce reported 38 percent growth, a 24 month high.
For Wednesday's report the Estimize community's expectations are in-line with Wall Street's. Analysts on the Street and Estimize are both looking for a 28 percent increase in revenue, which would would keep the company's progress on track, but not be reflective of a particularly exciting quarter.
Keurig Green Mountain
Keurig Green Mountain stock has been on fire. Since the start of 2013 shares are up over 270 percent.
(Graph Above from ChartIQ Visual Earnings)
The company's fundamentals have a steady track record of improvement, but recent news is really what's driving the stock. Coke bought a 10 percent stake in Keurig early in the year and upped its ownership to 16 percent in May.
In 2015 Keurig will launch a cold carbonated beverage system to allow consumers to make their own soda and Coke products at home. Over at competitor Sodastream International Ltd (NASDAQ: SODA) that business model hasn't been working too well, but Coke's brand power could be a decisive factor in the product category's success.
On Wednesday analysts on Estimize are predicting that Keurig will smash the Wall Street EPS consensus of 78c by reporting earnings of 86 cents per share.
Earnings of 86 cents per share would be a 3 cent drop in year over year EPS and revenue is expected to increase by less than 1 percent compared to the same quarter of last year.
Thursday
GameStop
Thursday the video game store GameStop Corp. (NYSE: GME) is set to deliver its third quarter earnings. Due to the increasing amount of video game content being delivered digitally, some traders are betting against the leading specialty retailer within the industry.
The latest generation of consoles which were launched about one year ago, the PS4 and Xbox One, have lots of smaller games that can be purchased digitally and are also offering premium downloadable content to supplement physical game purchases.
Despite the risk of games going completely digital in the future and the entrance of Wal-Mart Stores, Inc. (NYSE: WMT) into the used games retail industry, GameStop stock is holding up just fine. Earnings in the past 2 quarters have been better than expected and the company's fundamentals are showing no signs of falling apart just yet.
This quarter analysts on Estimize are predicting that GameStop will come up slightly short of Wall Street's expectations. Regardless, the holiday quarter will be more important than Thursday's report. Next quarter GameStop has a lot riding on the console upgrade cycle and general winter consumer spending. Wall Street is forecasting that the retailer will bring in over $4 billion in sales over the next 3 months.
The following article is from one of our external contributors. It does not represent the opinion of Benzinga and has not been edited.
Posted-In: Stocks To WatchLong Ideas Previews Trading Ideas Best of Benzinga
View Comments and Join the Discussion!