Wal-Mart In Technical No Man's Land As It Awaits Fundamental Catalysts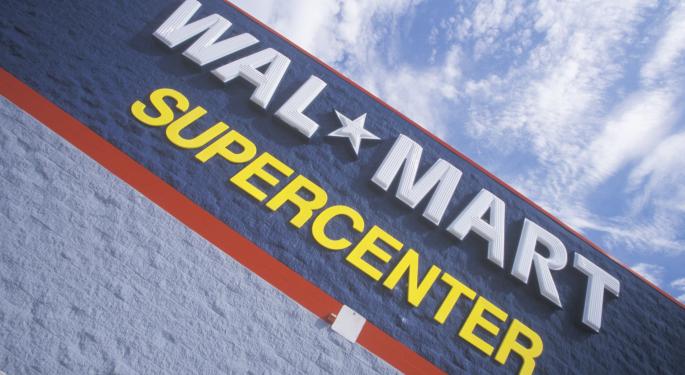 Wal-Mart Stores, Inc. (NYSE: WMT) stock has risen from the $40s to just above $80 over the last few years. Even if the company is hitting on all cylinders, a pause or retracement may actually be healthy from a technical perspective.
What it has done thus far in 2014 may just be that pause. On the other hand, how high should the stock be valued given that it is not really a "growth" stock?
Let's take a look at the whole Wal-Mart picture (surface view) to see if some clues stand out.
What The Bulls See
A Treasury-beating 2.5 percent dividend yield.
A reasonable debt-to-equity of 65 percent.
More than $10 billion in levered free cash flow annually.
Some cheap valuation metrics: Enterprise value of $294 billion, which trumps the market capitalization of $245 billion, and a price-to-sales ratio of 0.51.
Relared Link: Deere & Company Shares May Lift A Little Further Before A Big Fall
What The Bears See
Very thin profit margins of 3.3 percent (not bad compared to other grocers, but not great versus general merchandisers).
A troublesome current ratio of 0.89.
Not-so-cheap valuation metrics: A price-to-book ratio of 3.18, a P/E ratio of just under 15 versus 2015 estimated revenue and EPS growth of 2.9 percent and 6 percent, respectively.
Technical Outlook
The monthly chart of Wal-Mart is shown in this report.
Notice that Wal-Mart has spent the majority of this year in consolidation mode, oscillating between a downtrend line (created by the two descending peaks in 2014) and an uptrend line (created by the ascending bottoms in 2014). This formation, which technicians commonly refer to as a pennant formation, is indicative of consolidation or indecision on the part of the market. A weekly close above the downtrend line or below the uptrend line will tell where the next $10 move in the stock price will occur. Until then, according to the technical crowd, there is no edge to be had in guessing direction.
This seems to be a situation where perfection in operational execution is necessary. The stock cannot be labeled as "cheap" across the board, and it is not growing fast enough for the go-go managers to be attracted to it. The best investors can do here is to monitor the technicals to see if Wal-Mart shares break out above resistance at $78.50 or down below support at $72.61.
Stock chart:


Posted-In: Long Ideas Short Ideas Technicals Trading Ideas Best of Benzinga
View Comments and Join the Discussion!