SilverSun Technologies Inc: An Undiscovered Microcap's Multi-Prong Strategy Can Provide Up To 100% Upside Potential
Main Thesis Points:
• SilverSun Technologies Inc (OTC: SSNT) is an undiscovered microcap enjoying enormous growth.
• The acquisition of accretive Sage resellers is a key growth driver moving forward, and is already underway.
• With a conservative 30 percent revenue growth target quarter over quarter, SilverSun offers long-term investors an extremely attractive investment opportunity.
• The company's valuation is far below its peers'. Further, if SilverSun can deliver $0.007 to $0.009 of EPS for FY 14, 50 percent to 100 percent upside potential is possible.
An Overview
SilverSun Technologies is an under-the-radar $20 million micro-cap company with an impressive growth story. Headquartered in Livingston, New Jersey, SilverSun is a technology solution provider to small businesses offering a wide array of solutions ranging from electronic data interchange (EDI) software to enterprise resource planning (ERP) software.
SilverSun's growth has been impressive. Revenue in 2013 was up 32 percent and up 21 percent in first quarter of 2014. Revenue has increased 130 percent over the past four years. With a range of solutions and an accretive strategy to consolidate the market of Sage resellers, we believe this growth trend will continue.
The company's success has not been recognized by the market as SilverSun is valued far below its peers. This valuation disparity adds to SilverSun being an attractive investment opportunity prior to it being discovered.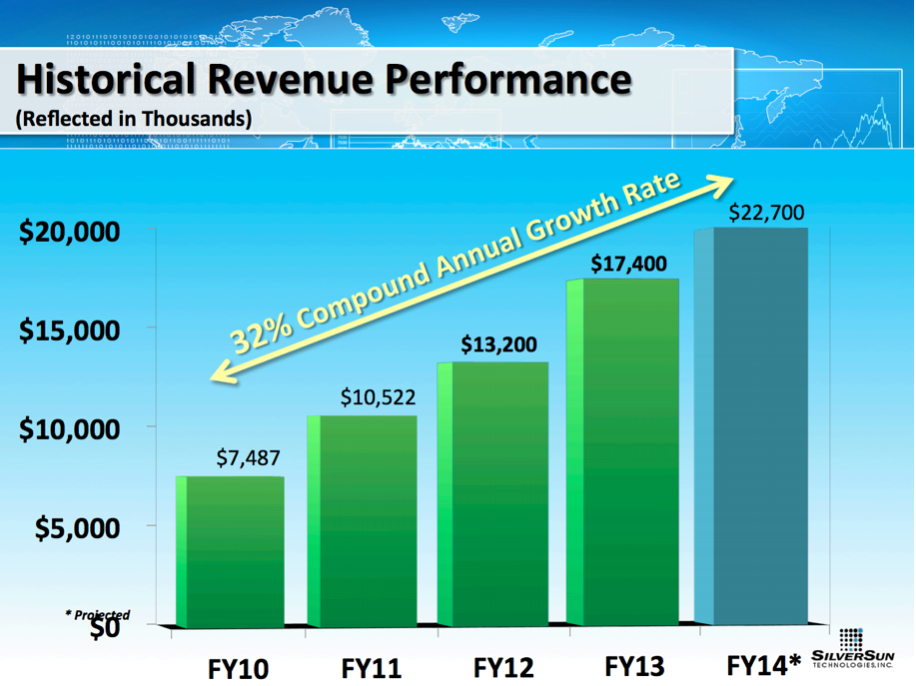 With a high level of insider ownership, management's interests are aligned perfectly with shareholders. SilverSun's key growth drivers range from the acquisition of accretive Sage resellers to the new ability to compete with industry giants such as SAP (SAP) and Oracle Corporation (ORCL) for bigger deals.
The company is also targeting to move the mass amount of business documents between companies from the physical to the digital world with its MAPADOC EDI solution. With a conservative 30 percent revenue growth target quarter over quarter moving forward, SilverSun offers long-term investors a very attractive investment opportunity.
Conclusion
SilverSun Technologies is an undiscovered micro-cap company enjoying strong growth. The company's future expansion will be driven mainly through it's selective acquisition strategy. Due to the expanse of resellers and the advantages of SilverSun's position, the company is able to be highly selective and take on only accretive acquisitions. This strategy will position the company as a Sage reselling powerhouse in the future. Further, SilverSun's lucrative consulting services linked to its Sage software implementation can provide substantial income.
The company's other segments are also driving growth. Examples of this are clear with SilverSun's MAPADOC solution, which moves enormous amounts of physical documents into the digital world. With over 400 customers and a record year expected, MAPADOC has been growing at a healthy pace.
SilverSun's SAAS solutions, such as BeerRun, have also been very successful. BeerRun's advantages over typical accounting software for craft brewers is evident by its growth in the marketplace. BeerRun is targeting the multi-billion dollar craft brewing industry and has the potential to be the forefront operations management solution for the industry in the future.
With valuation below its peers, a robust cash position, a future raise to increase liquidity and aid in a future up-list in addition to its multi-prong growth strategy, SilverSun is a one-of-a-kind investment opportunity. With the potential for $0.007 to $0.009 in EPS for FY 14, 50 percent to 100 percent in upside potential is possible with far greater returns if the company delivers into 2015.
Full Report:
To view a full 22-page detailed report, including a comprehensive interview with SilverSun's CEO Mark Meller, Join SecretCaps now.
Disclosure:
This article is informational and in my own personal opinion. Always conduct your own due diligence and contact a financial professional before making any trades or investments. By reading this, you are held to SecretCaps' full disclosure found at SecretCaps.com in the blog section.
This article was provided for informational purposes only. Nothing contained herein should be construed as an offer, solicitation, or recommendation to buy or sell any investment or security, or to provide you with an investment strategy, mentioned herein. Nor is this intended to be relied upon as the basis for making any purchase, sale or investment decision regarding any security. Rather, this merely expresses SecretCaps' opinion, which is based on information obtained from sources believed to be accurate and reliable and has included references where practical and available. However, such information is presented "as is", without warranty of any kind, whether express or implied. SecretCaps makes no representation as to the accuracy, timeliness, or completeness of any such information or with regard to the results to be obtained from its use should anything be taken as a recommendation for any security, portfolio of securities, or an investment strategy that may be suitable for you.
SecretCaps (including its members, partners, affiliates, employees, and/or consultants) (collectively, "SecretCaps") along with its clients and/or investors may transact in the securities covered herein and may be long, short, or neutral at any time hereafter regardless of the initial recommendation. All expressions of opinion are subject to change without notice, and SecretCaps does not undertake to update or supplement this report or any of the information contained herein. SecretCaps is not a broker/dealer or investment advisor registered with the SEC, Financial Industry Regulatory Authority, Inc. ("FINRA") or with any state securities regulatory authority. Before making any investment decision you should conduct thorough personal research and due diligence, including, but not limited to, the suitability of any transaction to your risk tolerance and investment objectives and you should consult your own tax, financial and legal experts as warranted.
Tags: micro cap Micro caps micro-cap stocks MicroCap small cap stocks
Posted in: Long Ideas Small Cap Analysis Trading Ideas Best of Benzinga