Exxon Mobil Corporation Turns Bearish Amid Tumbling Crude Oil Prices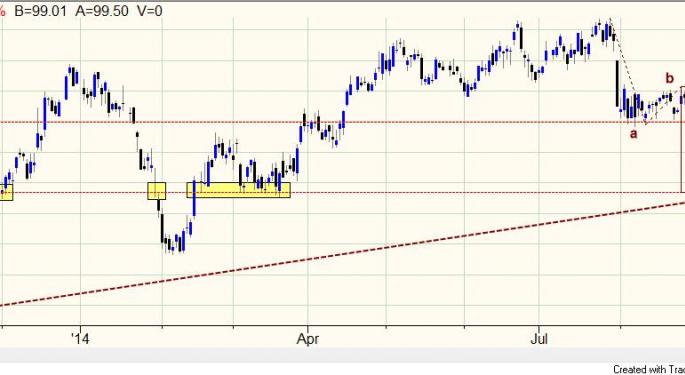 Exxon Mobil Corporation (NYSE: XOM) shares have now become a victim of the strong selling going on in the crude oil arena. As black gold continues to knife lower towards much lower projections, will Exxon Mobil shares follow?
Exxon Mobil continues to operate as a great equity proxy for what's going on in the crude oil futures pits. From the time of Benzing'as last report on September 4, crude oil has fallen from $93.84 to Monday morning's lows at $89.92 (after spiking down to $89.13 on September 11).
Meanwhile, Exxon's stock has tumbled from $99 on September 4 to Monday morning's lows at $96.30 (after spiking as low as $95.40 on September 15). While it is not a perfect correlation, there is clearly a relationship between the movements in crude oil futures and those of Exxon Mobil's stock price.
The Bullish View
Exxon is the leader in the integrated oil sector, which means it is likely to trade in strong correlation to the commodity off of which the entire sector profits -- crude oil.
Exxon is a cheap stock based on multiple metrics: Its price-to-sales is 1.06, price-to-book is 2.32, its enterprise value trumps its market capitalization and its P/E ratio of 13 is an attention-getter for value players.
The bulls also love Exxon's massive positive cash flow and 2.8 percent forward dividend rate.
The stock is in a long-term uptrend, despite the short-term weakness that has come about.
What The Bears See
Relative technical weakness and a recent break of support on its price chart.
A relatively heavily levered company with a current ratio under one and $21.76 billion in total debt versus only $6.08 billion in cash reserves.
If lower price predictions come to fruition, Exxon's stock will almost certainly come under pressure.
What Do The Charts Say?
The chart reveals that the stock could very well be in the early stages of a "c" wave of an "abc" downside corrective move. If this is the case, the stock would likely move down to the wave "c" target at $93.37. Technicians would advise sellers to use any bounces near $99 as opportunities to sell and would advise buyers to try to enter their trades down at $93.37.
With the current pressure on crude oil and the likely correlation with Exxon Mobil, it looks like those long of shares will have to endure some further underperformance in the short term.
Stock chart:

Posted-In: Long Ideas Short Ideas Technicals Commodities Markets Trading Ideas
View Comments and Join the Discussion!