A Closer Look At CVS Health Corp's Shift In Health Care Offerings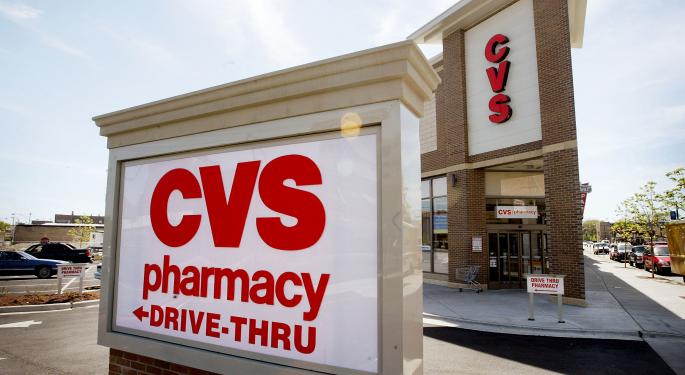 CVS Health Corp (NYSE: CVS) has been working on integrating health plans, doctors' offices and hospital systems recently.
Sales of cigarettes, however, had undermined the company's health-oriented efforts.
According to Forbes, Executive Vice President, Helena Foulkes, remarked that whenever CVS gave presentations, people would ask something along the lines of: "So, why do you still sell cigarettes?"
Well, CVS went tobacco-free earlier this year when it removed all cigarettes from store shelves a month earlier than planned.
Today we removed all tobacco from our stores for #OneGoodReason: you! Stand with us & share why you live tobacco free pic.twitter.com/ERh1httUOk

— CVS/pharmacy (@CVS_Extra) September 3, 2014
A $2 Billion Gamble?
As much as the move is good for the public health, it looks like a gamble from a business viewpoint.
Since it's likely customers will simply go elsewhere for cigarettes, competitors now have an extra $2 billion or so to share amongst themselves.
Over the long-term, though, CVS could be a winner.
The company says the move is geared toward getting the most out of the era that follows the implementation of the Affordable Healthcare Act.
Related Link: 3 Partnerships Pushing The Pharmaceutical Sector Forward
Expanding To Become A Patient Care Service Provider
CVS has so far invested hundreds of millions of dollars to create a network of more than 800 healthcare clinics, called MinuteClinics. Theoretically, this move should help CVS benefit from the opportunities presented by the ACA.
MinuteClinics offer convenient, inexpensive healthcare to patients in need of immunizations, chronic care management, or suffering from the flu.
During the second quarter, the company reported sales at its MinuteClinics were up 24 percent year over year.
It's quite possible CVS's decision to take tobacco off its shelves could help improve business in this area, assuming more patients trust the company's brand. Only time will tell.
Posted-In: Affordable Care Act CVS health care tobaccoHealth Care
View Comments and Join the Discussion!