McDonald's Corporation Approaching Key Support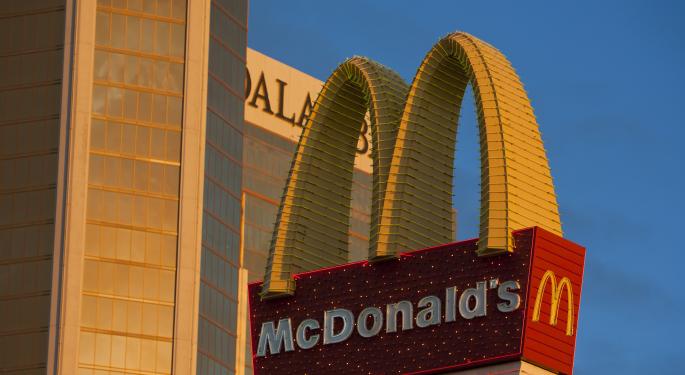 McDonald's Corporation (NYSE: MCD) shareholders have had to endure their ownership in the stock over the last 17 months. How much longer will the stock price be a burden on the longs' portfolios statements?
McDonald's has been in a free fall since the May peak of just north of $102 per share. As the stock approaches key support at $91.49, will the company get it together early enough for those buying down here to be rewarded in the near future?
What The Bulls Are Seeing
The bullish camp in McDonald's stock loves the opportunity to buy shares at a key support level, while the key oscillators are reading deeply oversold for the stock.
At time of writing, support (according to technicians) comes in at $91.49 (with the stock at $92.50), the RSI comes in at around 30 (oversold for this stock) and the Williams %R reading comes in at 9.46 (just about to oversold reading). So, maybe another day or two of weakness and the bulls will get their ideal entry point.
Related Link: United Technologies Corporation Longs Getting A Reprieve, But Will It Last?
Fundamentally, the company is seemingly always sporting attractive profit margins (more than 20 percent) and huge positive cash flows.
What The Bears Are Seeing
The bears jump right in and point out that McDonald's is carrying an unusually high level of debt (debt-to-equity ratio of 95.52) and is a bit pricey when you look at its price-to-book of 5.66 and price-to-earnings of 16.5, which is only expensive when compared to flat revenue growth estimates and earnings growth estimates of around eight percent.
Technically, the bears point out that a downtrend is a downtrend until it is broken, and McDonald's downtrend is very much still in place.
The Technical Take
Technicians note that McDonald's stock is very close to projected support at $91.49 (based on some symmetry in the recent and current moves in the stock). In addition to the projection techniques used by technicians, the $91.49 level is also a horizontal line of support. With oversold readings present and/or approaching rapidly, technicians note that shares may be a good play for value players.
Shares were down 1.5 percent Tuesday at $91.11.
Stock chart:

Posted-In: McDonald'sLong Ideas Top Stories Movers Trading Ideas Best of Benzinga
View Comments and Join the Discussion!