2 Funds For The Fast-Growing Indian Market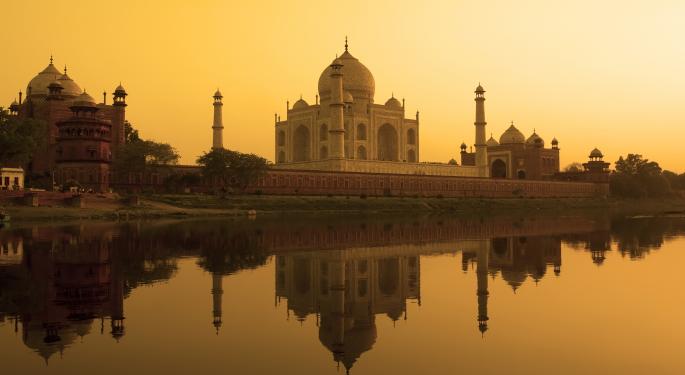 Emerging-market mutual funds have been some of the top movers this week, and, for that matter, this year.
With the European Central Bank announcing a rate cut Thursday, many emerging-market stocks showed intraday rallies.
India, in particular, has shown strength in 2014. With the nation's business environment improving and Western investors becoming more comfortable putting money there, many analysts believe the Indian market is poised for still more growth in the coming years.
Related Link: A Word On Healthcare Mutual Funds And One Sector's 'Fittest' Segment
Wasatch Emerging India Fund (MUTF: WAINX)
The Wasatch Emerging India Fund has advanced 35 percent year to date as of early September. Its net asset value (NAV) is $2.74. The fund is most heavily weighted toward financial and consumer stocks.
Manager Ajay Krishnan focuses on small- and mid-cap growth companies in India with a market cap of less than $5 billion at purchase. The fund aims to give investors exposure to undiscovered gems in the Indian economy. Krishnan specifically looks for companies with above-average earnings growth.
The fund's holdings are generally not available to U.S. investors via American Depositary Receipts, so this is an example of a fund that allows exposure to asset classes that would be, for all intents and purposes, off-limits otherwise.
Actively managed funds generally carry higher expense ratios than index funds, and this is no exception. This is a no-load fund, so it carries no sales charge. However, even though Wasatch Funds has agreed to limit its expense ratio through at least January 31, 2016, the expense ratio is still somewhat high at 1.95 percent.
It's clearly more difficult and costly for the fund manager to identify and research small non-U.S.-listed companies than it would be to research U.S. blue chips, so investors wanting access to this asset class may need to accept some higher expenses.
According to extensive research from Nobel-prize winner Eugene Fama and his colleagues at the University of Chicago, emerging market stocks and small-cap stocks both yield higher than expected returns over time than other asset classes. With a somewhat high expense ratio, the bar for performance is also high, so investors need to be sure they want particular asset-class exposure when they buy an active fund, such as Wasatch Emerging India.
A Fund With A Larger-Cap Tilt
Another top performer that gets you into Indian stocks is the Matthews India Fund Investor Class (MUTF: MINDX). However, this fund's profile is somewhat different from the Wasatch fund. The Matthews India Fund invests in stocks, preferred stocks or convertible bonds of India-based firms. The tilt is toward mid-caps and large caps.
Year to date the Matthews India Fund is up 53 percent. The expense ratio of this fund is 1.13 percent. Top sector holdings are financials, consumer and industrials.
In the past three months, the fund has risen nearly 17 percent, with a NAV just shy of $25 in early September. New investors may want to wait for a pullback before diving in.
Posted-In: Ajay-Krishnan Emerging Markets IndiaLong Ideas Mutual Funds Emerging Markets Trading Ideas Best of Benzinga
View Comments and Join the Discussion!