These 4 Companies Could Run The 'Internet Of Cars'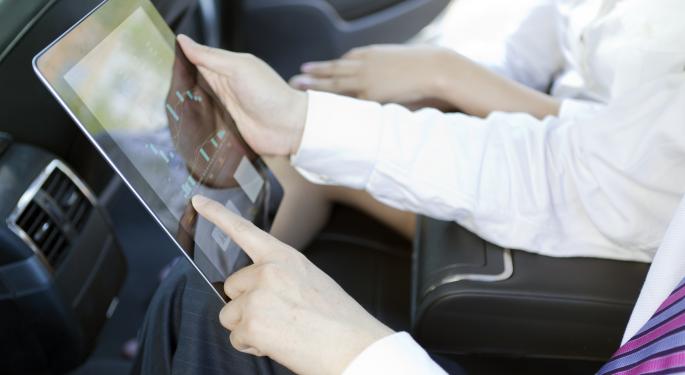 There has been a lot of chatter about a vehicle-to-vehicle (V2V) communications system that has the potential to make driving safer by preventing accidents at intersections and reduce congestion to make the evening commute smoother.
Most of the talk has centered on what the automakers and their suppliers are up to. Not much has been said about what companies would actually run the system.
The U.S. government, strapped for cash and tied up with other global issues, probably won't repeat the role it had when it set up the regular Internet in the 1960s and 1970s before turning it over to the private sector.
Related Link: How To Profit From The Internet Of Things
Therefore, a consortium of corporations will need to step up to the plate if the Internet of Cars is to take off. Each company and its shareholders would benefit in a different manner from being part of the system.
Four large companies could make up such a consortium.
Google (NASDAQ: GOOG)
Google appears to be a logical choice to be part of the effort. The company is already familiar with the myriad technology needed to operate and communicate with automobiles from its development of a driverless car.
Google could develop the overall system (i.e., be the "system integrator") and provide the engineering resources needed. Investors would benefit from the company's access to the reams of digital data that it could then monetize.
International Business Machines (NYSE: IBM)
IBM might run the massive, number-crunching Big Data systems required for V2V. The company is also experienced with interfacing with large organizations in its business-to-business services and could act as "manager" of the consortium. Investors would benefit from the service fees IBM receives.
AT&T (NYSE: T) and Verizon (NYSE: VZ)
The V2V system is likely to involve some sort of dedicated wireless network that provides the interface between cars and a "central" office. The top wireless providers in the country, AT&T and Verizon, would be an ideal choice to be part of the consortium to run the communications. The companies could charge for data usage and investors would presumably profit from that.
Disclosure: The author owns shares of IBM, AT&T and Verizon.
Posted-In: automakers Internet of Cars Internet of ThingsLong Ideas Tech Best of Benzinga
View Comments and Join the Discussion!