Entire Wireless Tower REIT Sector Hits 52-Week Highs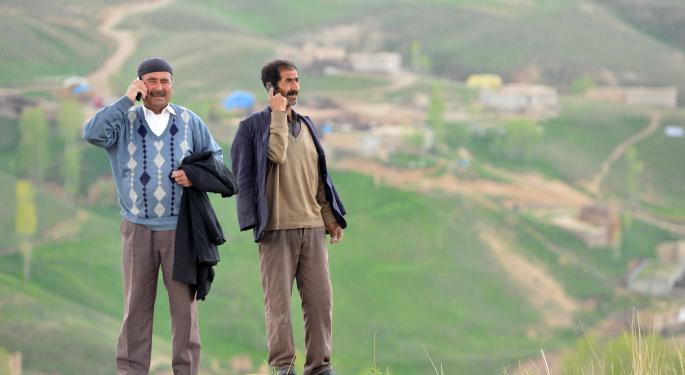 "Can you hear me now?" - The Verizon Guy
Investors have been betting on the exponential projections for wireless data growth, supported by the earnings announcements and full year guidance from the three major players in the wireless tower sector.
If you are reading this article on your smartphone, these REITs don't care which wireless carrier you pay each month, because all of them rent out space co-located on the communication towers they own and operate.
SBA Communications (NASDAQ: SBAC) leads this REIT sector -- up just more than 50 percent in 12 months, while Crown Castle International (NYSE: CCI) has lagged the overall market slightly during the same period. Both of these companies are newly minted REITs as of January 1, 2014 -- required to pay out 90 percent of taxable income to shareholders in return for no longer paying U.S. corporate income tax.
Global industry giant, $39 billion cap American Tower (NYSE: AMT) pioneered the cell-tower REIT sector, and has been focusing on growing its Latin America cellular networks.
Related Link: 530 Reasons To Buy Realty Income
The recent IRS private letter ruling approving Windstream's REIT spin-off of its landline telecom assets is the latest indication that the telecom REIT space will continue to grow.
The Sector at a Glance: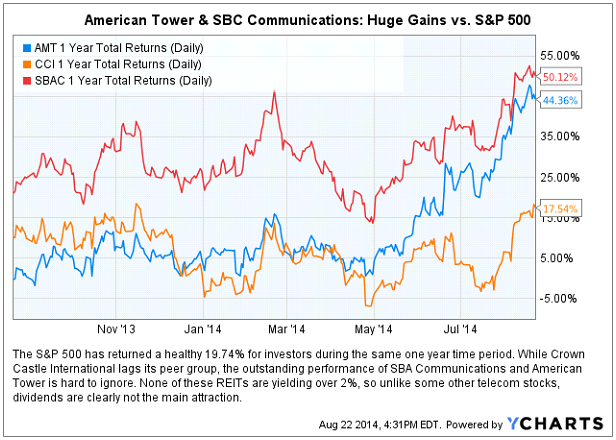 On August 19, 2014, American Tower reached a new 52-week high of $99.90 and continues to trade near a $100 per share valuation.
What A Difference A Year Makes
Just a little over a year ago, Muddy Waters Research CEO Carson Block dropped a 118 page "blockbuster" on American Tower during a featured Bloomberg TV interview on July 17, 2013 asserting concerns regarding:
American Tower's REIT approval having been "just under the wire," which could make it a "reasonable doubt REIT." Ironically, recent events have made this REIT approval look ancient by comparison.

An accounting discrepancy regarding the purchase of some Brazilian tower assets, American Tower "emerging market" and "frontier market" strategies, and the American Tower telecom asset sale-leaseback practices were all discussed at length.

CEO Block questioned whether American Tower management and shareholder interests were aligned, citing concerns there were incentives for tower growth rather than profits.

Muddy Waters placed a Strong Sell on American Tower and initiated its first ever short position on a U.S. company.
Shares of American Tower stock ended the day down only about 1 percent on a volume of 23,470,000 shares -- more than seven times the average volume for American Tower at the time. The stock closed at $72.75 (adjusted for dividends), so that huge distribution of stock resulted in a world of hurt for anyone still short.
American Tower Q2 2014 Update
CEO Jim Taiclet commented on the American Tower earnings release of July 30, 2014 that "Our second quarter 2014 results exceeded our expectations across all key metrics due to strong global demand for tower space."
He went on to report: "We expect favorable leasing demand for communications real estate to continue and accordingly, we are raising our full year outlook for total rental and management revenue, Adjusted EBITDA, and AFFO by $45 million, $55 million and $30 million respectively."
Quarterly year-over-year highlights included:
Total revenues increased by 27.5 percent

Adjusted EBITDA increased 30.2 percent

AFFO increased by 29.4 percent
It is really very remarkable for a company the size of American Tower to be able to grow AFFO at such an impressive rate. That is an indication to me that management and shareholder interests are clearly aligned.
Crown Castle International Q2 2014
Ironically, $26.7 billion cap Crown Castle International is primarily focused upon the U.S. wireless tower market. Crown Castle is the nation's largest provider of shared wireless infrastructure with a significant presence in the top 100 US markets.
While the company does own 1,800 tower assets in Australia, they are dwarfed by the ~40,000 towers plus 13,000 small cell nodes -- supported by approximately 6,000 miles of fiber in the U.S.
Crown Castle International second quarter earnings highlights included:
Projected 2014 AFFO increase of 13 percent Y/Y.

A weighted average rate on debt of 4.2 percent as of June 30, 2014.

Acknowledgement of "headwinds" resulting from the Sprint iDEN network decommissioning.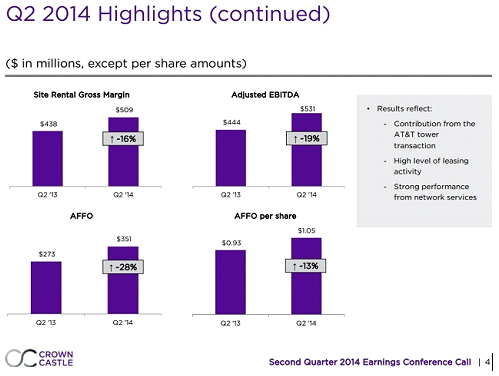 CFO Jay Brown added this color: "…we continue to find attractive returns investing in our core business, particularly in building small cells and purchasing land beneath our towers. We believe our strategy of investing in the US, which is the largest wireless market in the world, will drive predictable and growing AFFO per share and dividends over the long-term."
SBA Communications Q2 2014
SBA Communications, or SBA, leases antenna space on multi-tenant towers to a variety of wireless service providers under long-term lease contracts. SBA owns and operates over 22,000 towers across North, Central and South America.
Related Link: UBS Hedge Fund Takes REIT Chips Off The Table
Sporting a $14 billion cap, SBA continues to hit on all cylinders:
AFFO growth of 31 percent per share Y/Y

Site leasing revenue growth of 22 percent

Tower Cash Flow growth of 27 percent

SBA increased full year 2014 guidance
Jeffrey A. Stoops, president and chief executive officer, reported: "Year-to-date leasing activity and current backlogs evidence very strong customer activity in all of our markets. In the US, 4G network activity levels remain high, while in our Latin American markets customers are primarily focused on enhancing their 3G networks."
Investor Takeaway
All three of these companies trade at nosebleed price-to-sales, or P/S, ratios. Investors are betting on the continued rapid growth and 4G deployments by the four leading wireless carriers.
Any bump in the road or shortfall in growth rates could result in a sharp pullback and present a more attractive entry point for new investors.
Posted-In: Carson Block Jay Brown Jeffrey A. StoopsLong Ideas REIT Short Sellers Trading Ideas General Best of Benzinga
View Comments and Join the Discussion!