5 Stocks To Heat Up Your Portfolio This Summer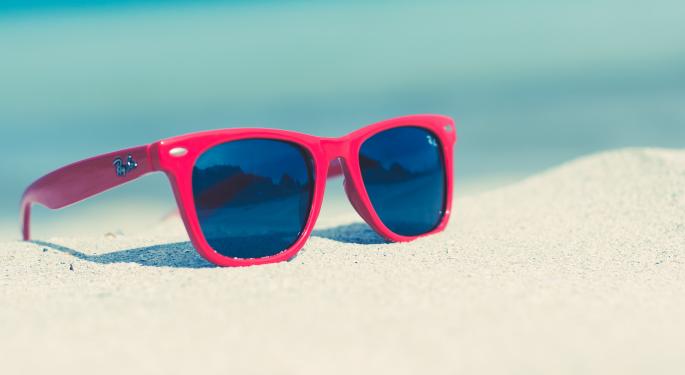 Summer is here, and the U.S. stock market is heating up. Although the old adage on Wall Street is to "sell in May and go away," in 2014 that would have been a mistake, with the S&P 500 gaining around four percent since May 1.
In fact, in recent days, both the S&P 500 and Dow Jones Industrial Average were sitting near new all-time highs. After a rocky start to 2014, it looks like this year may yet again be a pretty good one for stocks.
The S&P 500 has been leading both the Dow and the Nasdaq so far this year, adding roughly six percent compared to a gain of two percent for the Dow and a four percent gain for the Nasdaq.
Energy has been among the top performing sectors so far, notching gains of around 12 percent. Now that the summer driving season is here, this sector may continue to climb in the coming months. A number of other stocks could also see a boost now that the dog days of summer are officially here.
Below is a look at five companies that are sure to benefit from road trips, lazy days at the pool and baseball season.
Phillips 66 (NYSE: PSX)
Since being spun off from integrated oil giant ConocoPhillips (NYSE: COP) in 2012, this has been a very strong stock, climbing around 130 percent as an independent publicly traded company. Although the company has diversified oil and gas operations, including pipelines and storage terminals, it is primarily known for its iconic gas stations, which are located mostly in the Midwest and Southwest.
As the summer driving season gets underway, the stock has been heating up. Shares are up around 11 percent year-to-date, and were last trading near a new all-time high above $85.00. In addition to family road trips and weekend couples getaways driving gas sales, the company is also likely to benefit from sharply rising oil prices on the back of the geopolitical tensions in Iraq. Despite its consistently strong performance, the stock's valuation remains fairly modest.
At current levels, the shares are trading at a forward P/E of just under 11 and a PEG ratio of 1.12. Throw in the stock's 2.40 percent dividend yield and this is definitely a name that should be on traders' summer watch lists.
PepsiCo (NYSE: PEP)
Cold beverages and summer go together like peanut butter and jelly and PepsiCo, along with rival Coca-Cola (NYSE: KO) is the global category leader. Its beverage brands include the iconic Pepsi Cola along with many others such as 7Up, Lipton Iced Tea, Tropicana orange juice, Mountain Dew, Gatorade and AquaFina water.
Basically, this company has a drink to satisfy nearly every taste and as summer heats up there will be plenty of thirsty consumers reaching for their favorite cold drink. The stock has also broken out to new all-time highs in recent days. Despite its huge market-cap, this is still a name that can provide capital appreciation.
The stock is outperforming in 2014, rising almost nine percent. In addition, PepsiCo offers a nice dividend yield of three percent at current levels.
Constellation Brands (NYSE: STZ)
This company imports Corona brand beer to the United States and is also a producer and marketer of a host of other beer, wine, and spirits brands. Corona Extra is the top selling imported beer in the United States and sales spike during the summertime.
For many, there is no better way to enjoy the summer weather than to kick back with an ice cold Corona at a barbecue, the beach, or on the lake - and Constellation brands gets a big cut of every Corona sold in the United States. The stock has been a huge winner in recent years, with the shares climbing around 567 percent over the last five years, including a nearly 23 percent jump in 2014.
Nevertheless, Constellation's valuation is still reasonable. At current levels, the shares are trading at a forward P/E of under 19 and a PEG ratio of 1.42.
Molson Coors (NYSE: TAP)
This is another beer company that has seen its shares soar just in time for the summer barbecue and baseball season. Molson Coors' leading brands are, unsurprisingly, Molson Canadian and Coors Light - two easy drinking beers that offer refreshment in any season, but are most in demand during the hot summer months.
The company has recorded steady revenue growth in recent years and analysts are projecting that sales will be $4.24 billion in fiscal 2014. The stock has been a high-flier so far this year, jumping more than 30 percent to a new all-time high. In addition to offering shareholders significant appreciation in recent years, the shares are also yielding better than two percent at current levels.
Pacific Sunwear of California (NASDAQ: PSUN)
Whereas the other companies on this list have had substantial market-caps, Pacific Sunwear is a small specialty retailer that sells a line of warm-weather clothing and accessories such as board shorts, swimsuits, tees, tank tops, and sunglasses. After a quick trip through a Pacific Sunwear store, most any shopper could be set for a long and active summer.
Also unlike the other companies on this list, Pacific Sunwear's stock price has struggled mightily in recent years. Despite the fact that the company had sales of nearly $800 million in fiscal 2014, it has had a very difficult time turning a profit. In fact, net income has been negative over the last four years, causing Pacific Sunwear's market-cap to drop to just $161 million.
Year-to-date, the shares have lost around 30 percent. Nevertheless, this is a fun, sporty, brand that exemplifies what summer is all about - being outside, being active and enjoying the warm weather!
Posted-In: 7Up Aquafina Corona Gatorade Lipton Iced TeaLong Ideas Technicals Trading Ideas Best of Benzinga
View Comments and Join the Discussion!