6 Stocks That May Be Worth Buying Right Now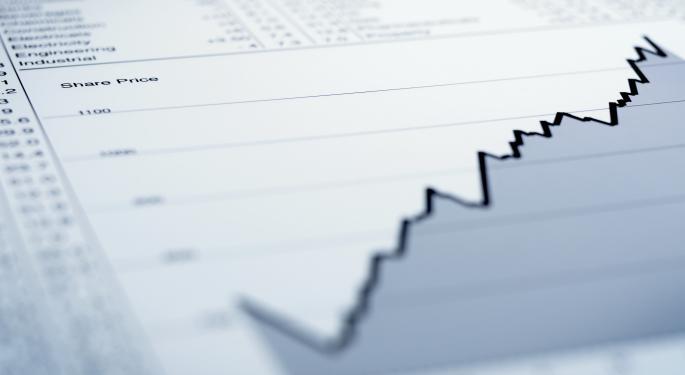 After a rocky beginning to the year, the U.S. equity market has found its stride over the last couple of weeks with the S&P 500 breaking out to new all-time highs.
Over the course of the last month, the S&P has climbed around 2.50 percent while the Nasdaq is up better than three percent, with most of the gains coming in the last two weeks. From a technical perspective, the charts are suggesting that now may be a good time to buy stocks -- not withstanding the old Wall Street adage to "sell in May and go away."
The market's advance is a welcome development for most investors, and active traders may benefit from increased volume and volatility in the coming weeks if the rally continues. With two days remaining in the trading week, what stocks need to be on your watch list?
Here's a group of names that should be active during Thursday's trading session:
Sprint (NYSE: S)
The talk on Wall Street on Thursday morning is sure to be centered on reports that Sprint is close to announcing a $32 billion buyout of T-Mobile. Even by today's outsized standard, this is a mega-deal and the combined company could immediately become a legitimate threat to telecom giants Verizon and AT&T.
Academic research has shown, however, that while most mergers are accretive, mega-deals more often than not, destroy shareholder value. For this reason, Sprint may actually be a short candidate for the remainder of the trading week. Based on the after-hours activity, it is likely that the stock will open higher on Thursday as shares climbed around 4.50 percent in late trade.
T-Mobile was last up around 1.40 percent to $34.75, which compares to the reported deal price of $40 per share. Volume in both of these names should explode on Thursday, and merger arbitrage players may look to short Sprint while buying T-Mobile. Individual traders may want to consider putting on a similar position.
MannKind (NASDAQ: MNKD)
This biotech stock has been headed straight up since early May. Over the last month the stock has climbed around 66 percent. On Wednesday, MannKind surged 11 percent in the wake of buyout rumors to close at a new 52-week high of $10.54 Reports indicate that MannKind is a takeover target ahead of the company's July 15 PDUFA date for its diabetes drug Afrezza.
Related Link: 5 Top Performing Semiconductor Stocks
An FDA Advisory Committee previously recommended that the agency approve the potential blockbuster drug. As a result, MannKind may be a very attractive target for a number of large, multinational pharmaceutical companies.
Options trading in the name was active on Wednesday. In particular, August call options were popular, with the heaviest volume seen in the $7 strike and $15 strike. Trading was also heavy in some very far out of the money put options. Specifically, the July and August $5 strike saw a number of large trades.
MannKind is a classic battleground stock right now ahead of the FDA's critical Afrezza decision. The looming PDUFA date, however, is not the only catalyst for the shares as a powerful short-squeeze has also contributed to MNKD's huge rally over the last month. In recent days, around 29 percent of the company's float was sold short and additional short covering could continue to propel the stock higher in the coming days.
Ciena (NASDAQ: CIEN)
This Maryland-based networking, software, and services company is set to release its quarterly earnings results prior to the opening bell. With a modest market-cap of $2 billion and a beta above 2, it is a fairly safe bet that the stock will be volatile after the print.
Analysts have consensus earnings per share estimates of $0.13 and revenue is expected to have grown by 10 percent to $559.18 million in the quarter. The high earnings estimate on Wall Street is $0.17 per share with a low estimate of $0.10.
This is a fairly wide range, and if Ciena's results vary significantly from the consensus, it could result in either a huge rally or sell-off in the shares. Traders may also want to look for opportunities in other networking stocks in the wake of Ciena's earnings release.
These include companies such as Juniper Networks and Alcatel Lucent.
Vera Bradley (NASDAQ: VRA)
This apparel retailer has been struggling in recent years as both revenue and net income declined in fiscal 2013 and analysts are projecting another contraction in sales for the company's most recent quarter. Although the stock has risen around five percent in 2014, traders were selling the name ahead of Vera Bradley's earnings release on Thursday morning.
On Wednesday, the stock declined 2.25 percent to close at $25.25. Heading into the print, analysts are projecting that the company will report earnings per share of $0.13 on a 3.80 percent decline in revenue to $118.41 million. Another stock that may see increased activity in the wake of Vera Bradley's earnings report is Kate Spade.
Molycorp (NYSE: MCP)
This one-time high flier has been decimated over the last couple of years with the rare earth miner falling from a high above $70 in 2011 to a current price under $3. On Wednesday, however, the shares surged nearly 12 percent to $2.79 on heavier than usual volume.
Related Link: 5 Mid-Cap MLPs With Dividend Yields Over 5%
The move in the stock appears to have been driven by technicals along with short covering. After touching a new all-time low in recent days, it is likely that Wednesday's big rally was the result of a large short-seller covering his position at a big profit. This kind of activity may suggest that Molycorp could be bottoming out. If other short-sellers also decide that it is time to exit the trade, the rally could continue in the coming days. Recently, a whopping 37 percent of Molycorp's float had been sold short.
Nevertheless, relative strength in the stock remains anemic and the long-term downtrend has certainly not been broken. Traders with a healthy appetite for risk, however, could take a flier on this name in the hopes that it has finally put in a bottom.
Monster Worldwide (NYSE: MWW)
Thursday's key economic reports will be initial and continuing unemployment claims. The consensus estimate calls for 310,000 initial jobless claims for the week ending May 31 compared to 300,000 in the prior week. Continuing claims are expected to be 2.650 million for the week ending May 24, versus 2.631 million in the previous week.
Among the stocks most likely to move in the wake of the report are employment services such as Monster. Overall, the company has been struggling in recent years, which has been reflected in Monster's sagging stock price. Revenue has fallen for three straight years and the shares have already shed 22 percent in 2014 so far.
From a trading perspective, a particularly bad or particularly good employment report could lead to increased volatility in the name. Other stocks to watch include Manpower and Kelly Services.
View Comments and Join the Discussion!
Posted-In: Long Ideas Short Ideas Pre-Market Outlook Movers Trading Ideas Best of Benzinga