ARC Group Overcomes Post-Split Depression
Shares of ARC Group Worldwide (ARCW), a new contender in 3D printing services via their 3D Material Technologies division have experienced a phenomenon many call "post-split depression" following their May 1st forward split of 1.5 for 1 shares.
I believe this sets up a buying opportunity and have added to my position based on the company's strong fundamentals, increased analyst earnings estimates, and expansion to become one of the largest 3D printing service bureaus in the United States.
___________________
Stock splits can have unpredictable effects. Forward splits are almost always seen as positive events, creating increased investor interest and sometimes a degree of euphoria prior to the split. That said, the post-split period is where it becomes more uncertain and everything from a continuation of the rally to "post-split depression" can occur.  If post-split depression sets in while there have been no negative material events to justify the decline, then I believe it's a case of a market inefficiency to be capitalized upon.
This may set up ARCW as the Best 3D Printing Stock to buy now.
"The Anatomy of a Stock Split" chart below (compliments of SplitTrader.com) shows the volatility in trading of Sun Microsystems shares during a stock split period which included a post-split depression: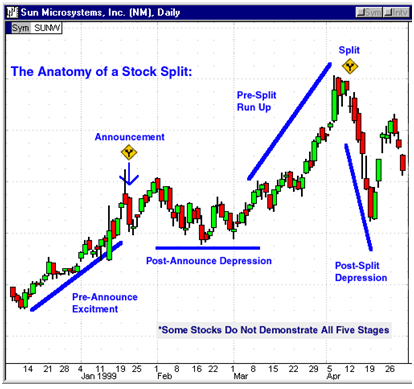 In a December 10th article I wrote that "Opportunities for investors in 3D printing stocks include more than the pure play OEMs that are priced to perfection in their multiples.  I believe there are solid investments to be made by discovering companies who are planning to aggressively leverage the benefits of 3D printing to drive revenue and income growth, and one such company is ARC Group Worldwide (ARCW)."
Since that time shares of ARCW have strongly outperformed pure play OEM 3D printing stocks 3D Systems (DDD), Stratasys (SSYS), ExOne (XONE) and voxeljet (VJET).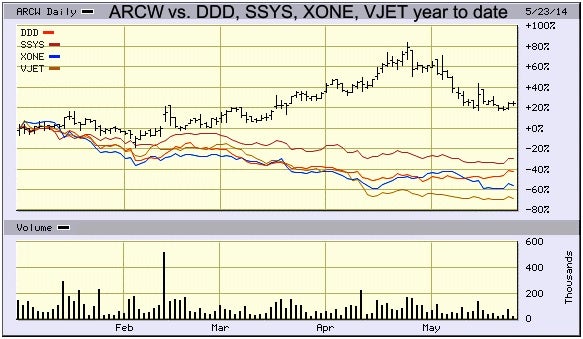 Over the last 30 days however, ARCW split-adjusted shares have retreated 30% from their April highs in a post-split depression cycle despite reporting record revenue and net income two weeks ago.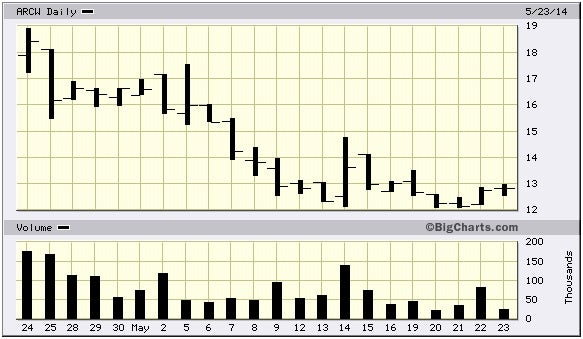 Split-adjusted chart
 "One of the Largest Capabilities in Metal 3D printing Today" Reports Record Q3
In an informative shareholder update last month, ARC CEO Jason Young explained:
"Given ARC is the world leader in metal injection molding, we quickly identified 3D printing as a complementary technology to our core business. Metal 3D printing in particular dovetails with our metal injection molding business quite well given the customer base and the fact that the end use is quite similar; since metal 3D printing is still in its early days we believe our incumbent business will position us to be leaders in metal 3D printing.  At the very least our initial results for 3D printing technology in our facilities have clearly demonstrated the significant opportunity associated with reduced lead time and decreased cost across our supply chain."
And
"I believe we have one of the largest capabilities in metal 3D printing today."
 Best 3D Printing Stock in earnings reported, ARCW Group Worldwide.
ARCW reported their fiscal Q3 on 5/14 with the following results:
Record Sales of $20.9 Million, An Increase of 14.7%
Record Gross Profit of $6.4 Million, An Increase of 34.9%
Record Adjusted EBITDA of $4.3 Million, An Increase of 88.2%
Adjusted Earnings of $1.8 Million, An Increase of 136.4%
Adjusted Post-Split EPS of $0.12, An Increase of 128.5%
Following their 30% (split-adjusted) decline of the last month, ARCW has a trailing PE of 31 and a forward PE of 22.
I believe revenue growth will accelerate going forward due to:
Rapid expansion into 3D printing services
Newly launched online quotation system for 3D printing services
Acquisitions of Advance Tooling Concepts (ATC) and Thixoforming  LLC last month.  ATC generated over $17 million in sales last year.
Average analyst estimates are .50/share for fy 2014 (which ends next month) increasing to .58/share for fy 2015 (see Reuters).
Also important to note is that while ARCW shares have been in a post-split depression, earnings estimates were revised 9% higher for fy 2015 from .53/share two months ago to .58/share currently.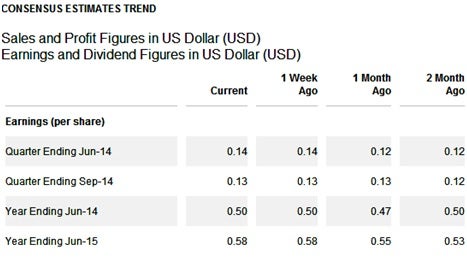 Source: Reuters
 Brean Capital sees room for multiple expansion as well and has a price target of $20 for ARCW shares.
Conclusion
"Post-split depression" has led to a substantial decline in split-adjusted share prices of ARCW. There have been no concurrent negative events to justify the decline, insiders continue to buy shares in the open market, and consensus earnings estimates have been revised higher twice in the last two months.  As a result I believe this is a case of an inefficiency in the market to be capitalized upon.
Gary Anderson
Disclosure: I am long shares of ARCW. I have not been paid by ARC or any third-party for this article.
The following article is from one of our external contributors. It does not represent the opinion of Benzinga and has not been edited.
Posted-In: Long Ideas Previews Tech Trading Ideas
View Comments and Join the Discussion!