Beverage Stocks Are A Better Way To Profit From The Restaurant Group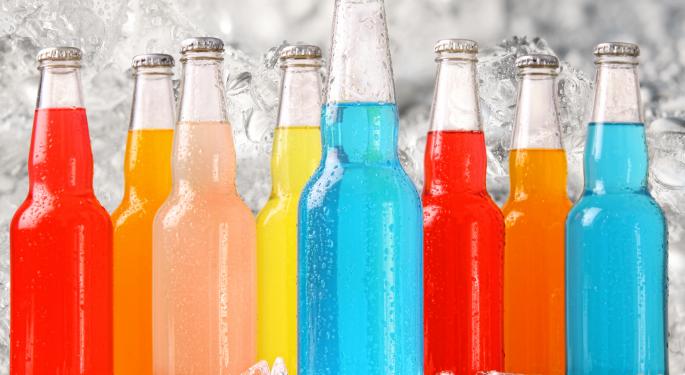 Ken Friedman, the co-owner of five very successful restaurants, stated in an interview in the February 2014 issue of Food & Wine magazine that, "As every restaurateur knows, you make much more money selling a drink than you do selling a plate of food."
For every investor, that should bring to attention beverage stocks ranging from blue chips like Coca-Cola (NYSE: KO), PepsiCo (NYSE: PEP), and Diageo (NYSE: DEO) to promising small caps like High Performance Beverages (OTC: TBEV).
Coca-Cola and PepsiCo are global leaders in a wide range of beverages, ranging from sodas to juices.
See also: For Retail Gains Go East Young Investor
The products of Coca-Cola and PepsiCo are both served in more than 100 countries around the world. The same is true for Diageo, the biggest maker of spirits.
Global, Diverse Product Lines
No matter what the type of restaurant or where it is located, the products of Coca-Cola, PepsiCo, and Diageo are likely to be found.
For Coca-Cola, the line up includes Minute Maid juices, Hi-C, and Coke items, among many, many others. PepsiCo's similarly long product list includes Tropicana juices, Lipton tea, and Pepsi Cola selections, to name but a few.
From Diageo, just a sampling of its global brands includes Guinness beer, Captain Morgan's Rum, and Ciroc vodka. All are positioned well to gain from consumer growth in emerging market nations such as China, India, and others around the world.
While it is nice to be recognized around the world, investors are most interested in how profitable the company actually is.
High Profits, Good Dividends
In this regard, Coca-Cola and Diageo are far more rewarding that stocks in the restaurant sector. At present, the profit margin for the restaurant industry is 10%. For Diageo, the profit margin is 38.60%. Coca-Cola has a profit margin of 18.50%. PepsiCo's is 10%.
The dividend components of Coca-Cola, PepsiCo, and Diageo are also very alluring.
At present, the average dividend for a member of the restaurant industry is 2.5%. The yield for Diageo is 2.86%. Coca-Cola has a dividend yield of 2.82%. It is 2.76% for PepsiCo. Each of these companies has a history of dividend increases, too.
For growth and value investors, these stocks do not offer stunning numbers, as it is small caps like High Performance Beverages that will be growing the most as detailed in a previous article on Benzinga.

But for those investors who take cues from Warren Buffett, who emphasizes return-on-equity with a target of 20% or better, all are very appealing. The return-on-equity for Diageo is 73.50%. It is 29.70% for PepsiCo. Coca-Cola has a return-on-equity of 20% (Buffett is a major shareholder).
There is an old saying that the best way to profit is not from mining for gold, but from selling the picks, shovels, and other supplies to those prospecting away in the streams and the fields.
That is much the same with the restaurant industry and beverage stocks. When the restaurant industry does well, so should Coca-Cola, PepsiCo, and Diageo.
But these companies have market penetration around the world that goes far beyond what is sold in restaurants. For investors that should result in long term returns worthy of a toast!
Posted-In: Coca-cola Diageo High Performance Beverages Ken Friedman PepsiCo Inc.Long Ideas Small Cap Analysis Trading Ideas Best of Benzinga
View Comments and Join the Discussion!