Twitter: Replay Of The IPO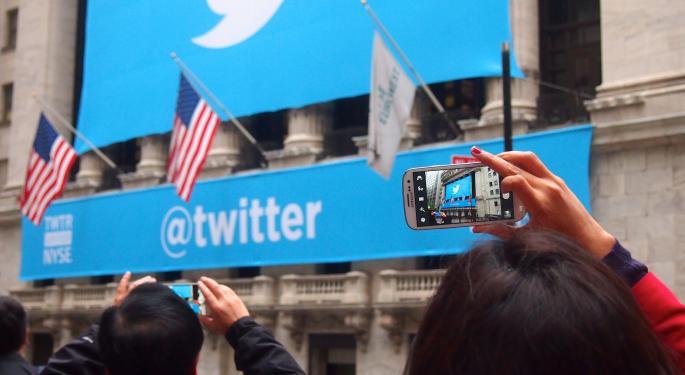 For those investors who regretted not purchasing Twitter (NYSE: TWTR) on its initial public offering, here is another chance.
After opening at $45.10 on November 7, making a quick sprint to $50, TWTR closed at $44.90 on its first day of trading. Therefore, we will use $45.00 as the reference point in this article.
It has been a wild ride for TWTR, who avoided the Facebook (NASDAQ: FB) debacle, and came to market with a much lower float. As a result of the much higher investor demand for the issue and limited supply, a major support level just under $40.00 was created by the November 25 ($38.80) low.
From that level, investors anticipating a FB redo had to reevaluate their entry strategy. This ignited a buying frenzy in TWTR that catapulted the issue from $38.80 to $74.73 in one month.
Related: Facebook's Oculus Buy Could Change The Face Of Social Media
With the investment banks that participated in the IPO on the sidelines until the "quiet period" ended on December 2, a few second-tier firms initiated coverage with "Buy". Keep in mind, the highest price target for these early followers was $54.00 by Topeka Capital on October 30.
When the "quiet period" ended on December 2, several of the big boys (Goldman Sachs, Bank of America, JP Morgan, Morgan Stanley and Deutsche Bank) initiated coverage, with Goldman Sachs And Deutsche Bank starting with "Buy" ratings and price targets no higher than $50.00.
In retrospect, their timing was good (December 2 close of $40.78) and price targets were accurate; within eight trading sessions, the highest price target on the Street at that time had been exceeded.
Other firms began follow the issue and initiate coverage, chasing the current price with their target price until they found the top. Stifel Nicolaus was the the last one in the pool. On January 16, the firm initiated coverage with a "Buy" rating and a $75.00 price target (January 16 closing price $60.57).
Only a few weeks later on February 5, Stifel downgraded the issue from "Buy" to "Hold" and removed their $75.00 price target. If investors had heeded their warning they could have exited TWTR with a profit as it closed at $65.97 that day. If not, their clients are sitting on a huge loss as the issue has returned to $45.00 level.
Perhaps investors would have better off following the advice of Benzinga analyst Jake L'Ecuyer, who was very skeptical on the the company from the onset. L'ecuyer encouraged investors to remain on the sidelines, at least until its first earnings release.
"I see the true value of Twitter being the data it owns, rather than advertising. We won't receive true transparency in that department until we have at least one earnings report," said L'ecuyer.
"Most of those details should surface in the conference call, and will give us a better feel for what the true potential of Twitter is".
With the first earnings report not meeting Wall Street expectations, TWTR has been destroyed, cascading from its closing price pre-earnings ($65.97) to current level of $45.00. L'Ecuyer still remains on the sidelines.
Related: Have We Seen The Top Of The Market?
"Overall I'm still waiting to see what they decide to do with the mass of real-time data they have. Once I hear some color on possible R&D projects around this data, or even possible businesses they're trying to build on it, I'll get interested, and probably move to the bullish side."
In Thursday's trading, TWTR has traded at its lowest level since December 5, reaching $43.31 before rebounding the $46.00. This level coincides with its low on that day of $42.83.
For investors who lament not getting in near the IPO price, here is your opportunity. The best-case scenario is that it consolidates at the $45.00 level for a few days and allows Thursday's low to stand and then begins to move higher.
On the other hand, if the meltdown continues TWTR may return to its all-time low ($38.80) and beyond. If one is to use the Street's original pricing ($17.00-20.00) in September or it revised pricing in November ($26.00), TWTR still has plenty of room on the downside.
Posted-In: Jake L'EcuyerLong Ideas News Technicals IPOs Trading Ideas Best of Benzinga
View Comments and Join the Discussion!