All Star Charts' J.C. Parets On Why BlackBerry Shares Will Double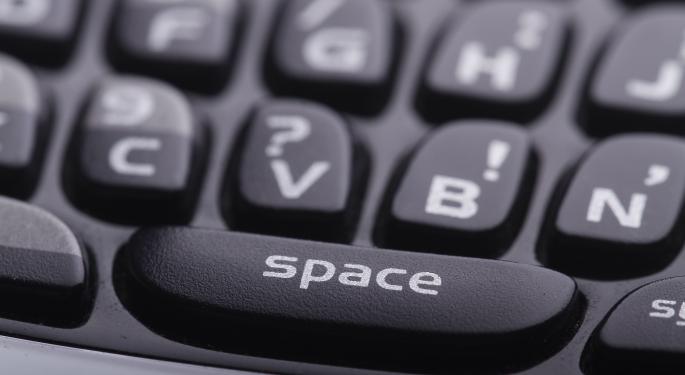 Is BlackBerry (NASDAQ: BBRY) the next big play?
J.C. Parets, Founder and President of Eagle Bay Capital and the man behind All Star Charts, thinks that the mobile tech company could double in value.
"When we broke below the 2012 lows and quickly recovered -- we got that false breakdown -- to me that was the most beautiful thing ever," Parets told the Benzinga crew on PreMarket Prep this week. "That was in December. When you make a new low, everybody hates it, we know BlackBerry is in trouble -- talk about the fundamentals of a company, right?"
But that's another reason why Parets ignores "all that garbage."
"Think about it: you compare BlackBerry to Apple," he said. "BlackBerry lost $4 billion last quarter; Apple made $12 billion. Apple is flat for the year; BlackBerry is up 60 percent. One has nothing to do with the other, in my opinion. I think it's more important to analyze the behavior of the market. You saw an epic short squeeze from BlackBerry off of the lows. We doubled. I think we'll double again."
From a tactical perspective, Parets said that investors could probably use $9 as a stop.
"We break below that and things start getting a little bit more messy. We'd probably have a little more consolidation take place," Parets added. "But I definitely think it can go up to $18."
When asked if investors will really pile into this dog, Parets said that BlackBerry has "nothing to do with the market."
"BlackBerry is its own animal," he insisted.
Related:Fox On Stocks' 17-Year-Old Rachel Fox Teaches A New Generation How To Trade
The Holy Grail
During the interview, Parets said that he doesn't try to make huge bets regarding what the Fed will or won't do -- or will or won't say -- next.
"That just doesn't make any sense to me," said Parets. "We have our levels, whether there's a Fed meeting or not, and we honor our levels. If we get stopped out, we get stopped out."
That, he said, is part of the game.
"The idea is to limit risk as much as you can, and that's really the Holy Grail -- managing risk accordingly," he added.
Stop Worrying About The Economy
Parets said that while he definitely looks at things on a global macro basis, he doesn't really worry about the economy.
"Economic data is very backward-looking," he explained. "Plus, it gets revised like 18 times, so what are we gonna do with that?
"As far as the fundamentals are concerned, I'm in the camp that, all this fundamental information and conversations about what a company is doing and their growth rate and all that stuff -- the fact that we're talking about it, it's already priced into the market. These aren't secrets. So I just worry about the market behavior and how things are moving."
Is Gold A Mess?
Parets doesn't necessarily agree with those who say investors are pounding gold. He said that while it was sold off in the last four days, precious metals still make up the best asset class this year.
"I don't think you could dismiss the entire asset class just because of a correction over the last few days," said Parets.
"With that said, I think gold, structurally, is still a mess…I would just stay away from it. It's sloppy. We had a nice move in it initially. Now we just kind of want to let it consolidate."
Don't Get Cute
If investors are trying to make bond investments based on inflation and what gold is doing, they might want to re-think their strategy.
"I think you're trying to get too cute," said Parets. "I think, perhaps, we should try to keep it a little bit more simple and not necessarily try to over-think things. I think that the best game plan -- in general, but I think more specifically this year with what we're seeing -- I think that the move is to trade what you see. It's not, 'Oh, the Treasury is doing this, so this currency should be doing that, and gold should be doing that.' And since it doesn't match up, I think we should just trade what we're seeing."
Check out the video below for a recap of JC Parets' guest appearance on Benzinga's #PreMarket Prep:

Disclosure: At the time of this writing, Louis Bedigian had no position in the equities mentioned in this report.
Posted-In: All Star Charts Apple BenzingaLong Ideas Short Ideas Trading Ideas Interview General Best of Benzinga
View Comments and Join the Discussion!