Fiat Positioning Itself For A Promising Market Share In China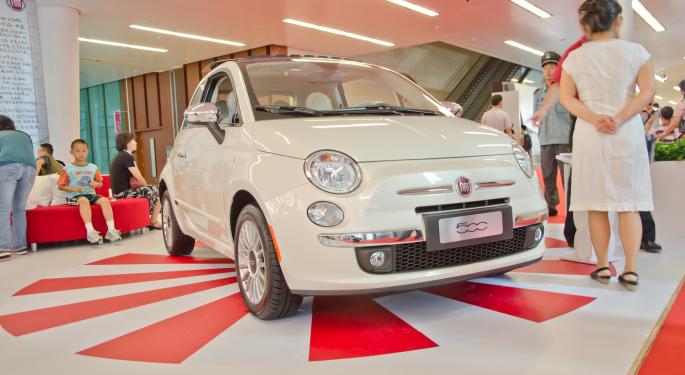 A recent article here on Benzinga talked about the benefits of being bullish on Fiat (OTC: FIATY), the Italian motor vehicle company, due to its potential in the car market in China.
A Wall Street Journal article in December, meanwhile, reported that not only were sales rising in China but the market share for foreign car companies there was increasing, too. In that article, reporter Rose Yu noted that "most foreign auto makers, even those with flat or declining market share, posted sales gains as Chinese drivers continued to favor foreign brands."
On November 29, Fiat closed at $5.84: now it is just under $6.80 a share. Much, if not all, of that rise can be attributed to the Chrysler deal. But the China market is now even more promising for Fiat. The acquisition of Chrysler makes Fiat even more of a player in China -- where car competitors such as Ford (NYSE: F), Toyota Motor Corporation (NYSE: TM) and General Motors (NYSE: GM) have invested significantly.
Related: Double Down on Dividend Aristocrats with Genuine Parts Company
That is surely a major reason why the company bought all of Chrysler, with some considering it overpaid. As with so many other products and services, China is the most appealing market for the future for motor vehicles. The nation's economic reforms are emphasizing consumer spending, which always means cars and trucks.
And, as Yu noted in the
WSJ
, China is already the number one market in the world for cars. JD Power reports there are 524 car models and 96 brands in China, compared to 294 models and 45 brands in the United States.
While Fiat is not yet a major player, the Chrysler buy certainly ups its game in China.
Yu concludes her report with this tidbit, that, "Chinese consumers remain less loyal to auto brands than in the West."
That offers to Fiat the opportunity to increase its market share, now that it has all of Chrysler. And that will most likely not be happening in Europe, where the economy is weak and the competition is fierce.
Posted-In: Long Ideas News Emerging Markets M&A Events Global Economics Markets Best of Benzinga
View Comments and Join the Discussion!