Will Increasing Its Dividend Unwrap a Short Squeeze for Tootsie Roll?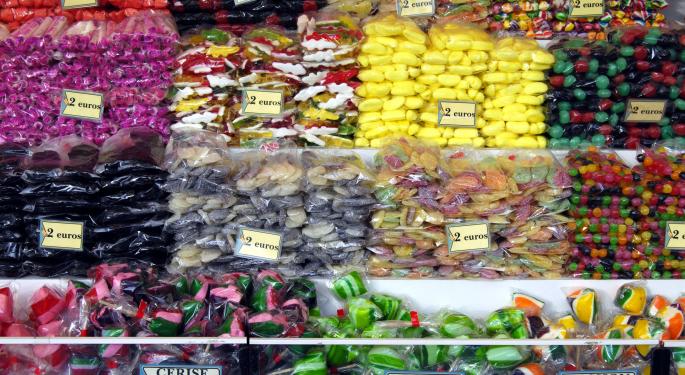 As with many stocks, 2013 has been a great year for Tootsie Roll (NYSE: TR), the candy maker.
Since the first of the year, Tootsie Roll is up more than 32 percent. But haters abound for the 116-year old firm as the short float is almost 13 percent. A short float of 5 percent is considered to be troublesome for a company. Competitors such as Hershey's and Mondelez International have short floats in the one percent range.
The joy that those long on Tootsie Roll have enjoyed for 2013 is equaled only by the anguish for those short on the stock. That is the way it works when an investor bets that the price of a stock will fall. In the immortal words of Brother Mouzone from The Wire: the game is the game. It makes it even worse when a dividend is paid, as those short must finance that, too, as part of "the game."
Related: 3 Reasons That Chocolate - Hershey's That Is - Makes a Great Gift
That dividend factor could be the key element for Tootsie Roll in "busting the short."
At present, the average dividend for a member of the S&'s 500 Index is around 1.9 percent. Tootsie Roll pays a dividend of just 0.97 percent. It has the capital flow to increase it as the dividend payout ratio is under 35 percent. By contrast, Hershey, with a dividend of just over 2 percent, has a payout ratio close to 45 percent. The dividend yield for Mondelez International is around 1.6 percent with a payout ratio near 45 percent, too.
There are weaknesses for Tootsie Roll that the shorts are counting on to make money.
It is vulnerable to commodity costs. Almost one-quarter of its sales come through its arrangements with Wal-Mart. Sales growth is weak,too: down on a quarterly basis, and only 2 percent growth for the past five years. In addition, on a sales, asset, and earnings growth basis, the stock is overvalued.
But a dividend hike could do even more damage to the shorts. It is in the best interest of Tootsie Roll to initiate a short squeeze. A publicly-traded entity should do all it can to do away with those selling the stock short as the negative outlook could spread, doing damage to the share price.
The cash flow is certainly there for Tootsie Roll. In addition, the company is more profitable than Mondelez and almost as profitable as Hershey. Increasing the dividend could bust the short on Tootsie Roll, taking the share price even higher into the new year.
Posted-In: Long Ideas News Short Ideas Dividends Technicals Commodities Management Markets Best of Benzinga
View Comments and Join the Discussion!