A High-Yield Blue Chip on the Pink Sheets?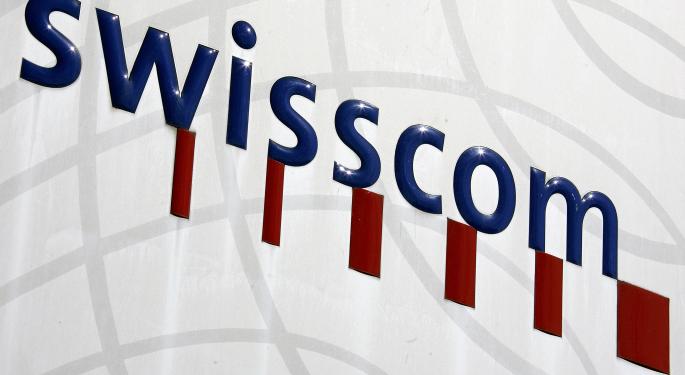 For many, stocks listed on the "Pink Sheets" are to be avoided, as it is often regarded as the province of thinly-traded, poorly capitalized firms that could not qualify to be listed on "The Big Board" or other, more reputable exchanges.
While that sadly can be the case, there are many blue chips listed on the PInk Sheets that compare with the finest on The New York Stock Exchange or NASDAQ.
One example is Swisscom (OTC: SCMWY), a $26 billion major communications conglomerate operating from Switzerland that compares favorably with AT&T (NYSE: T), Verizon (NYSE: VZ) and Frontier Communications (NASDAQ: FTR).
Many foreign blue chips like Swisscom choose to list on the Pink Sheets, as it benefits its shareholders more. The listing requirements for other exchanges might not be in the best interests of the company. Expenses might be too high. There are also legal matters to consider.
All of that has nothing to do with the suitability of Swisscom, which provides telecommunication services in Switzerland and Italy, and many others on the Pink Sheets, as long-term investments.
Traditionally, phone companies are looked upon as income vehicles. Swisscom certainly answers that call. While the dividend yield for the average member of the Standard & Poor's 500 Index is around 1.9 percent, it is 4.60 percent for Swisscom. For Verizon Communications, it is 4.16 percent.
Swisscom also has a more responsible dividend structure, too.
The dividend for each share is $2.34; with earnings-per-share being $3.45. That is easily affordable for Swisscom.
For Frontier Communications, the dividend per share is $0.10. But only $0.07 is earned per share. Paying more in dividends than is earned per share certainly does not appear to be a sound, long-term policy.
Swisscom also has the low beta that research has proven to be an indicator for superior returns.
As detailed in a previous article on Benzinga, studies by Russell Investments showed superior returns over the long term come from stocks with betas below the market average of one. That makes sense as there is no reason to sell a stock that is performing well, so the beta will be lower as there is not as much activity as those dumping to exit a losing position.
The beta for Swisscom is 0.44. For Frontier Communications, it is 0.70. The beta for AT&T is 0.54. Verizon Communications has a beta of 0.44.
At around $51 a share, Swisscom is near its high for the year. With a low beta, it does not fluctuate much in price. But with its high dividend yield, it should be a rewarding holding for long term investors, something not generally associated with Pink Sheet stocks.
Posted-In: Long Ideas News Dividends Dividends Eurozone Technicals Economics Markets
View Comments and Join the Discussion!