Fair Warning: Markets Could Get Ugly!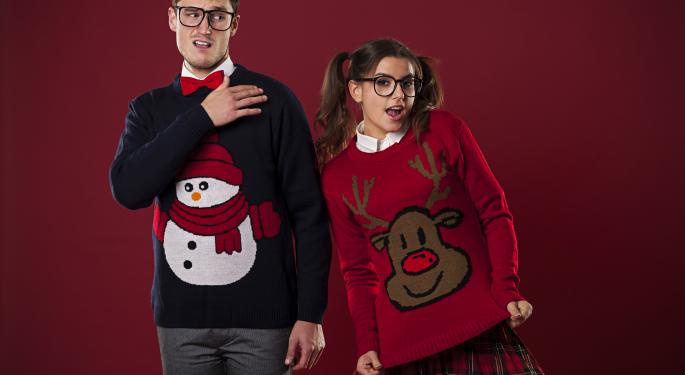 Let's start out today's oftentimes meandering morning market missive with a question.
Is there anyone out there who expects the stock market to decline in the month of December? Well, other than those die hard perma-bears who have a tendency to expect the stock market to decline every month, that is? Didn't think so.
So, the first point this morning is that with the S&P 500 (NYSE: SPY) still up more than 25 percent on the year and history suggesting that the Santa Claus rally will bring good tidings to investors, most folks may be expecting that an advance for the market indices in December is a slam dunk. After all, everybody knows that year-end "window dressing" tends to boost prices at the end of a year in bull markets, right?
Something Everyone Knows...
However, as Ned Davis is famous for saying, "Something everyone knows in the stock market isn't worth knowing." In other words, if everybody knows about a market tendency, it isn't long before it stops working.
As such, perhaps it isn't a good idea to get too comfortable with the expectation that stocks will soon pull out of their now five-day old funk and resume marching ever higher into the New Year.
See also: Taper Tantrums Continue to Dominate Market Action
Yet at the same time, stocks DO tend to rally in December. As well as into January, February, and March. As anyone who knows their market history can attest, the November through April period has historically been the best time of year to be invested in stocks. And for anyone not familiar with this seasonal pattern; look it up, you will likely be amazed.
In addition, sometimes things in this game become "self-fulfilling." This means that although everyone can't be right all the time, if enough folks are thinking along the same lines, group-think can take over. (This is why most bull markets last longer than the bears can ever imagine.) So, just because "everyone" expects the market to advance in December, doesn't mean it won't!
Just Don't Get Too Comfy
Okay, time to move forward and talk about something that "everyone" doesn't know about. Although history does indeed support the idea that stocks will likely advance in the first quarter of next year, most investors probably are not familiar with what tends to happen in the second quarters of the second year of a President's term (aka the mid-term year).
Cutting to the chase - it isn't pretty! You see, bear markets have a nasty habit of showing up during the second year of the four-year Presidential cycle. And for some reason, a great many market peaks tend to occur in the second quarter of those mid-term years.
How Bad Will It Be?
Since 1934, there have been twenty such mid-term years. If one measures the decline from the prior high to the low of the mid-term year, the average decline measures -21.4 percent (and the median decline is -21 percent). Ouch!
See also: What Do The Cycles Say About December?
For example, the last mid-term year was 2010. The high was seen in April and the low was in July. If you will recall, Europe caused some difficulties for the market that year (and the next, and the next). The total decline seen was -16 percent. In 2006, the decline was -7.7 percent. In 2002, it was -33.8 percent. And on it goes.
Sometimes It's Bad... Very Bad
Some years, the pullback is modest - somewhere in the two to five percent range. And then in other years, a full-fledged bear market takes place. In fact, exactly one-half of the mid-term years have produced declines of 20 percent or more, which is the base-level definition of a bear market.
And here comes the really scary part. The average decline experienced during those bear market years has been nearly 30 percent (29.79 percent to be exact).
So, while anything can happen in this game, investors (especially those who are uber-bullish at this time) may want to be on the lookout for any type of negative catalyst (Fed tapering perhaps?) in the coming months. Because, if something out of the blue crops up, history shows things could get ugly in a hurry.
Click Here For More "Daily State of the Markets" Commentary
Current Market Drivers
We strive to identify the driving forces behind the market action on a daily basis. The thinking is that if we can both identify and understand why stocks are doing what they are doing on a short-term basis; we are not likely to be surprised/blind-sided by a big move. Listed below are what we believe to be the driving forces of the current market (Listed in order of importance).
1. The State of the Taper (aka Fed Policy)
2. The Outlook for Economic Growth
3. The State of the Bull Market
The State of the Trend
We believe it is important to analyze the market using multiple time-frames. We define short-term as 3 days to 3 weeks, intermediate-term as 3 weeks to 3 months, and long-term as 3 months or more. Below are our current ratings of the three primary trends:
Short-Term Trend: Negative
(Chart below is S&P 500 daily over past 1 month)
Intermediate-Term Trend: Positive
(Chart below is S&P 500 daily over past 6 months)
Long-Term Trend: Positive
(Chart below is S&P 500 daily over past 12 months)
Key Technical Areas:
Traders as well as computerized algorithms are generally keenly aware of the important technical levels on the charts from a short-term basis. Below are the levels we deem important to watch today:
Near-Term Support Zone(s) for S&P 500: 1780
Near-Term Resistance Zone(s): 1800-1813
The State of the Tape
Momentum indicators are designed to tell us about the technical health of a trend - I.E. if there is any "oomph" behind the move. Below are a handful of our favorite indicators relating to the market's "mo"...
Trend and Breadth Confirmation Indicator: Moderately Negative
Price Thrust Indicator: Moderately Positive
Volume Thrust Indicator: Neutral
Breadth Thrust Indicator: Moderately Positive
Bull/Bear Volume Relationship: Moderately Positive
Technical Health of 100 Industry Groups: Neutral
The Early Warning Indicators
Markets travel in cycles. Thus we must constantly be on the lookout for changes in the direction of the trend. Looking at market sentiment and the overbought/sold conditions can provide "early warning signs" that a trend change may be near.
Overbought/Oversold Condition: The S&P 500 is Moderately Oversold from a short-term perspective and remains overbought from an intermediate-term point of view.
Market Sentiment: Our primary sentiment model remains Negative .
The State of the Market Environment
One of the keys to long-term success in the stock market is stay in tune with the market's "big picture" environment in terms of risk versus reward because different market environments require different investing strategies. To help us identify the current environment, we look to our longer-term State of the Markets Model. This model is designed to tell us when risk factors are high, low, or uncertain. In short, this longer-term oriented, weekly model tells us whether the odds favor the bulls, bears, or neither team.
Weekly State of the Market Model Reading: Positive
If you are looking for a disciplined, rules-based system to help guide your market exposure, check out The Daily Decision System.
Thought For The Day...
In the right light, at the right time, everything is extraordinary. - Aaron Rose
Looking for Guidance in the Markets?
The Daily Decision: If you want a disciplined approach to managing stock market risk on a daily basis - Check the "Daily Decision" System. Forget the fast money and the latest, greatest option trade. Investors first need is a strategy to keep them "in" the stock market during bull markets and on the sidelines (or short) during bear markets. The Daily Decision system was up 30.3% in 2012, is up more than 25% in 2013, and the system sports an average compound rate of return of more than 30% per year.
The Insiders Portfolio: If you are looking for a truly unique approach to stock picking - Check out The Insiders Portfolio. We buy what those who know their company's best are buying - but ONLY when they are buying heavily! P.S. The Insiders is up over 30% in 2013 and has nearly doubled the S&P 500 since 2009.
The IRA/401K Advisor: Stop ignoring your 401K! Our long-term oriented service designed for IRAs and 401Ks strives to keep accounts positioned on the right side of the markets. This is a service you really can't afford not to use.
The Top 5 Portfolio: We keep things simple here by focusing on our five favorite positions. This concentrated stock portfolio employs a rigorous custom stock selection approach to identify market leaders. Risk management strategies are built in to every position.
All StateoftheMarkets.com Premium Services include a 30-day money-back guarantee!
Got Research?
Remember, you can receive email alerts for more than 20 free research report alerts from StateoftheMarkets.com including:
State's Chart of the Day - Each day we highlight a top rated stock with a positive technical setup.
The Risk Manager Report - Stay in tune with the market's risk/reward environment.
The "10.0" Report - These are the REAL best-of-breed companies.
The Insiders Report - See what the people who know their company's best are buying.
ETF Leaders Report - Looking for the top performing ETF's? You've come to the right place.
The SOTM 100 Portfolio - The top rated stocks in each market sector.
State's Market Models - Each week we quantify the "state of the market" with a series of models.
The Focus List - Think of the focus list as your own private research department. We do all the work and highlight our top picks each trading day
Mission Statement
At StateoftheMarkets.com, our goal is to provide everything you need to be a more successful investor: The must-read headlines, market commentary, market research, stock analysis, proprietary risk management models, and most importantly – actionable portfolios with live trade alerts.
Finally, we are here to help - so don't hesitate to call with questions, comments, or ideas at 1-877-440-9464.
Wishing you green screens and all the best for a great day,
David D. Moenning
Founder and Chief Investment Strategist
StateoftheMarkets.com
For up to the minute updates on the market's driving forces, Follow Me on Twitter: @StateDave (Twitter is the new Ticker Tape)
Positions in stocks mentioned: none
---
The opinions and forecasts expressed are those of David Moenning, founder of StateoftheMarkets.com and may not actually come to pass. Mr. Moenning's opinions and viewpoints regarding the future of the markets should not be construed as recommendations. The analysis and information in this report and on our website is for informational purposes only. No part of the material presented in this report or on our websites is intended as an investment recommendation or investment advice. Neither the information nor any opinion expressed nor any Portfolio constitutes a solicitation to purchase or sell securities or any investment program. The opinions and forecasts expressed are those of the editors of TopStockPortfolios and may not actually come to pass. The opinions and viewpoints regarding the future of the markets should not be construed as recommendations of any specific security nor specific investment advice. One should always consult an investment professional before making any investment.
Any investment decisions must in all cases be made by the reader or by his or her investment adviser. Do NOT ever purchase any security without doing sufficient research. There is no guarantee that the investment objectives outlined will actually come to pass. All opinions expressed herein are subject to change without notice. Neither the editor, employees, nor any of their affiliates shall have any liability for any loss sustained by anyone who has relied on the information provided.
The analysis provided is based on both technical and fundamental research and is provided "as is" without warranty of any kind, either expressed or implied. Although the information contained is derived from sources which are believed to be reliable, they cannot be guaranteed.
The information contained in our websites and publications is provided by Ridge Publishing Co. Inc. (Ridge). One of the principals of Ridge, Mr. David Moenning, is also President and majority shareholder of Heritage Capital Management, Inc. (HCM) a Chicago-based money management firm. HCM is registered as an investment adviser. HCM also serves as a sub-advisor to other investment advisory firms. Ridge is a publisher and has not registered as an investment adviser. Neither HCM nor Ridge is registered as a broker-dealer.
Employees and affiliates of HCM and Ridge may at times have positions in the securities referred to and may make purchases or sales of these securities while publications are in circulation. Editors will indicate whether they or HCM has a position in stocks or other securities mentioned in any publication. The disclosures will be accurate as of the time of publication and may change thereafter without notice.
Investments in equities carry an inherent element of risk including the potential for significant loss of principal. Past performance is not an indication of future results.
Posted in: Long Ideas Broad U.S. Equity ETFs Short Ideas Trading Ideas ETFs General Best of Benzinga